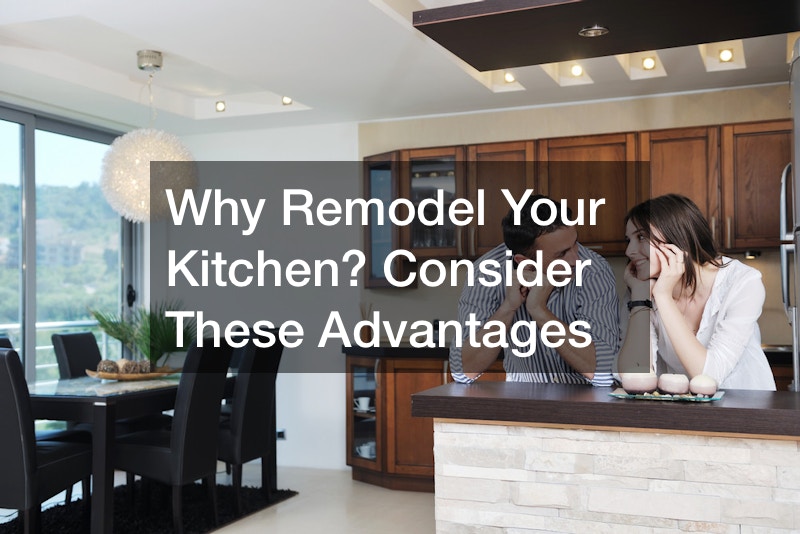 Why Remodel Your Kitchen? Consider These Advantages
There are many reasons to consider remodeling any room in your home, but the kitchen is one of the most common rooms to remodel. You spend a lot of time in your kitchen if you are used to preparing most of your meals at home. The kitchen is also a great place to spend time with your family while you prepare food. You want to ensure that your kitchen is in pristine condition at all times and that it fits your and your family's needs. It is important to have a kitchen that functions well for everything you might need. You should also have a kitchen that is aesthetically pleasing to you. There are countless ways you can renovate a kitchen. Every aspect can be updated, and it can be overwhelming to figure out where to begin if you have never taken on a task like remodeling a room. You will have dozens of decisions to make, but with the help of the right professionals, you should be able to complete this project with time and patience. Take a look at these reasons you should remodel your kitchen and the advantages they present to you as a homeowner.
Keep Mold at Bay
One major benefit to deciding to remodel your kitchen is the opportunity to address anything that might compromise your health. Mold growth is common in rooms with a lot of moisture, like kitchens and bathrooms. It is not always easy to detect. Sometimes mold can hide within walls and under surfaces, and you might not have any idea it has been there. Remodeling your kitchen will allow you to check every inch of your room for mold. Mold remediation is necessary because mold is incredibly toxic and can make you and your family members very sick if it goes unaddressed. If you find mold in your kitchen after you begin renovation, you might consider calling a professional to help you eliminate the mold in your home. It is best to seek outside help for a problem like this one. You do not want to try to eliminate mold on your own and find later you did not complete the task effectively enough. Mold will keep coming back if you do not get rid of it properly. Get the help of a professional to get rid of any mold you find in your kitchen. Keep your family safe by checking for anything that could harm them and getting rid of mold as soon as you see it.
Decide What Type of Cabinets Fit Your Aesthetic
Cabinets hold a lot of weight as far as presenting an aesthetic in your kitchen. They are often the first thing to draw the eye in a kitchen. If you are planning on theming your room after a specific look, you should consider what kind of cabinets would best lend themselves to your design. The most common type of cabinets is wood cabinets. You can get custom-made wood cabinets and countless different finishes. You can order light or dark wood to fit your new kitchen's theme. Home decorating comes down to the fine details of a room and your kitchen cabinets are no exception. In addition to deciding what kind of wooden cabinets you want, you should consider what you want the cabinet's handles to look like. These details can make all the difference when it comes to the renovation of your kitchen.
Figure Out Where to Get Custom Cabinets
Once you have decided what type of cabinet you want for your newly renovated kitchen, you need to reach out to cabinet manufacturers to ensure that you find the right professionals to help you with the job. There are countless manufacturers out there that can help you design custom cabinet pieces to fit your kitchen. It can be a daunting task to find the right one for your project. If you are unsure of how to find the best professional, there are a few things you can do to narrow down your choice. You can check for consumer reviews on their web page or google page. Look at their best and worst reviews to see if anything alarming stands out. You can also call around a few cabinet manufacturers to get quotes from each to compare. You want your kitchen renovation to last you as long as possible. It is important to take the time you need to get every element done correctly. Take your time and call around multiple companies to compare and contrast before you settle on one to be responsible for your new kitchen cabinets.
Take Care of Any General Maintenance Needs
A benefit of renovating your kitchen that you might not have otherwise thought of includes taking care of any general maintenance needs in your home. When you remodel a room, you have the opportunity to check on things like your plumbing or ventilation systems. It would be best if you were getting these things inspected regularly, but life gets hectic and things like that are not often high on anyone's priority list. You can check on things like your hot water tank to ensure that it is not close to needing to be replaced and it is still in working condition. If you need maintenance like hot water tank repairs throughout the process of checking on the elements of your home, you can have those repairs addressed before you continue your renovation. If you find anything that needs to be repaired or replaced, you can call a professional maintenance technician to help you with whatever you might need.
Plumming Maintence
Plumbing is a huge part of a kitchen renovation. When you are remodeling kitchen elements, you want to be sure that your plumbing remains intact and fully functional. There are parts of your renovation that might require you to have your water turned off or have your plumbing redone. For example, if you are installing a new sink or dishwasher, you will be dealing with your kitchen's plumbing system. This is no easy task; you should not attempt to do anything with plumbing on your own if you are not qualified. You will risk causing unnecessary damage if you attempt to work with your plumbing on your own. If you get to a point in your kitchen renovation that needs the attention of a plumber you should reach out to a plumbing contractor immediately. Don't try to handle a task that would have been better suited for a professional. Call your local plumber to help you with the parts of your kitchen renovation that need their attention.
New Appliances vs. Existing Appliances
When you take on a home improvement project like a kitchen renovation, there are a lot of things to consider. One of them is whether or not you should invest in all new appliances for your kitchen or stick with the ones you already have. It can be tempting just to go ahead and replace all of your appliances with new ones if you are already remodeling your kitchen. If that is within your budget, by all means, purchase all new appliances, New appliances will last you years, and you shouldn't have to deal with any troublesome issues for a long time with all brand-new appliances. However, many people do not have the funds to remodel a kitchen and purchase new appliances. If you need to work with your existing appliances, you might just need to give some attention to appliance maintenance. If you want to ensure that your appliances are still in good enough condition to remain in your kitchen, call a maintenance professional to inspect them so you can verify that they don't need any major repair work or general maintenance to continue functioning properly.
Repair Your Kitchen Appliances
If you have chosen to use your existing appliances and your maintenance professional has discovered that something needs to be repaired you should address that immediately. Fully functioning appliances are imperative to the overall functionality of your kitchen. Repairs like oven or dishwasher repairs can be costly, but they are generally less expensive than buying a whole new appliance. Suppose you are renovating on a budget and you cannot afford to replace your kitchen appliances with new ones. In that case, you might have no choice but to lend your attention and finances to repairing your kitchen appliances. Work with your local maintenance professional to determine whether or not any of your existing appliances need immediate repairs in order to function to the best of their ability. If you are spending time and money on renovating your kitchen, you want to ensure that every element is fully functioning for you to use.
Choose Appropriate Lighting
An element of a kitchen renovation you might have otherwise overlooked might be the lighting. Choosing the right lighting can really set the tone in a room. If you are going for a specific ambiance, different types of overhead lighting can lend themselves to a room's aesthetic. You should really consider lighting part of the decoration process. You can find different lighting sources to go over your oven, kitchen island, or dining room table. Go to a local hardware store and choose the right lighting fixtures for your new kitchen. Once you get your fixtures home, call a professional electrician for help with lighting services. You should never work with electrical wires on your own if you are not qualified. Dealing with electricity is dangerous, and you should always ask for help from a professional. Have an electrician install your new lighting fixtures and bring the aesthetic of your room up to your standards with the appropriate lighting choices.
De-Clutter Your Space
One of the last steps to any home renovation is to clean the space properly. Renovations are messy and can result in a lot of clutter and junk in your space. Once everything is in place and you are happy with every element of your kitchen, you will need to take the time to focus on cleaning and decluttering your room. Gather your family members and spend some time working on junk removal to bring your kitchen renovation to a close. If you spend time, energy, and money on remodeling your kitchen, you will want to ensure that it remains clean so you can use it to its fullest potential. There is nothing quite like using an immaculate, brand-new kitchen for the first time. Declutter your space and spend some time cleaning it so that you can completely enjoy your newly remodeled kitchen.
Final Thoughts
Taking on a project as big as a kitchen renovation can be overwhelming. There are countless things to consider throughout the entire course of your remodel. You will need to decide on everything from paint color, to tile, to whether or not you plan to keep your existing appliances or purchase all new ones. You will have dozens of decisions to make, and the process won't be quick or easy. However, if you take the time to give your kitchen care and proper attention, you will end up with a room that exceeds your expectations. You spend a lot of time in your kitchen. For most families, it is the most used room in the house. You should feel comfortable there. Your kitchen should reflect your interstate and personality. Remodeling your kitchen allows you to bring your kitchen aesthetic up to your standards. You can also ensure that it is as functional as possible for you to be able to prepare all of your meals, host parties, and more. You won't regret taking the time to renovate your kitchen and bring it up to your standards.