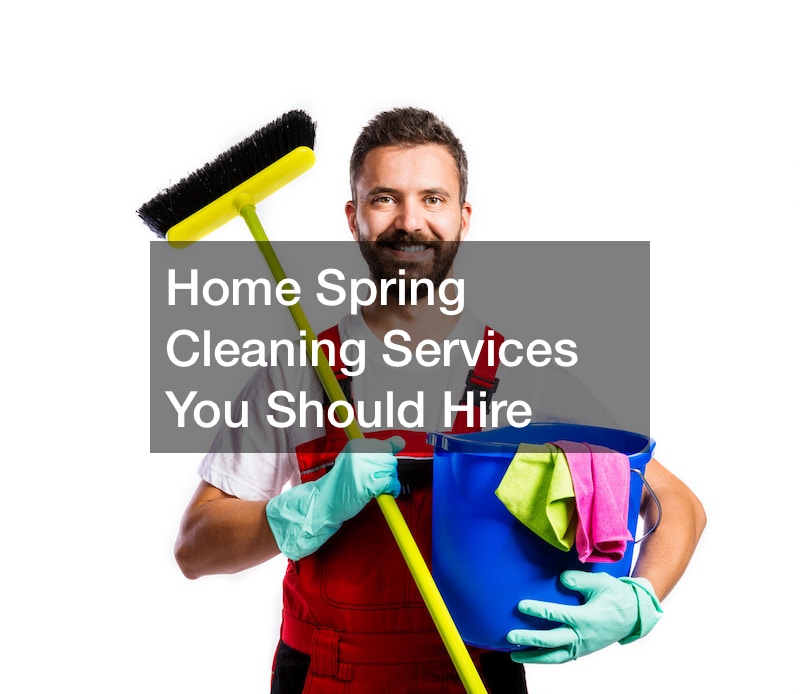 Spring is here, and it's time to tackle that deep cleaning you've been putting off. But why do it yourself when you can hire a professional home spring cleaning service? According to a recent survey by Ipsos, 9 in 10 Americans have engaged in spring cleaning at some point, and they prioritize the kitchen, bedrooms, and bathrooms.
Allow the experts to help handle the heavy lifting and decluttering so you can enjoy a sparkling clean home without lifting a finger. In this article, we'll discuss some of the spring cleaning services you can hire to improve different areas of your home and offer tips for making the most of these services. Read on to learn more.
Home Spring Cleaning Services You Should Hire
According to Statista, 78% of Americans engage in spring cleaning each year. But most don't know that to undertake spring or deep cleaning successfully and effectively, you need some level of competence, a routine, and quite advanced equipment. If you lack the knowledge, skills, tools, and passion for performing spring cleaning services, it is advisable to look for well-versed experts in the following services.
Driveway Maintenance
One area of your home that can benefit from spring cleaning services is your driveway. But do you have the time to clean the driveway? For stubborn stains in the asphalt, a toothbrush and a small amount of warm water won't help much. Additionally, doing your own pressure washing means investing money in a complicated tool that, if used improperly, could wind up causing more issues or even endanger your health. Does that imply you will spend the rest of your days cleaning up your messy driveway?
Absolutely not! There is a pretty straightforward and fast technique to restore the gleam to your driveway. Professional driveway spring cleaning services use the latest cutting-edge cleaning tools to remove all debris from your driveway. They know exactly how to clean your driveway with pressure washers while avoiding dangerous chemicals. The teams are skilled at getting the greatest water use out of the least quantity of water, giving you value without wasting it. You don't need to go out and buy your own pressure washer that might be pouring your hard-earned money right out of its spout because a pressure washing firm has the appropriate equipment for the job.
Additionally, it saves time. You don't need to spend hours trying to understand a difficult pressure washing handbook or crawl on your hands and knees to scrape impossible-to-remove stains from your driveway's concrete. To ensure that your time and money are well spent, you may schedule an appointment with a driveway cleaning service at a time that works for you. This way, the next time you arrive home from work, you'll drive along a spotless route that leads directly to your garage. You should also hire a paving company to help you repair cracks and holes in your driveway and reseal and repave your driveway to make it look new again.
Roof Cleaning and Maintenance
Many people don't give much thought to cleaning or even monitoring their roofs during each season unless they find a leak. However, this is another important area of your home that could benefit from spring cleaning services. As soon as it becomes warm outside, you should take care of your roof in the following ways:
Clear the Roof of All Debris
There is a good likelihood that mold and mildew will form on your roof if it has a lot of debris. If this is the case, your roof will be harmed, and if you do nothing, you might have to replace it altogether. There are two simple methods roofing services can use to remove roof debris. Both using a leaf blower and manually raking the debris off are options. It is usually advisable to engage professional roofing companies to complete the task if you cannot do it safely.
Clean Up Any Mildew and Mold
Mildew and mold pose a serious threat to your health and the roof itself. In the spring, look for any mold or mildew on your roof. Keep an eye out for streaks of color that signal development on your roof and have them cleaned.
Damaged Tree Branches
Hire professionals to remove tree branches that land on your roof during the winter as soon as possible. You can remove tiny branches on your own, but you might require a tree services professional assistance with larger branches and dead trumps. The larger branches could rip holes in the shingles and let water seep into your home if they remain on your roof.
Check and Clean the Gutters
Downspouts and gutters should drain rainwater correctly. If they don't, there will be an overflow, leaving you with the chore of cleaning the gutters. Another possibility is that granules or other materials from your roof have leaked into your gutters from the surface. Hire professionals to check the source of the granules and replace shingles if they get thinner as they wear off.
Backyard
Your backyard is another area of your home that can benefit from spring cleaning services. What, though, does a yard cleaning service provide? A yard cleaning firm may offer various specific services, but the majority provide the same fundamental options, including some or all of the following.
Debris/Leaf Removal
If you own a significant number of trees, you'll probably have to take on the laborious work of getting rid of debris by the end of the winter. This can take a while, particularly if you don't have a leaf blower and use a traditional rake and lawn trash bag to do the task. Luckily, you can hire a yard cleaning service to remove leaves and other debris from your property (such as fallen branches and other yard waste).
Weed Control
The spring and summer seasons are when weeds are most prevalent. Weeds can harm healthy grass and plants on your property, reducing the curb appeal of your home and the appearance of your yard. Hire a yard cleanup service to ensure that your landscaping beds and yard look their best.
Pruning of Trees and Shrubs
Several yard cleanup businesses also provide tree services to enhance the health of your plants and shrubs. A yard clean up service will know how much pruning is necessary to maintain the health of your trees and shrubs and promote healthy regrowth in the upcoming seasons.
Installation of Mulch
Mulch beds can be labor-intensive to add or maintain, a major reason why many homeowners hire yard cleanup services to handle this task. A fresh or updated mulch bed on your property can also give your house a new look from the outside. A reputable company will have the equipment necessary to lay mulch, saving you the trouble of transporting it to your house. If you want to upgrade your backyard, you should consider hiring fencing contractors to install a new fence. They can install new fences made of wood, vinyl, aluminum, or even wrought iron.
Air Conditioning
One of the best times of the year to hire spring cleaning services and home system maintenance is spring. It also makes sense to clean and maintain your air conditioning system as the hot summer months approach. Here are some ideas to put on your to-do list for spring HVAC cleaning!
Change the HVAC Filter
Replace your HVAC filter as one of the first items on your checklist for HVAC cleaning. Homeowners frequently overlook this maintenance tip, even though it needs to be done every two to three months. For this reason, combining this chore with your other cleaning and maintenance projects in the spring is a wonderful idea. Your home's air quality will improve, and energy bills will decrease with a clean air filter!
Ensure the Area Around Your Compressor is Clean
Cleaning the area around their air compressor is another thing homeowners can do to get their HVAC systems ready for the summer heat. Cool air enters your home through air compressors, which are located outside. During the autumn and winter, dirt, sticks, leaves, and other debris frequently gather around your compressor. To keep any outside debris from entering your home's air, all homeowners should hire HVAC services during spring to clean the region around compressors.
Clean Your Air Ducts
Professional air duct cleaning is a good option if you want to ensure that the air in your home is of the finest quality. Dust and other debris will build up over time, especially in the winter. Before turning on your air conditioner for the summer, do this to reduce the number of allergens in your home's air and, as a result, increase the amount of clean, healthy air there. The best time to arrange an HVAC inspection is in the spring. By far, this is the greatest approach to guarantee that your air conditioner will function properly throughout the summer.
Chimney Cleaning
Another service that can help you to improve your home is a chimney cleaning company. They can help you to clean, repair or replace your chimney. Almost any homeowner can complete some of the duties involved in chimney and fireplace inspection, but a few should be left to the experts. Here are the guidelines professional cleaners should follow.
1. Chimney cap: They should ensure that it fits perfectly and that there are no debris-related draft blockages.
2. Chimney crown: Inspect it for cracks that could let water leak and cause significant harm.
3. Exterior of the chimney: Similar to the chimney crown, professionals should check the exterior of the chimney construction for cracks and disintegrating brick and masonry. Small cracks can be sealed with a specific sealant, but bigger cracks could indicate that the chimney needs repair.
4. Chimney flashing: This substance is used to close the opening between the chimney and the roof. The specialists will check for damage and defective seals that could allow water in.
5. Flue: A chimney sweep can inspect the inside of your chimney. This specialist will use specialized equipment to assess the degree of creosote buildup and any structural damage.
6. Damper: A licensed chimney sweep will also ensure the damper fully opens and shuts. These devices need to be replaced as they wear out over time.
7. Firebox: The firebox shouldn't have any rust or cracks. Either of these signs can indicate a serious issue for which you should seek professional help.
General Home Upkeep
In addition to the specific areas of your home that we've discussed, there are various other services you can hire to help improve your home's overall appearance and function. One of the most important things you can do for your home is to keep it clean and well-maintained. Hiring a spring cleaning service can help you to clean your home from top to bottom and can also help you to organize your home and get rid of clutter.
Besides cleaning, you can improve your home aura by engaging a house remodeler. They can help you to remodel different areas of your home, such as your kitchen, bathroom, or even your entire home. This can help you to improve the look and function of your home and can also help you to increase the value of your home. Additionally, commercial solar installs in the spring are recommended since you can start your true-up period with negative bills. With your new investment, you'll start saving money immediately and seeing impressive results.
Installing a solar system in the spring enables you to maximize energy gathering because the days are longer, and there is more sunlight. In actuality, spring is the second-best time of year to produce solar energy! The optimal time of year for solar generation is summer. In the spring and summer, solar systems typically create more electricity than they need, allowing you to sell the extra energy back to the grid.
Last but not least, if you're moving, hiring local moving companies with trucks can assist you with packing, moving, and, if necessary, storing your stuff. This can save you time and effort while you're moving and help you ensure that your items are treated and transported safely.
In conclusion, there are numerous home spring cleaning services that you can employ to enhance your space. These services can assist you in increasing the appearance and functionality of your property, from enhancing your driveway to upgrading your air conditioning. Consider hiring paving, roofing, tree service, HVAC services, spring cleaning services, and house remodelers to improve the different areas of your home and make it safer, more energy-efficient, and more beautiful.