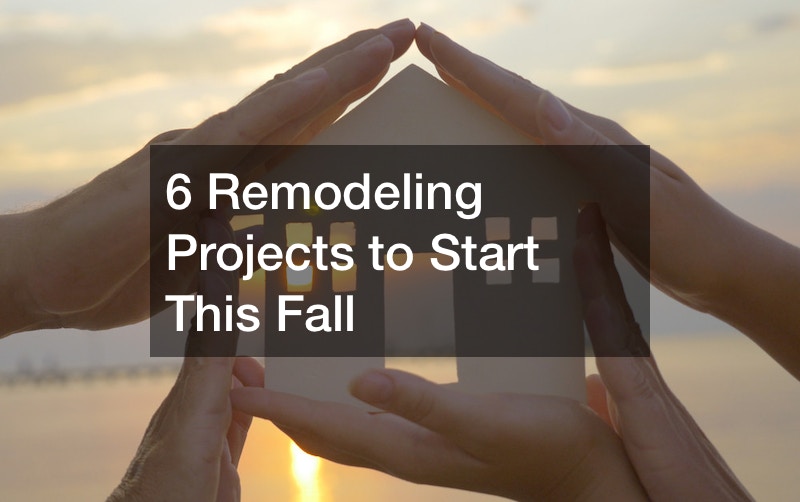 Fall is an excellent time to tackle home remodeling projects. The cooler weather and the upcoming cold season make the perfect time to refresh your space. Some popular projects you can experiment with include updating your kitchen or adding a fireplace to your living room. Whatever project you pick, fall is a great time to make improvements to your home. Here are some of the projects you can undertake.
1. A Kitchen Remodel
Remodeling your kitchen is one of the excellent home remodeling projects to start this fall. The weather will be cooling down and you'll be spending more time indoors; the perfect opportunity to give your kitchen a new look. It will enhance your home's aesthetics and increase its market worth while making cooking or entertaining more enjoyable.
Tackling this project in the fall means you can complete it before the holiday season. Thanksgiving and Christmas are just around the corner, so you know that having a functional and stunning kitchen will impress your friends and family. Whether it's baking holiday cookies or a big turkey, remodeling your kitchen will provide a space to create culinary masterpieces.
Who doesn't like it when your property's value increases? That's exactly what refacing your kitchen offers – the chance to make the heart of your home appealing to potential buyers. Updating your kitchen with modern appliances, beautiful countertops, and stylish cabinets will make your home sell for a higher price.
Fall is also a great time to start this project because it allows you to take advantage of seasonal promotions and discounts. Many home improvement contractors and stores offer special deals during the fall to attract customers. Taking advantage of these offers will save you money on labor costs, appliances, and materials, making the remodel more affordable.
What's more, is that this remodel can improve energy efficiency in your household. As temperatures drop, having a well-insulated kitchen becomes more important to retain heat and lower energy consumption. Finding electricians to install energy-efficient appliances, insulation, and windows reduces energy bills and creates a more eco-friendly kitchen.
It's a no-brainer that investing in a kitchen remodel is a fantastic project. It enhances your kitchen's practicality and looks – property value increase is a noteworthy side note. Why wait? Start planning your kitchen renovation today and enjoy a transformed space in time for the holidays.
2. A Bathroom Remodel
Bathrooms. Places where privacy and comfort are valued. This, of course, means that they shouldn't miss out on any home remodeling projects list, especially during the fall. Celebrating the upcoming holiday season with a remodeled bathroom with the help of pros like drain services can make your home feel more welcoming for guests.
This remodel will improve your quality of life, no kidding. A dated or poorly functioning bathroom is inconvenient and frustrating; refacing it can turn it into a spa-like oasis where you can relax and unwind after a tiring day. Adding features – with the help of a plumbing expert, of course – like a soaking tub or a luxurious shower fosters an ambiance of extravagance in your home.
Moreover, remodeling your bathroom also saves money down the line. Upgrading to efficient appliances and fixtures reduces water and energy consumption; so, lower utility bills! Installing low-flow toilets, LED lighting, and water-saving shower heads can make a positive dent in your monthly expenses.
Do you like personalizing your space? This project allows you to do just that. You love a minimalist design or a rustic atmosphere; this remodel allows you to transform your bathroom into a space that truly feels like your own.
Remodeling your bathroom with the assistance of a local bathroom contractor can benefit you greatly. It improves your life quality, saves money, and allows you to personalize the space. The cooler weather approaches so now is the perfect time to tackle such a project!
3. A Garage Remodel
The fall season is upon everyone and many homeowners are looking for home remodeling projects to tackle. One project that deserves its flowers is a garage renovation, even though it's mostly overlooked. Transforming this space into a functional and organized space will improve your daily life by reaping its ROI.
Added storage is one of the things you stand to gain with a garage remodel. It's not surprising that most people think that garages are a dumping ground for unused items and clutter. Installing cabinets, storage systems, and shelves creates designated places for holiday decorations, sports equipment, and more. It'll keep your garage organized and make it easier to find or access the items you need.
You'll also create a versatile space that you can use for many purposes. A little creativity and planning can turn your garage into a playroom, workshop, or even a home gym. It's especially valuable if you have limited space in your home and need extra room for certain activities. Maximizing your garage's potential creates a functional and flexible space that meets your family's needs.
Aside from that, refacing your garage adds to your home's aesthetic appeal. Various flooring options, decorative elements, and lighting fixtures are all you need to this place around and make it visually appealing. This makes a big difference when you put your home on sale, as buyers are more impressed with the attention to detail and thoughtful design.
Furthermore, this project provides an opportunity for energy-saving upgrades. Insulating the ceiling and walls, adding proper ventilation, and installing energy-efficient doors or windows all chip in toward a more comfy space. If you plan to use your garage as a living area or a workspace, these upgrades will make it a more pleasant environment.
There you have it; all the reasons why a garage is one of the home remodeling projects to execute this fall. Creating a versatile and well-organized space will favor you when you list it on the real estate market – just make sure to seek appropriate help, like from a garage door business. Take advantage of the autumn season and start planning this fab project today; you won't be disappointed with the results!
4. An Attic Conversion
Converting your attic into usable space is one of the home remodeling projects that never miss. Fall is a perfect time to tackle this, what with the changing seasons and cooler temperatures. There are several reasons why an attic conversion is an ideal project to execute.
Adding valuable living space is a guarantee with this task, for one. Attics are often underutilized and act as storage rooms for items that are rarely used. A conversion will make it into a usable area like a playroom, a bedroom, or an office, maximizing the square footage of your house.
Cost savings are another added advantage. Compared to other major home remodeling projects like extension addition, an attic conversion is often more affordable. Since the attic's basic structure is already in place, you can save on materials and costs and focus on more pressing issues like attic insulation.
Moreover, converting your attic allows for great design flexibility. Attics usually have interesting architectural features like skylights, exposed beams, or sloped ceilings. These unique characteristics can be easily incorporated into the space's design, creating this visually stunning masterpiece of a room.
Talking about practicality, an attic conversion offers additional privacy (seclusion, if you prefer). Depending on your home's blueprint, the attic may be located away from the main living areas, providing a quiet retreat for relaxation or work. It can also be an ideal space for teenagers or guests who want their own separate area.
An attic conversion is very beneficial and is worth considering this fall season. It provides extra living space, offers cost savings, allows for design flexibility, and enhances privacy. Thoughtful planning beforehand and assistance from pros will transform this space into a stunning and functional space that adds to your property value.
5. A Fence Project
Your property's security and how it's perceived on the street are two main things that should take center stage in your thoughts. Luckily, a fence can be the answer to these two issues – two birds, one stone. Looking to increase privacy, improve security, or add elegance to your outdoors? A fence can do it all!
First things first, a fence provides security. If you have a bustling neighborhood or a busy street nearby, it can create a peaceful and secluded oasis in your yard – you won't feel like you're on display for the world to see. You can relax, host guests, or spend time with your family in the comfort of your own backyard.
Fences also add an extra layer of security – a hooray for your entire property, as they deter potential trespassers and stave off unwanted visitors. This is particularly important if you have pets or children, as a fence will provide a secure place for playing without worrying about them wandering off. It also protects your garden or any valuable outdoor equipment from vandalism or theft.
Aside from security and privacy, this feature tweaks your property's curb appeal for the better. There are many materials and styles to select from, allowing you to find the perfect fence to match your home's landscaping and architecture. Be it a modern steel design or a classic white picket fence, there's a fence out there to make your property pop.
Moreover, a fence installation can define your outdoor space and create separate areas for various activities. You can designate a certain area for entertaining and dining, another for playing sports or gardening, and even allocate a small enclosed area for pets. This makes your outdoors more organized and functional – makes your property more desirable to buyers, too.
Fall is the perfect time to start a fence project. Why, you might ask? The weather is cooler, so it's more comfortable to work outdoors; it's a time when many contractors have more availability. Starting this project during this period will have it completed before the winter months arrive, so you can enjoy the benefits before then.
A fence project has many rewards -; provides security, privacy, and adds aesthetic appeal to your property. It also allows you to define your outdoor space and assign separate areas for different activities. The cooler weather, the availability of contractors, and potential discounts mean that now is the perfect time to start your fence project and transform your outdoor space.
6. A Deck Installation
Fall is the perfect season to start planning and executing your home remodeling projects. One of the projects that should be at the top of your list is deck installation. Adding a deck enhances your house's aesthetic and provides a functional outdoor area that can be enjoyed all year round.
Of course, the fall weather is one of the main reasons to tackle this project. In most regions, this season offers more moderate temperatures and lower humidity, making it easier and more comfy for a composite deck builder to work on outdoor projects. The cooler temperatures also ensure that any sealants or stains applied to the deck have enough time to dry and cure properly.
What else can you get with deck installation during this season? End-of-season sales and discounts, as most improvement stores and experts like residential electrician services offer discounts on materials and labor. Furthermore, starting your deck installation in the fall will have it ready to use by the following summer, maximizing your enjoyment of the new outdoor space.
It's also wise to tackle this task during the fall because it aligns with the natural progression of other home remodeling projects. For instance, if you're planning on painting or staining your home's exterior, you can easily incorporate the deck into this process. This way, you can achieve a cohesive and coordinated look for the entire property.
Moreover, installing a deck during this season allows you to take advantage of any remaining warm weather before winter sets in. It's a win-win situation. Completing your project before the cold weather arrives means that you can host outdoor gatherings, relax in the fresh air, and enjoy the changing colors of the season on your new deck.
If you're looking to start a remodeling project this fall, give deck installation a chance. The favorable weather, possible cost savings, and enjoying your new outdoor space before winter make it the best time to embark on this project. With a deck, you'll improve your home's appearance, creating a space that'll be enjoyed for many years.
Home remodeling projects will never go out of fashion. Executing the tasks above during the fall season is the best decision you can ever make. Give them a chance; you'll see how well they'll work out!