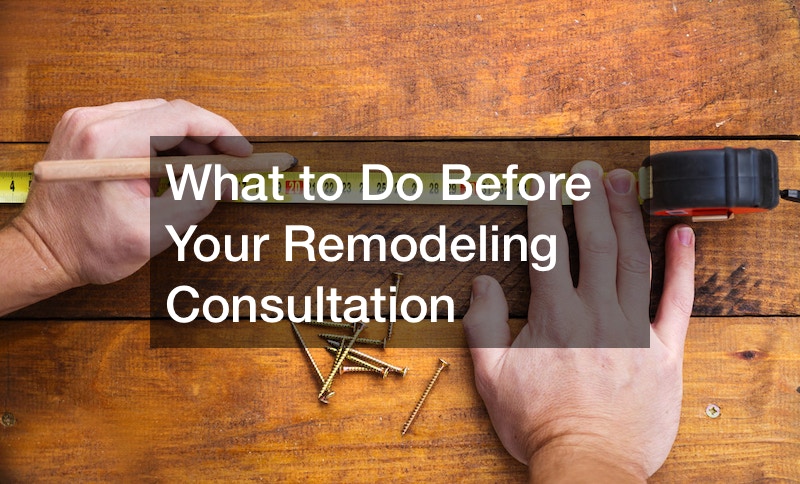 The average home renovation project can last 4 to 6 months and involves making several decisions. For this reason, you need to hire a professional to help you make those decisions. A reliable home renovations consultant, also known as a home improvement consultant or a home renovation coach, is the ideal person you need for your project. This professional isn't a contractor but can help you a lot in designing and budgeting. However, before going for a remodeling consultation, you should do the following things:
Research the Best Home Contractors in Your Area
Before going for a remodeling consultation, Angi says a homeowner should do a little research to identify the local remodeling contractors. Although a consultant will help you come up with the best designs and establish a budget range, you will need a contractor to help you execute your concrete vision. And the best approach is to have several local contractors to establish who is reliable.
When establishing a list of home improvement companies, you should do thorough research. You need companies that will give you honest advice and quotes. Secondly, you must ensure that the company can protect your investment. First, research your local companies by visiting their websites and social media pages.
The internet allows you to read reviews about their past projects and how they offer services. You don't need to read everything to make decisions; instead, choose reviews relating to your project. Ideally, choose around 6 to 7 latest reviews about home remodeling and note what the customers say about the company. If you learn their services are top-notch, proceed to the website and confirm on the gallery.
The second thing to consider is the warranties. An honest and reliable company will offer warranties to their customers because home remodeling projects are expensive investments. Normally, the company will include information about its warranties on the website. Check the contact page and pick the contacts for communication after dealing with the remodeling consultant.
Once you have a list of three to four best companies, you can hire a design and budget estimations consultant. A consultant will enlighten you on remodeling basics to save you from contractors who may take advantage of you. Some aspects, like material sourcing and costs for various designs, are essential if you don't want to be overcharged during your project. In simple terms, you negotiate with your contractor as an experienced person.
Consider Bathroom Upgrades
According to experts, bathrooms must be upgraded every three to four years. A bathroom is the moistest and essential room of a house. And considering the regular usage by the household members, a bathroom should be one of the key rooms to consider during a home remodeling project. So, before a remodeling consultation, play your part by examining the condition of the bathroom.
Despite having a consultant, you must understand what you need in your house. A consultant will help you based on the information and the functionality you need in your home. Research the trending bathroom upgrades and consult your household members to understand their interests. For instance, if you like the bathtub layout but hate the color, the consultant will help you hire bathtub refinishers and make ideal color decisions for your family.
The other thing you must check is the showers, toilets, and the plumbing system condition. The consultant may not examine the condition of the piping because, in most cases, you may do a video consultation. As such, the consultant will depend on your information, like photo evidence or verbal explanation. Ideally, call your local plumber to help inspect the system for rust and determine the damage level.
Inquire About Replacing Your Kitchen Cabinets
Experts say most kitchen cabinets can last 15 to 25 years. On the other hand, a high-quality cabinet can last for about 50 years; why would you keep the 80s and 90s designs in a modern house? First, decide whether you need a kitchen remodel because you would also want to swap the appliances, shelves, and countertops for a modern look.
Classic-style cabinets are ideal for your home because they fit almost every kitchen design. As such, you should research your area's best custom cabinet companies before moving on with the project. Having the basic information will help you in budget estimation and sourcing for the cabinets if the contractor won't source for you.
To determine if your cabinet needs replacement, check for any of the signs explained before going for a remodeling consultation for better advice. The first sign is insufficient storage for all the kitchen ingredients and other items. The space may become smaller as the family grows because children also love engaging in kitchen activities. The second thing is the condition of the drawers and the doors; if they slam each other, it needs replacement.
You should also check the water damage, wear and tear, and unpleasant smell. The gap between the cabinet and the wall may be inaccessible for cleaning, and mold can build up with time. On the other hand, water can cause excessive wear and tear on the materials since most of the cabinets are made of plywood. The last thing to consider is if the kitchen has new appliances, which is the information you should table during a remodeling consultation.
Think About Your Door and Window Safety
The other thing you must check before the remodeling consultation is door and window safety. Your family members and the interior items must remain safe during a storm. Moreover, you should keep the pest out of your house by sealing the windows.
Plan to invest in security window films because hurricane impact windows and doors. Films have adhesive glue that bonds the glass together to resist the wind force. Alternatively, invest in strong storm shutters because they come in different styles that give a home an appealing look. The Centers for Disease Control also advises clearing the yard to remove objects that can fly and hit the windows.
Move around your home and inspect the windows and doors for damage. Most metallic window or door frames can rust and develop holes that allow pests into the house. If they are damaged beyond repair or cost more than half the new windows, budget for the home window replacements. You can have your consultant check and advise you on the best windows to install.
Investigate the Cost of Replacing Your Windows
Remodeling consultation will help you make informed decisions if you have basic knowledge about the market window prices. As such, visit several window shops and inquire about the prices of different window designs and materials. The information will help you make the best budget estimations once you talk to your consultant.
The idea here is to have a list of prices to analyze details based on the consultant's advice. For instance, if you live in a dusty location, you would want to invest in vertical blinds and windows. On the other hand, if your area freezes during winter, a wooden door can rot faster than an aluminum door. Aluminum doors are also stronger to enhance safety in your home.
During remodeling consultation, take notes of the information the consultant advises you and use the information you gathered from various shops for decision-making. For example, if the consultant suggests installing storm shutters, check your list and choose the store that offers the best quality at an affordable price. This will help you lower the budget and ease the material sourcing for the project.
According to Forbes, a single window replacement can cost $150 to $1500. So, you can better estimate the window replacement by calculating the number of windows in your house. Alternatively, if your window replacement adds a huge budget to the project, plan on repairing and replacing the damaged window panes. The consultant will help you revise the budget where necessary.
Discuss Replacing Your Floors
Before proceeding with the remodeling consultation, discuss replacing your floor with your household members. Hardwood flooring is a modern trend in many homes. But hardwood flooring can be expensive compared to vinyl and carpeting. However, gather the best information from your family members, considering the remodel should make everyone feel in a unique place.
Ideally, consult various flooring services providers and note their charges per square meter or room. Once you have the information about the material you need and flooring company quotes, it will be easier to reason with your consultant. According to experts, carpets can last for 10 years, but other flooring types, like tiling, can go for 25 years. So, if you have traditional concrete flooring in your home, you may fill it and install a carpet.
Choose the Best Flooring Materials
Before you go for the consultation, decide which flooring will be the best for your home. Choose the three best flooring materials and ask the consultant to advise you based on the durability, budget, and warranties. When it comes to flooring, you can choose from a wide variety of materials.
One of the best flooring materials for your home is floor tile. Tiles are versatile because they can fit in any room. And if you want style and designs, tiles come in different designs that can increase your home value after the remodeling project. Additionally, tiles are easier to clean, water resistant, and easy to install, so the maintenance will be cheaper.
Another benefit that makes tiles the most loved flooring is they are hardy in high-traffic areas. As such, if you have many household members or love having parties in your home, tile flooring will be ideal for you. On the other hand, hardwood floors enhance the beauty of the home. Hardwood flooring also adds warmth to the house because wood does not lose heat to the ground due to poor conductivity.
Wood is strong and durable and requires easy maintenance. However, wood would not be the best choice if you have a flooded house because water can damage the material quickly. Instead, choose the tiles or upgrade your house drainage system to ensure your wooden floor serves you maximumly. Finally, wood adds a better look to any of the decor themes.
Vinyl, carpet, and laminate are cheaper alternatives if you're on a budget. Although these flooring types may not have a longer lifespan, they can give your home a new look. If you plan to live in the house for a shorter duration, these types can serve you before doing a major floor upgrade for home sales. On the other hand, if your pets are notorious for damaging the floor, you can use vinyl flooring because it's easier to reinstall.
Upgrade Your Floors to Hardwood
According to a savvy consumer report, 52% of homeowners in 2017 had hardwood floors. Homeowners said they value durability and attractiveness when it comes to flooring. And this makes hardwood flooring ideal for better home looks. So, if you have concrete or other traditional flooring materials, consider hardwood to increase the home's value.
Hardwood flooring material can be expensive because Forbes reports they have a national average of $4200. As such, find the best experts who specialize in hardwood flooring installations who will give you the best offers. Luckily, hardwood flooring has the best warranties from manufacturers and installers.
Invest in a Room Addition
Before going for a remodeling consultation, consider adding an extra room to your house to add functionality. As the family grows and things change in the modern world, you will need extra space in your home. For instance, when covid 19 came, people started working from home. This brought about the need for home offices.
Sun room installation can also add value to your home by 4 to 6%. It saves space in the house because most household members can rest in the sunroom during summer. Additionally, it's ideal for hosting guests during a party. Alternatively, plan on adding a patio with the house roof extension.
Secure a Backup Bathroom While Remodeling Occurs
Finally, when the time for the remodeling comes, you must ensure the workers and your family members are in a safe environment. Since the bathrooms cannot be skipped during remodeling, hire a restroom trailer to make it easier for them to work on bathrooms without distractions. The cost varies depending on your state and the companies offering trailer services in your area.
Remodeling consultation is the best approach to save money on remodeling projects. A consultant will advise you and help estimate the budget, which will be beneficial when hiring a contractor. Prepare before remodeling by having basic information on the materials and the remodeling procedures. Additionally, ensure your home is secure by hiring insured contractors.