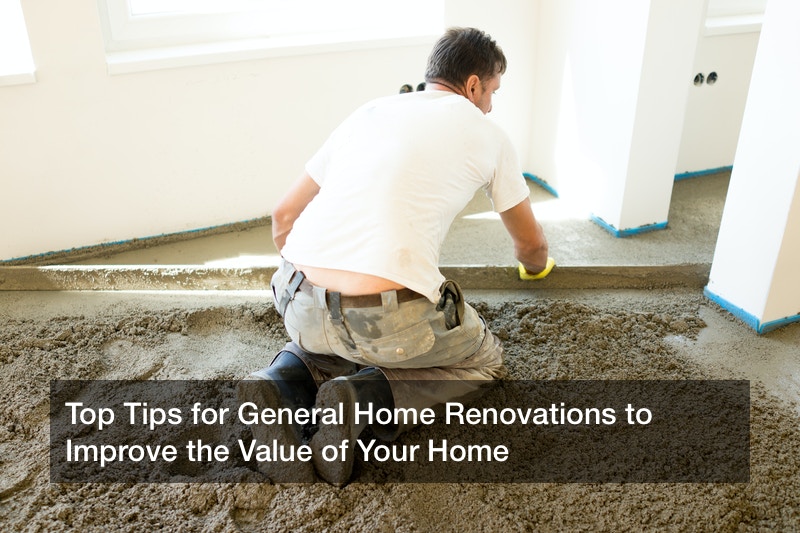 A general home renovation project can raise the value of your property and boost functionality in your home. But that is only possible if you do it right. Pouring money into sprucing up your property may not always lead to the returns you expect.
Experts believe that you can get the best returns by focusing on critical renovations like roof repairs and curb appeal. Certain personal projects could also add value to your property. In this article, we will be looking at the most valuable ones under four main categories. They are essential repairs, value-added, curb appeal, and individual projects.
Essential Repairs and Renovations
Essential repairs are the general home renovation projects that support basic functionality around the house.
For example, without plumbing repair, it would be impossible to perform some daily chores. Similarly, the HVAC system and furnace need to be in tip-top condition. Before you focus on other areas of your property, consider starting with the following essential tasks:
1. Furnace and AC Maintenance
If you are planning to renovate your home, you need to understand its effects on your HVAC systems. Often, homeowners overlook the impact it can have on air conditioning and heating. Changes in the size of the room and the accumulation of dust and debris can reduce the efficiency of the AC.
HVAC technicians take into account the design and size of the home to determine the most efficient system to install. When the layout changes, it may prompt modifications to the ductwork. Otherwise, you may introduce hot and cold zones in areas where it wasn't necessary.
Therefore, for general renovations around the home, you need to consider having your HVAC system evaluated. A professional technician can help you upgrade the system and optimize it for new spaces. You can save a lot more in terms of money and time by replacing your old unit with a more efficient HVAC.
2. Roof Repairs
Upgrading the roof is another important aspect of your home to consider when carrying out general home renovations. Most homeowners may settle for a Band-Aid solution, which often doesn't last.
Roof repair and maintenance is necessary if you are to uphold your home insurance. Failing to fix the problem with your roofing can be taken as neglect. The insurer can easily void the policy on that basis.
Furthermore, roof repairs improve the energy efficiency of your home. It keeps mold and mildew at bay, by reducing the risk of leaks and accumulation of water. It is one of the most critical general home renovations you can do. It prevents health risks and boosts the curb appeal.
3. Professional Plumbing Repair and Maintenance
There is no doubt that plumbing is important for the functionality of the home. But when it comes to the value of the property, many homeowners overlook its significance.
Plumbing is like the skeleton and muscles in the human body. They may be out of sight, but they support many critical systems. Similarly, your beautiful lawn and garden are held up by the plumbing, and the water it safely drains away.
Poor plumbing installations will not only affect your yard but could cause structural problems around your property. Too many leaks around the house, especially in the basement, can cause the foundation to weaken. Also, you'll have to contend with mildew and mold, which can be costly to eliminate. In the end, it would be hard for the homeowner to have enough resources to spare and still uphold the condition of their home.
Plumbers today have advanced diagnostic tools that can efficiently detect faults in the drainage. They can isolate the problem at its earliest stages, which helps homeowners avoid costly repairs. Therefore, a professional is the safest bet for kitchen and bathtub drain repair and maintenance.
Value Added Renovations
One of the important aspects of general home renovations is value-added projects. They are refurbishments of certain areas of your property that can significantly increase its value. The projects are also beneficial in enhancing the functionality of different parts of your home.
Some of the value-added general home renovations may include:
1. Refurbishment or Replacement of Siding
Renovating your siding is one of the best ways to add value to your home. There are different types of siding, ranging from vinyl to foam and fiber cement varieties. But reports show, regardless of the style, it will often give homeowners up to 80% return on investments.
Why is the project so important? Not only does siding improve your curb appeal, but it also protects your home. It shields your property from harsh weather elements. Many installations are made from materials that are inflammable and resistant to termites.
Remember, it's important to use high-quality materials since they improve durability and reduce maintenance costs. Again, most potential buyers will first evaluate the conspicuous aspects of your property before looking inside the house.
2. Septic Tank System Maintenance
If you are considering general renovations, do not leave out the septic tank. The tank requires regular cleaning to prevent the buildup of residue. When not properly cleared, the sludge can carry toxins into the drain line. It can pose a health risk for you and your family and can damage parts of your property.
It is recommended that you hire a residential septic tank pumping service every three years. The pumping clears the residue and prevents buildups that could overflow onto your property. The toxins from the septic tank could devastate your lawn. Routine maintenance can detect problems at an early stage and increase the longevity of your tank.
3. Installing New Windows
If you have old windows that have not been checked for some time, you should consider installing new ones.
The cost of new installations often seems high for many homeowners. But if you consider the high utility bills caused by inefficient windows over a year, it is impossible not to see its value.
Even if your home doesn't need new panes, you should not overlook routine maintenance. Modern windows have extra features that enhance insulation and lower thermal emissivity. Double and triple-glazed windows prevent air from escaping the enclosure. A new installation could also improve the value of your home.
4. Garage Door Repair and Maintenance
Restoring part of your garage can have a significant impact on the value of your home. The garage door opener can also be optimized for enhanced functionality and aesthetics.
A new door may have provisions for storage, which helps to keep the garage clutter-free. It may include compartments or fittings for storing tools. You can also transform the space into a more conducive room for repairs and DIY projects. The additions may be attractive to buyers, who will appreciate an extra room for hobbies, auto-maintenance, and even recreation.
Additionally, a new installation can boost the energy efficiency of the home. A professional can help you evaluate the installation at the top and around the door. Look at it as an investment that you can recoup from the energy savings.
5. Kitchen Renovations
A general home renovation, should not exclude the kitchen. Although some projects can be expensive, they often prove to be worthwhile when done right.
Cabinets and new appliances are the most significant expense for kitchen renovations. But you can save money through careful planning. For example, moving the sink can affect many other aspects of the kitchen, such as the drain line and plumbing. As the homeowner, you will also have to contend with the extra costs of hiring a professional to do the repairs.
Before you plan any modifications in the kitchen, have a clear understanding of the limits of your budget. You ought to only move the sink or change countertops and cabinets when it is necessary.
Keep in mind that many installations can become outdated by emerging trends. You could spend a lot of money on cabinets, hoping to increase the value of your home, but you may not realize its real value due to changes in the market.
Consider hiring a remodeling expert for extensive projects in your kitchen. You can learn a lot and avoid mistakes by tapping into the expertise of a qualified professional.
Curb Appeal
Curb appeal refers to those projects that enhance the perception of beauty and aesthetics. One of the reasons these projects are so important is that you can increase the value of your home with relatively low capital expenditure.
Some of the most critical curb appeal projects for general home renovations may include:
1. Gutter Maintenance
The roof is a critical aspect of the structure that protects your home. But without gutters, it cannot perform its function as effectively as it should.
Gutters drain the water from the roof. Without it, water will pool around the foundation and possibly weaken the stability of the structure. Accumulation of water also creates an environment suitable for the breeding of insects and pests.
It is important to clear the gutter often to prevent clogging, which in turn causes flooding. Pools of water can ruin your lawn and curb appeal. Maintenance does not require a lot of time and resources, and it will prevent you from starting your landscaping process all over again.
2. Repainting the Exterior
If you are planning general home renovations, repainting the exterior is one of the most valuable projects you should consider. It is relatively low cost compared to other types of renovations and leaves your property looking sharp and pristine.
Also, paint protects the exterior from the elements. Your house siding, deck, and fence could do with a new layer to insulate it from damage caused by insects, pests, and moisture.
The exterior of your home is the first thing that people will see. A professionally done paint-job will boost the curb appeal, and ultimately, the value of your home.
3. Landscaping
Even though many homeowners recognize the value of landscaping, its true value is seldom appreciated. Unlike other types of general home renovations, like replacing kitchen countertops, its value is often not as affected by trends.
However, it is important that you carefully plan your landscaping project. If the planning is haphazard, it may put off potential buyers. Also, the project does not have to be extensive. A garden that is too big may end up costing a fortune to maintain.
The best approach is to develop a plan, preferably with a qualified landscaper. You may find ways to cut costs by utilizing the resources you already have in your home. However, if your premises has a large garden or lawn, you will need an agricultural construction service provider.
Individual Projects
When it comes to general home renovations, certain projects don't fall into the categories mentioned above. They involve remodeling efforts that are driven mainly by taste or personal preferences.
The value of such a project often depends on the homeowner. A pool may be a great addition according to your family, but to others, it is expensive to install and maintain. Some home buyers may even be discouraged by the amount of money and time they'll need to put aside to maintain it. At the same time, some buyers will only purchase a home that has a pool.
However, certain remodeling projects could significantly add value to your home. For example, basement remodeling can create space for recreation, or it could be turned into a cozy living room.
You can maximize the value and functionality of your basement by designing it in line with market demands. Turning it into a bedroom or an open living space may be more attractive to home buyers. Avoid subdividing the space as it will make it harder for new homeowners to re-purpose the room to their preferences.
You also need to realize that individual projects can be demanding and time-consuming, especially if they are DIY projects. They can also become expensive once you factor in the cost of buying professional tools. It is, therefore, advisable to hire tools from an equipment rental company rather than buying them.
In Conclusion
Whether the renovations involve drains, plumbing, or gas stove repair, careful planning is key. If you want to increase the value of your home, you ought to adopt an investor's mindset. That way, you will have an easier time choosing the type of general home renovation project that suits your home. When in doubt, kindly consult an expert.