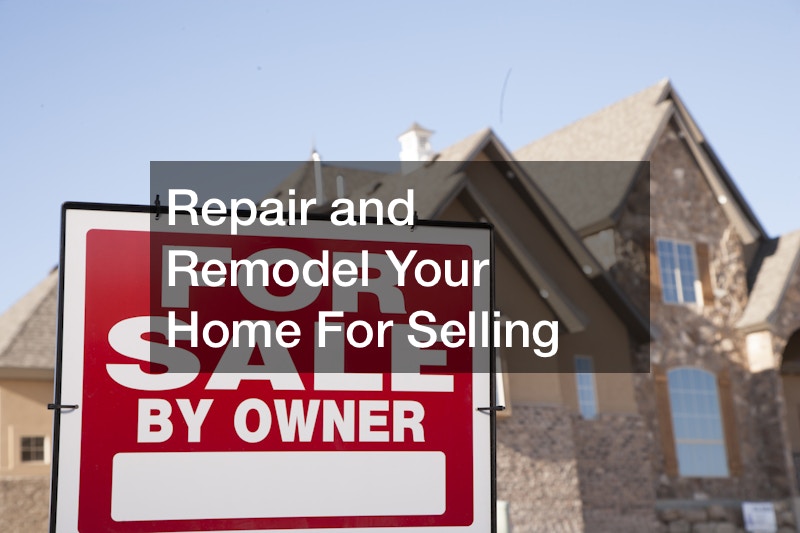 Before listing your home, you should make some improvements to boost its value and the selling odds. Here are tips to help you repair and remodel your home for sale.
Upgrade Your Fence
Potential home buyers would be more interested in buying a home with a well-maintained fence than one with a dated or no fence. This is because a well-maintained fence convinces them that the rest of your property is well cared for and that the property is likely to be a good investment.
Additionally, quality fencing assures home buyers of great protection from outside dangers. For instance, it can deter thieves from interfering with their property or slow down vehicles that may otherwise run off course into their property. It can also prevent destructive animals like rodents from invading their property.
Finally, a fence without gaps assures potential home buyers that your compound is safe for their kids and pets to play, without the risk of squeezing into the neighborhood. It also promises them privacy to host their outdoor private events without fearing the prying eyes of their neighbors.
Now that you have enough insights into why you should upgrade the fence before listing your home for sale, it's time to implement it. If you aren't handy, be sure to hire one of the reliable fence companies in your area to install your fence and suggest more tips on how to repair and remodel your home to make it sell quickly at top value.
Improve Your Landscape
Another way to repair and remodel your home before selling is by improving its landscape. Depending on the state of your lawn, landscape improvement can take any form, including:
Replanting grass in a patched lawn
Cleaning accumulated debris
Tree planting and maintenance
Watering and fertilizing the lawn
Floral arrangements and ornamental planting
Installing exterior lights to accentuate the lawn at night
Adding any other accents to improve your home's curb appeal and value
As you can see, most landscaping operations are simple, and you can execute them by DIYing. However, if your schedule seldom allows you to perform such operations, you can hire a professional to help with most landscape installation work. Also, hiring a landscaping professional is essential if your lawn shows signs of poor soil pH amid other problems like:
Dark green leaves with red, purple, and bronze spots
Why do you need a professional landscaper anyway? A professional landscaper will work on the existing soil to optimize its pH., fertility, drainage, and other aspects before planting. In addition, they can suggest the best treatment for yellowing plants and tips for maintaining a lush-looking and inviting lawn.
If you are to hire a landscaping expert, be sure to do it in advance to give the lawn enough time to recover its good condition before listing. Also, ensure they are well-versed with your landscaping goals at the beginning of the project to help them design your lawn well.
Make Sure Your Tile Is Clean
Dirty and cracked tiles can give your home a dated and ugly look. They can host bacteria, especially in the grouts, and interfere with indoor air quality. This will not only put off potential buyers but also risk the occupants of serious infections. That's why you should consider tile cleaning when planning to repair and remodel your home.
Below is a rundown of things you need to do to ensure that your tiles look new to prospective buyers:
Clean and disinfect the tiles: If you haven't cleaned them for a while, clean any free debris, stains and molds that may have built up in their surfaces and grouts. To clean, spray water, vinegar, and water solution on the dirty tiles and scrub them using a nonabrasive brush or microfiber cloth. If the solution doesn't help, a baking soda, water, and vinegar solution will suffice.
Replace any chipped and cracked tiles: To ensure the tile surface is structurally sound.
Add tiles: if your bathroom or any other area in your house lacks tiles, it's high time you install them to give them a seamless, clean, and new look.
When replacing the cracked or installing new tiles, you should level them with installed tiles in your space to avoid uneven surfaces. If you aren't adept in tile cleaning and installation, hire a tile and grout cleaning company to do it for you.
Remove Overgrown Trees
When strategizing on how to repair and remodel your home for sale, you shouldn't ignore the benefits that you can get by removing overgrown trees.
First, removing overgrown trees will allow for quick moisture evaporation from the roof during rainy and cold seasons, preventing roof rot.
Second, overgrown tree branches tend to fall on buildings during storms and heavy winds. Removing them secures homeowners, pets, and other house occupants from such risks.
Third, removing overgrown trees will help to decongest the lawn and get rid of dead and sick branches that may be inhabiting and spreading pests and diseases in the lawn.
The fourth reason you should eliminate overgrown trees is to enhance your home security. Overgrown trees can interfere with the efficient working of security cameras and motion detection lights or become potential hideouts for thieves and other ill-minded persons.
Finally, removing overgrown trees allows for the penetration of sunlight into the shadowed parts of the lawn, avoiding the yellowing of grass and small tree leaves on your lawn.
As you can see, the benefits of removing overgrown trees go beyond aesthetics. If you think DIY tree removal could risk your property or other peoples' property, then hiring the services of tree removal companies will be safer.
Update the Locks
Another effective way to repair and remodel your home is to change the locks. Ideally, homebuyers aren't aware of how often you have lost and replaced the keys for your home before listing it for sale. And selling a house with old locks might raise a serious security concern.
Besides, failure to change the locks would mean added insurance premiums to any potential homebuyer as the home is at a high risk of break-ins. That would be a huge turn-off to many buyers since no one would want to buy a money pit.
Finally, replacing your locks and other renovations will give your home a clean and beautiful new look that appeals to many prospects.
Changing the locks should be the last stage of your home improvement after all the tradesmen and contractors have completed their work. This will ensure no one else has access to the keys except you and the local safe locksmiths who might be installing the locks.
Make Sure the Heating Is Working
Before buying your house, many prospective home buyers will send professional inspectors to assess whether your listing price is worth it. Your heating system may be an easy target. And the chances are high that potential buyers will delete your house from their list if they find out your heating system is defective.
That said, you should repair and remodel your home's heating system to ensure that it's in a good working order before you list the house for sale.
You can tell that your heating system needs some repair if:
Your Heating system is outdated: If you have been using your heating system for approximately 10 years, then your home will benefit from a system upgrade. The good news about replacing the entire system is you will recover the cost or make a profit after selling your home. It's like having furnace repair services and other heating repairs for free.
High utility bills: If your utility bills indicate huge energy bills, your heating system may need to be fixed. While high energy costs are common in old systems, they can also happen if you have new but poorly maintained heating systems.
The other common signs of a defective heating system include strange smells, thermostat indicators, and strange sounds. If you can't repair the system independently, call an experienced HVAC professional to help you.
Improve Minor Fixes
When prepping your home for sale, you don't have to spend thousands of dollars on expensive repairs and replacements. Sometimes, performing minor fixes will make a home ready for listing. Examples of the minor fixes you can perform to repair and remodel your home include:
Repairing the doors: Inspect your doors to tighten any loose screws, replace defective hinges, clean pet scuffs, or repaint them to hide color peelings and signs of old age. If the door is swollen from the humid weather, you can plane it a bit to stop it from sticking.
Hanging wallpapers: Adding wallpaper will accentuate your home interiors. You should be keen to update the patterns correctly and attach them straight to the wall without bubbles.
Removing popcorn ceilings: If you have a softening agent, a scraping blade, a ladder, and other essentials, removing a popcorn ceiling shouldn't take your time. Be sure to fill up any divots and holes you may create during the popcorn removal and sand the area before painting.
Replacing faucets: If you have some old faucets in your home, be sure to get a copy of the same and follow the manufacturer's instructions to replace them.
The above are just a few minor fixes you can perform in your home. If you are not adept in any of them, you can get them done with handyman services at a relatively lower cost.
Clear Out the Chimney
Another area you must consider when preparing your home for listing is the chimney. A chimney full of soot and creosote can create an impression that your fireplace is poorly maintained.
Worse still, it puts your entire property at risk of catching fire. You need to clear and revamp the chimney lest it becomes a canary in the coal mines to the potential buyers.
Besides removing the toxic build-up, clearing the chimney will remove any dead branches, leaves, animal waste, and other debris that could block smoke from venting away from your home.
Also, it will help you identify and remove any mold that could have developed due to water leakage through cracks.
While clearing the chimney will help you unclog it, it only offers a temporary solution. If you want to install a long-lasting solution to such clogs, a chimney liner is the best option. If you need one, hire a chimney relining service to install a chimney liner.
Clear the Pipes
The drainage system in your home supplies water for cleaning and performing other household chores. It also helps remove waste water and other soluble waste from the sewer drains. That said, ensuring pipes flow flawlessly is a good starting point when planning to repair and remodel your home for sale.
The following signs should tell you when to repair and remodel your home's piping system.
Gurgling Noises: If one sink in your home produces a gurgling sound while the other is draining, it signals a blockage in the drainage system.
Slow-draining sinks: Slow-draining sinks, water tubs, and shower drains imply that something is blocking the smooth flow of water in the sewer drain pipes.
Bad odor: A foul smell from the sewer drains indicates that something containing organic material is blocking them.
The above signs can be a big turn-off to prospects. If you detect any, do not hesitate to hire a reliable plumbing company to inspect the entire system and do septic cleaning.
Ensure the Roof is in Good Condition
The roof is a great selling point for homes. If your roof is well-conditioned, it will improve your home's curb appeal and value and sell faster than it would if it wasn't well-maintained.
A nice-looking roof assures potential buyers that their assets will be protected from the elements should they buy the house.It also promises them low energy bills. A new/well-conditioned roof will keep a home cooler in summer and warmer during winter than a house with a torn or old roof.
The good news is that some roofs need simple DIY repairs and remodeling to attain a brand-new look. However, this applies to new roofs that have lasted at least three years. If you are remodeling a roof in a dated house, then hiring a residential roofing service would be wise to execute the task.
Final Remarks
The above tips will help you repair and remodel your home to sell quickly and at a higher value. When implementing them, be sure to comply with the building regulations in your state to avoid strict penalties.