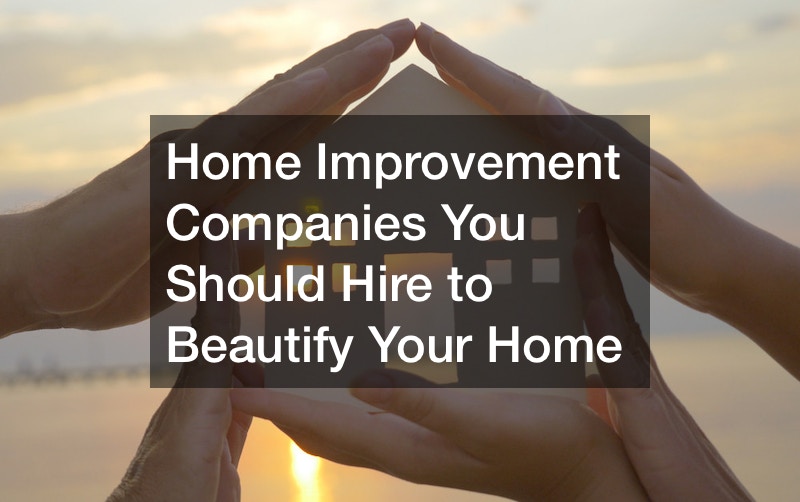 According to the Joint Center for Housing Studies of Harvard University, home remodeling will reach its peak in 2022, equally attracting many home improvement scammers. For this reason, the Federal Trade Commission Consumer Advice recommends hiring licensed home remodeling businesses to avoid falling prey to fraudsters.
While unscrupulous contractors may over-promise to do the work effectively, they do a shoddy job and overcharge you simultaneously. In worse scenarios, the fraudsters take your money and disappear without doing any work. Ensure you hire a reputable company to avoid costly damage and being duped.
Suppose you want to renovate your basement, add a room or do much-needed repairs to your home. Finding a trustworthy professional to do the job should be your first step, but how? This article will discuss home improvement companies to hire for a well-done house remodeling job. Keep reading to avoid costly shoddy jobs.
Why You Need To Hire Home Improvement Companies For Your Home Renovations
If you want to increase your home's market value or boost its aesthetic ambiance, renovating your home should be your go-to plan. However, home remodeling can potentially be a painstaking process – depending on your project. Therefore, it's unwise to go for DIY solutions.
There are a couple of home improvement companies to hire for your projects, such as a home design company, a roofing company, and an interior design company. Firstly, let's explore why you need to hire professionals for your home renovations.
Assurance of Safety
The home improvement industry has a sea of fraudsters, which makes your safety assurance an essential factor to consider before signing the contract. For this reason, the best home improvement companies to hire should have reputable safety standards.
Don't hire a remodeling company for your project unless you're confident of the following:
The company has the required permits for the job
The company follows the international and local construction codes
The company has a good reputation for high industry standards
The company is licensed to offer risk-free services
The company can protect you and your home in case of damage
Experience and Knowledge of Handling Projects
Home improvement companies to hire should possess the knowledge and experience to handle similar projects if you want to avoid costly damage and a shoddy job. For this reason, a company with vast experience in the remodeling industry will minimize chances for errors – if any.
An experienced company will ensure the following:-
Pool the resources and materials to avoid inconveniences and delays before starting the project
Ensure the project runs seamlessly due to their work experiences
Ensure the artistry doing the project has the necessary skills for specific duties
It's advisable to read a home improvement company's portfolio to gauge its knowledge and experience before hiring them. It will also help to catch a glimpse of their reviews online if the company has a website. Visiting sites of the company's past job site also prove helpful.
Warranties
Honest home improvement companies give warranties for their projects, ensuring your safety, service quality, and reliability. Mostly, such companies are in business for a long term, and their warranties may go for five years or more.
Ensuring a warranty clause in the home improvement contract before signing it will not only protect you and your property. Still, it will push the contractor to do a high-quality job to avoid costly repairs, which may lessen their profit margins.
If you want to avoid scammers, asking for a warranty is a sure way to sieve honest companies from fraudsters. Whenever you notice awkward responses, consider it a red flag.
Home Improvement Companies To Hire For Your Home's Aesthetic Beauty
If you desire to bring to life your home renovation idea for reasons such as aesthetic beauty, getting a professional to do the job is unavoidable. You must avoid costly damage and poor job finishes at all costs. For this reason, the following are home improvement companies to hire for effective home remodeling services to consider.

1. Home Design Company
You'll need several home improvement companies to hire for a perfect remodeling job, but visiting a home design company should be the first step in the process. Before commencing your home development plan, you'll need a home designer to help you with the scale models and details drawings of your new project.
While so many people tend to focus on the obvious spaces such as your kitchen, bathroom, or living room area, a good home design company will point out other areas away from your mind that may need improvement. Below are two examples you should consider.
Patio remodeling: You may not consider patio remodeling worthwhile, but it is. The patio is a fun area to relax and enjoy a family meal or games, especially in good weather. When the area doesn't entice your eyes, it's your cue to contact a home design company for remodeling ideas
Deck remodeling: The words 'patio' and 'deck' are mostly used interchangeably, but they refer to two different structures. Decks are raised structures, while patios are built on the ground. The deck is also a lounging area or a space for a family fun day, and when it's worn out or looks boring. You'll need to remodel it for safety and aesthetic beauty.
2. Roof Company
Repairing a roof is serious work, which calls for expert roofing contracting. You don't want any contractor messing around with your roof; you'll need a roofing expert to do the job professionally.
Your roof is a significant investment, and hiring a professional will benefit you in the following factors.
A professional roof contractor guarantees efficiency: Dealing with an expert guarantees quality services and efficiency due to work experience
Assists with permits and paperwork: A roofing project is a big job that often requires permits from the authorities. Though the process may be tedious, a roofing company is familiar with the process and will help you through it step by step
Gives warranty and support services for the project: A roofing contractor will give you a warranty for their services, which sometimes may go beyond five years.

3. Interior Design Company
Among the top home improvement companies to hire is a professional interior design company for the latest interior design services. You'll need a professional who can bring your idea to life while adding extra eye-popping aesthetic beauty to your home. That's when an interior designer comes in handy.
Remodeling a room goes beyond painting or furniture; an interior designer understands how surface finishes, trim, lighting, and other choices will influence the final product. You'll also benefit in the following ways when working with a designer when remodeling your home.
A designer saves you money and time: They work as supervisors to ensure the timely completion of your project while working within your budget
Designers are experts: Designers work hand in hand with your ideas and vision to ensure the project finishing is at par with your vision.
A designer advises on the latest trends: Designers are aware of the latest trends in the market. For this reason, working with them guarantees your home has a cutting edge finishing.
4. Counter Company
When hiring a countertop company, you'll need to consider a fully automated company with digital templating and cutting-edge equipment for quick turnaround time, elegant finishes, and unmatched aesthetic beauty. Your counters need perfection, and you'll need to hire countertop professionals to get the job done.
The following are the benefits of hiring a counter company when remodeling your home.
A digital templater allows the keeping of old counters before the installation date: By using a laser to take measurements, a countertop company won't have to remove your counters, meaning you don't have to stay without counters when remodeling your home anymore.
Eliminates miscommunications and unnecessary delays: A counter company will do all the fabrication and installation for a seamless remodeling process.
Warranties: A counter company will give you a warranty for your repairs, giving you peace of mind and quality assurance.

5. Kitchen Remodeling Company
Kitchen remodeling can be complicated, especially when doing it for the first time. For this reason, you'll need to work with kitchen designers for professional services. Otherwise, your kitchen improvements might fail miserably.
Hiring a kitchen remodeling company will ensure state-of-the-art finishes. Here are incredible kitchen improvement ideas you should consider.
Upgrading your kitchen appliances
Installation of countertops
Redo your kitchen floor.
Make your nook comfy.
Consider adding a kitchen island.
6. Bathroom Remodeling Company
Bathroom is probably the most private, sensitive, and essential room. These attributes make bathroom remodeling services a worthy investment. That said, bathroom remodeling is complicated, including waterproof finishes, plumbing, and other complex bath work. For this reason, it makes sense to include a bathroom remodeling company among the home improvement companies to hire when remodeling your house.
Although bathroom remodeling may potentially be expensive, there are ideas to do it on a budget, such as
Adding a layer of fresh paint on the wall.
Go for pocket-friendly tiles.
Adding simple accents.
Changing the bathroom lighting
Opting for contact paper to cover countertops.

7. Painting Company
According to Forbes, color can significantly impact the value of your house. For this reason, you don't want to mess up your house paint job at any cost. Therefore, hiring a professional for the best house painting services is a great idea. You'll also benefit in the following ways.
Saves your time: It can be a hassle to find time to paint your house, especially with a busy schedule. Hiring a professional guarantees you a fast paint job, leaving you to attend to important matters that need your attention.
Quality job and clean lines: You don't have to worry about accidentally missing spots on the wall or the presence of clean lines while painting. Professionals have enough experience and the necessary tools to do a neat job.
Saves you money: Messing up your paint job can be costly, especially when you have to re-do the paint job. Hiring a professional to do the job for you is advisable to avoid such challenges.
8. Flooring Company
A flooring job is not as easy as it sounds. The work process requires attention to detail as a simple mistake proves costly. Hiring a flooring contractor is the only way to complete your floor job perfectly while saving you expensive future repairs due to a shoddy job.
Besides saving you money, you'll also enjoy the following benefits when you hire a flooring company to remodel your floors.
Protection of your investment: Flooring can be expensive, and hiring a professional prevents regular repairing of expensive cracks and elements of floor damage.
Peace of mind: Professional flooring contractors are experts in the field, minimizing any room for a shoddy job. Quality assurance gives you peace of mind, and you don't have to worry about expensive repair jobs.
Warranties: A competent flooring company will give you a warranty, which protects you in case of any damage or a shoddy job.
9. Landscaping Company
Landscaping services greatly contribute to your yard's general eye-appeal effect, making landscaping services a worthy investment. A shoddy job will deteriorate your compound's aesthetic value. hiring a landscaping company is one of the focus areas when you plan to price up your environment.
Landscaping increases the value of your home, if the reports by Bankrate are anything to go by. To keep it that way, watch out for the following landscaping features that can deteriorate the value of your home:-
Overgrowth and weeds.
Excess trees.
Visible irrigation lines.
Overdone lawn ornaments.
Too much concrete.
Poor lighting.
Outdated pool.
Whenever you find one or more such cases, you know it's time to call a landscaping company.
10. Siding Company
Please don't go for DIY solutions when it's time for siding replacements. Your best chance for a job well done is by hiring a siding company for the following reasons.
Professionals are insured and licensed: A licensed contractor means you're assured of quality services. Also, you'll be protected against any liability due to workman's injuries or property damage.
Warranties: Professional siding company will give you a warranty, meaning you won't pay a dime for installation errors.
Quality assurance: Dealing with a professional ensures you'll get quality siding services with minimal errors – if any.
Remodeling a house may sound easy, and you may be tempted to use DIY solutions, which may be costly in the long run. If you want a job well done, it would be wise to involve a professional for safety assurance, and warranty.
There're a couple of home improvement companies to hire when remodeling your house for a special curb appeal, such as a siding, painting, and kitchen remodeling company. After home improvement, you'll love the aura in your new home.