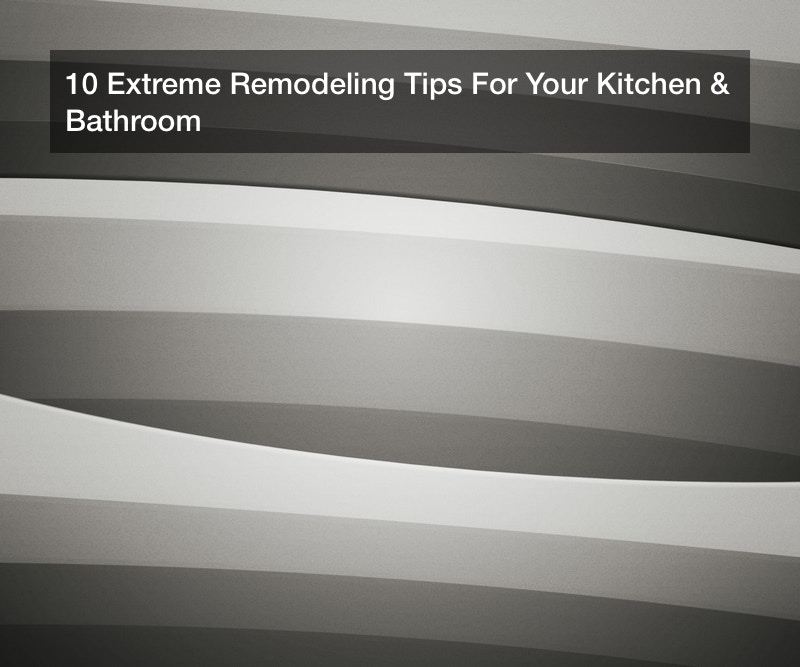 Take a look at your kitchen and bathroom. Are they truly the best they can be? Or, do you think some remodeling projects are in dire need of coming to fruition? If these rooms could use some TLC, you may want to consider starting to renovate these rooms pretty soon.
You could want to renovate these rooms for a number of reasons. Perhaps you're trying to add value to a home by adding some home care by updating and renovating it.. The renovations could be something you've planned for a long time now, and you finally have the time and resources to make them happen. Or, maybe you're simply in need of a change. No matter what the reason is, it's important to know that remodeling your bathroom and kitchen is a big task to handle. However, if done right, they can make your home even better than it already is. Here are 10 extreme remodeling tips to consider when renovating your kitchen and bathroom, and why it's important to follow them.
Decide How Much You Want To Remodel
When taking on an extreme remodeling project, you must first decide how much you want to remodel. When remodeling your kitchen and bathroom, take a close look at what exactly it is about each space you want to upgrade. Do you want to tear the entire space up and essentially start from scratch? Or, are you going to focus on remodeling a few key aspects of the space? Knowing how much you want to remodel will help you plan the project smoothly.
While you're doing this, you should also make sure that you can structurally do the remodels you want. You may want to replace a beam or expand a space, but if there's a necessary piece of your home's structure in that space, you may not be able to remodel the way you want. Look at your home's structure while exploring a remodel because if you don't, you could end up wasting valuable time and money for a project you simply can't do.
Set A Budget
You can't talk extreme remodeling without talking about a budget. Take a look at your finances and evaluate how much money you can spend on remodeling your bathroom and kitchen. On average, a bathroom remodel can start at $5,000 and go as high as $25,000. A kitchen remodel is typically a bit more expensive. On average, a kitchen remodel costs more than $20,000.
When remodeling, it's important to know how much you can spend. If your budget is tight, try spacing out your remodeling projects. You could remodel your bathroom this year and save the kitchen remodel for next year, or vice versa. However, if you're selling your home, you may want to tackle both projects at once so you can sell your home at its highest value.
Also, see what measures you can take to keep the projects under budget. You want the job to be done right, but it's always a nice bonus if you can get everything done and save a bit of money. To be safe though, try to set aside a little extra in your budget in case you run into expensive fixes along the way.
Pick A Theme
One of the perks of extreme remodeling is that you can pick any theme you want for your bathroom and kitchen. If you don't like your current theme, decide on what kind of theme you want instead. Keep in mind that the bathroom and kitchen should flow well with the rest of the house, so if you aren't updating other parts of your home, don't stray too far from your home's overall theme.
It's important to know your theme for a number of reasons. For starters, it will help you determine what your color scheme should be. The colors you pick for a modern farmhouse kitchen may not be the same as the ones you pick for a retro kitchen. Knowing what your theme is will also help you make decisions on things like appliances, accent decor, and other furnishings.
Choose The Right Materials
Extreme remodeling takes a lot of time, money, and attention to detail. If you're doing this kind of remodeling on your own, you must be sure to get the right materials for the job.
If you're doing kitchen remodeling, make a checklist of all the materials you'll need to get. These materials could include paint, new flooring, new appliances, cabinets, and a new kitchen countertop. For remodeling a bathroom, you may need new paint, a new bathtub or shower, and new shelving for storage purposes. It's important to make a clear list of all the materials you'll need so you don't run into any missing pieces while you're remodeling.
Keep in mind that materials can get expensive, so set aside a good chunk of your budget for materials. You may only want to look at the most inexpensive materials, however, you should do your research on them before purchasing. While they may be lower in price, they may not last as long. Therefore, you'd get a temporary solution instead of a long-term one. Some materials may be more expensive than others, but if they will last longer and make your home more valuable, they may be worth the investment.
Get The Right Help
If you're considering doing some extreme remodeling for your kitchen and bathroom, you may think about doing it yourself. DIY remodels can be done successfully, as long as you know what you're doing.
A DIY home improvement project is cost-effective due to cutting out the cost of labor. However, if you aren't careful, you could end up doing more harm than good with your DIY remodeling projects. If you haven't done a project like this before, you could make mistakes along the way that cost you more time and money than you originally anticipated. If you haven't done a bathroom or kitchen remodel before, you should see if you have family or friends with experience who can help out. That way, you're less likely to make errors in your remodel.
You could also hire remodeling professionals to help you with your bathroom and kitchen remodeling projects. It may be more expensive to seek remodeling help from professionals, but you'll know the job is getting done right when you hire them. They may even have employees who have skills you don't, such as cabinet refinishing and floor installment. It may be more expensive to hire them upfront, but at least you'll know that your remodel is being done by professionals. If you are considering hiring professionals for your remodeling projects, be sure to do your research on the best remodeling companies in your area.
Be Aware Of Potential Issues
As with any form of renovation, you may run into unexpected issues when doing extreme remodeling. This can be especially true when you're working on your kitchen and bathroom. As you're going through the motions of renovation, be diligent about spotting issues and fixing them as quickly as possible.
These issues could include outdated and eroded plumbing, water damage, mold and mildew, and dry rot. These issues could lie anywhere, from the bathroom cabinets to the area behind your stove. If you can, set aside some room in your budget in case issues like this pop up. It's better to be prepared and not have to use the money instead of having to scramble to find the cash. If you do find issues during your remodel, get them fixed as soon as possible so you can continue your projects. If you don't know how to fix them, contact professionals who can help you.
Consider Opening Up The Room
One of the best things about extreme remodeling is that you can get creative with your projects. One thing you could do is make your kitchen and/or bathroom bigger by opening it up and giving it more space.
Opening up your kitchen can help you add value to your home. By knocking down a wall or two, you could make your kitchen have an open floor plan instead of a closed floor plan. Your kitchen could open up into your dining room or living room, which will give you a better space for entertaining. You could also extend the walls in your bathroom to give it more space. Small bathrooms may be a deal-breaker for buyers if you want to sell your home in the future.
If you can make your home flow well through opening up spaces, consider doing it. It could increase your home's value and make your home feel bigger (even if you didn't add any square footage). Just be sure not to knock out any walls or beams that are essential to your home's structure while doing this.
Invest In Lighting
Lighting could make a big difference when remodeling your kitchen and bathroom. The right lighting can add value to your home and truly make it a brighter place to live. There's research that shows poor lighting can lead to eye damage and could contribute to depression. Lighting can also affect things like your appetite and energy levels.
The right lighting can help make your home brighter and more valuable. For your kitchen, you could do recessed or under cabinet lighting to give it a more modern look. Or, if you want something more elegant, you could install a pendant light over your kitchen island. For your bathroom, you could install wall sconces or similar light fixtures to provide better lighting. The bathroom is one of the top places where you look at yourself in the mirror, so you want to make sure the lighting is good so you can get ready to look your best.
Put Up Backsplash
Something small you can do that could add a lot of value to your kitchen and bathroom is put up a backsplash. A backsplash is put up in the space between your countertops and your cabinets in your kitchen and bathroom. The right backsplash can add texture and character to a room in a subtle way. If you have room in your budget for it, it could be a great addition to your renovation checklist.
When choosing a backsplash, be sure to pick a material that works well for your kitchen or bathroom. If you have granite countertops in your kitchen, pick a backsplash that accents the granite. If you have a modern looking bathroom, pick a backsplash that is also modern and has a color scheme that compliments your bathroom's look. When done right, the backsplash can add the perfect amount of texture and design to a room and truly add value to your home.
Update Your Appliances & Tubs
One of the final things to think about when finishing up your extreme remodeling projects is to update your appliances and showers/tubs. You could have a brand new kitchen or bathroom, but if the main fixtures of the room don't match, your design is going to be thrown off.
Set aside a room in your renovation budget for new appliances. In the kitchen, you can replace the stove, refrigerator, dishwasher, and sink so they match your renovations. You can also look into bathtub replacement and shower upgrades for your bathroom. New appliances and fixtures will make your home's value increase, make your home look more modern, and you may not have to worry about replacing them again for years. New appliances and fixtures can be expensive, so if you're strapped for cash, you can always look online to see if people are selling pre-owned appliances that still work well and fit the style of your renovations.
Extreme remodeling takes a lot of time, effort, and investment. There may be times you get frustrated with the projects, but remember what your end goal is. If you want to improve the value of your home so you can sell it, these projects will help you do that. Or, maybe you've been saving up for these renovations for a long time so you can finally achieve the home look you've always wanted. Keep these goals in mind as the remodeling projects go on. They'll take time and effort, but it will be worth it when you step into your beautiful new bathroom and kitchen.