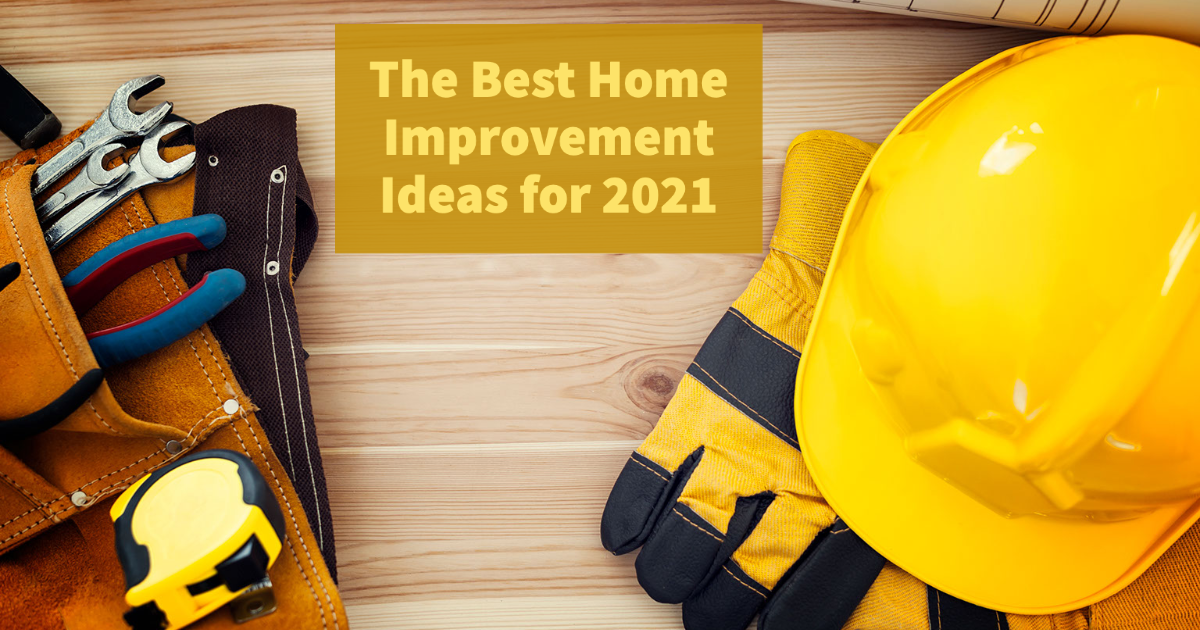 It is that time of year again when homeowners start thinking about the best home improvement ideas, and how they can improve their spaces. At the top of the list in popularity are kitchen and bath remodels, but that does not mean they are the best home improvement ideas.
When you are deciding which projects need to be on your list for this year, you should always be considering which projects are going to give you the best value. There are several things you need to consider when you are deciding which are the best home improvement ideas for your home.
Important Decisions
Most homeowners are working on a limited budget when it comes to home improvements. Keeping your budget in mind should be a big part of your decision making. While it would be lovely to have all new kitchen cabinets and countertops installed, your budget may only allow for a professional kitchen cleaning topped off with a fresh coat of paint and some new window treatments.
Of course, as part of your planning, you want to make sure that you are getting the most bang for your buck. ROI (return on investment) is the value that you get from the best home improvement ideas. For example, experts say that you can get about a 13% return on landscaping projects.
Here are some ways to determine which are the best home improvement ideas for you:
What needs to be done? Before you move on to the "wants" you absolutely should consider the home improvement ideas that are going to meet the needs of your property. We discuss this further below.
What improvements will improve your lifestyle? Many home improvements can improve how you live in your home.
How will you fund the home improvement?
Giving all of the above some thought before you make a commitment to the home improvement project you are going to choose will ensure you make a well thought out decision. It is easy to get emotional about which of the best home improvement ideas are the right ones for your home and get in over your head. Making a list of projects and ordering them by "need" vs "want" is a good place to start.
Do What Is Necessary First
While you may have visions of redoing the kitchen dancing in your head, you should make sure that you get the necessary things out of the way first. For example, if you are blowing through heating oil every winter because of your aging heating system, you may want to make this the year you replace it.
Yes, it's true that residential heating is not as exciting of a home improvement as new granite countertops, but it can be the home improvement that really gives you the ROI that you want. With a new heating system, you will realize amazing energy efficiency that will help you to save big over the coming years. The counters can wait and as an added bonus you will have some extra money to save thanks to your new heating system.
Check with the company that does your residential fuel delivery to see if they offer heating system installation. They may even have special financing for current customers that want to upgrade their systems.
Upgrading your system before it is fully out of commission can be a smart move. A new heating system can be one of the best home improvement ideas because it adds plenty of value to your home and your lifestyle. Replacing a heating system on your terms (before it breaks down) allows you to take control of the situation, and can result in finding savings for the project that you would not normally find if you were in an emergency situation and have to make fast decisions.
While we are on the subject of the "necessary" improvements. How is your roof doing? Roofs typically are expected to last between fifteen and twenty years (some roofs like metal roofs can last for 50 years or more). If your roof is in the later stages of its expected lifespan, the best home improvement ideas for you should be centered around improving your roofing situation. You may want to take your home improvement dollars and invest them with the best roofers to repair or replace your roof.
A new roof adds instant value to your home, and in most cases, it is something that you will never have to do again. A high-quality roof system is vital to the safety of all the systems in your home. If your roof is in disrepair or it is about time for a replacement you may want to make that the project that you focus on this year.
The right roofing contractors can help to get your roof in great shape. A new roof can be one of the best home improvement ideas if your roof is not providing the protection your home deserves. Of course, a new roof comes with a nice level of ROI. Between the energy savings, and the value that is added to your home, you can expect a return on your investment of about 27%.
Getting the necessary improvements out of the way before you start working on the aesthetics is a good way to make the most of your home improvement dollars. You can enjoy peace of mind and feel good about moving on to some of the best home improvement ideas that improve aesthetics and lifestyle.
The Interior of Your Home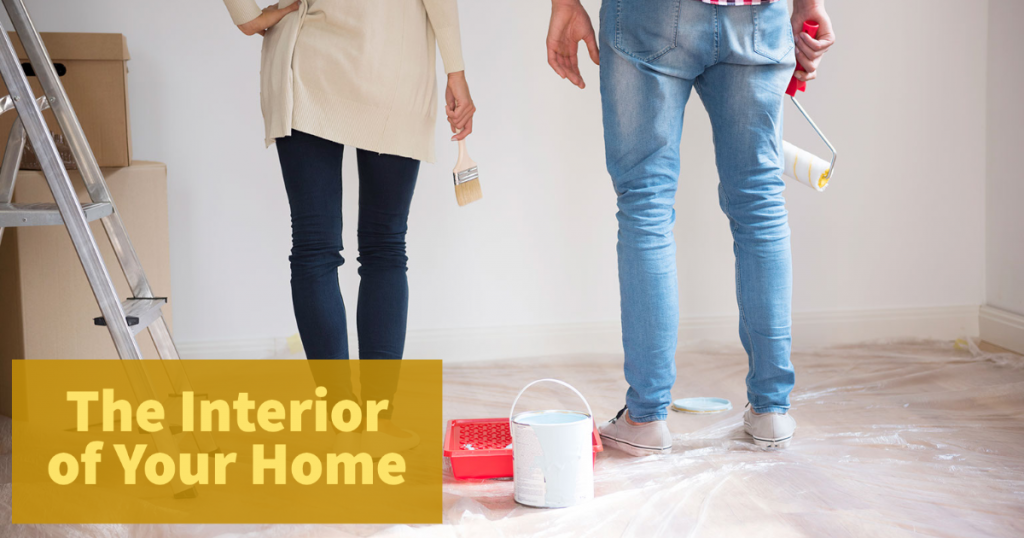 Some of the best home improvement ideas for the interior of your house are actually really inexpensive. For example, paint is pretty cheap and it can have a huge impact on the interior of your home.
Of course, saving on the best home improvement ideas usually means you will have to put in some sweat equity. That means you will have to do the work yourself. If you are handy and willing to dedicate a few weekends there are plenty of things you can do that will instantly improve your home.
Here are some of the best home improvement ideas for the DIY homeowner:
Replace lighting with energy-efficient LED lighting. If you can snip some wires and twist a few wires together you can replace your lighting. LED lighting is very energy efficient and the bulbs can last up to 20 years. You can also try your hand at installing ceiling fans.
Replace the flooring. This can be a big project but if you are willing to commit it may be well worth the effort.
Install shelving and cabinetry. Installing shelving and cabinetry can be easy enough and it can add value to your space.
Ultimately, the best home improvement project for you if you plan on DIY is choosing a project that you will be able to handle and see-through. If you are new to DIY home repairs and improvements, start out small so you can build up your confidence.
Start out with a paint project. Painting is relatively easy and it can be a great jumping-off point for more complex projects. A lot of homeowners use professionals for bigger jobs and do part of the work themselves.
Taking a combination DIY professional approach is a great way to save money without overtaxing yourself by trying to take on more than you can handle. For example, let's say that new flooring is on your radar. Instead of having the flooring company rip out the old floor, this is something you can do. Ask the flooring company if they offer a discount if they do not have to rip out the old flooring.
Another example is a kitchen remodel. If you do the demolition work, will the contractor work with you on cost? It is worth asking.
As we mentioned earlier not every home improvement idea has to cost a lot of money to have a big impact. We talked about what a difference some paint can do but that is not the only way to improve your home on the cheap.
Adding or changing out window treatments can make a big difference in a room. Adding organization tools and storage to your home can help you to improve your home by keeping the clutter down.
The Exterior of Your Home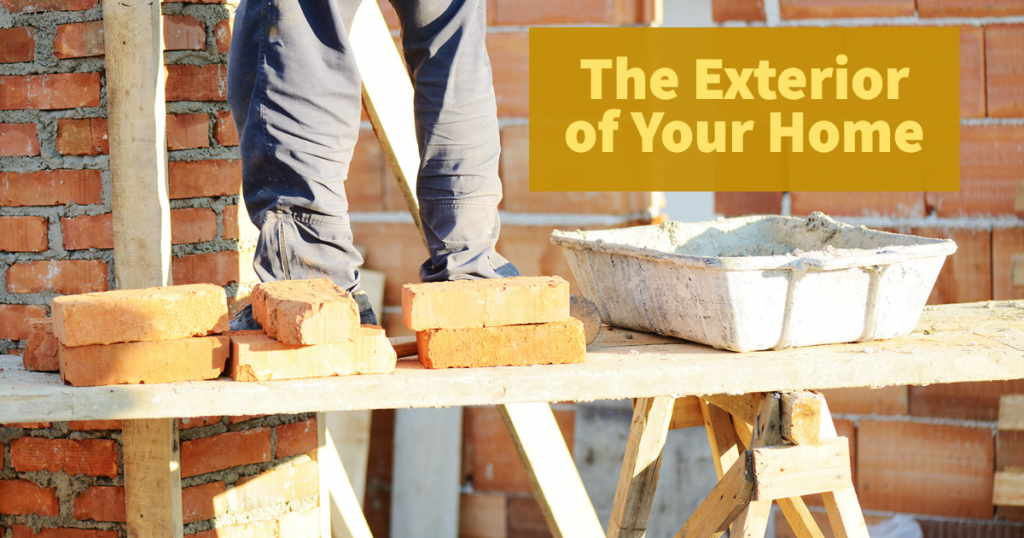 Some of the best home improvement ideas are focused on the exterior of your home. Siding is a great upgrade. Siding and window replacement can add instant value to your home, help with energy efficiency, and cut down on the amount of maintenance you have to do every year.
Of course, you do not have to necessarily have new vinyl siding installed and have new windows installed at the same time, but it does make the project easier to do it all at once. Some homeowners opt for window glass repair instead.
Beautifying the exterior of your home with vinyl siding will:
Add to the curb appeal of your home.
Keep your workload down. New vinyl siding does not require painting. You simply hose it off to keep it looking it's best. You can put your paintbrush away.
Keep your home warmer in the winter and cooler in the summer.
This type of upgrade can be very affordable. Most companies that offer this service also offer easy to manage financing to make it more affordable. You can expect a nice ROI on new exterior upgrades. According to the experts you can expect about a 35% ROI.
Some of the best home improvement ideas for the exterior of your home are focused on landscaping. Landscaping can add tremendous value to your property and of course, extend your living space.
Many landscaping projects are weekend projects you can do on your own. For example, adding a paver patio or creating a walkway can easily be done in a weekend with a few hundred dollars in materials.
Some other of the best home improvement ideas for the exterior of your home include:
Putting up a fence. You can get a metal fabrication company on board to create a really impressive fence for around your new patio or to fence in your pool.
Installing a pool. While a pool does not add a great deal of value to your home itself, it does add a great deal of lifestyle value.
Add a shed for all the overflow from the garage.
There are plenty of ways to make the exterior of your house more functional and beautiful. If you have accomplished everything that you want to inside your home moving outside is a great idea.
Other Projects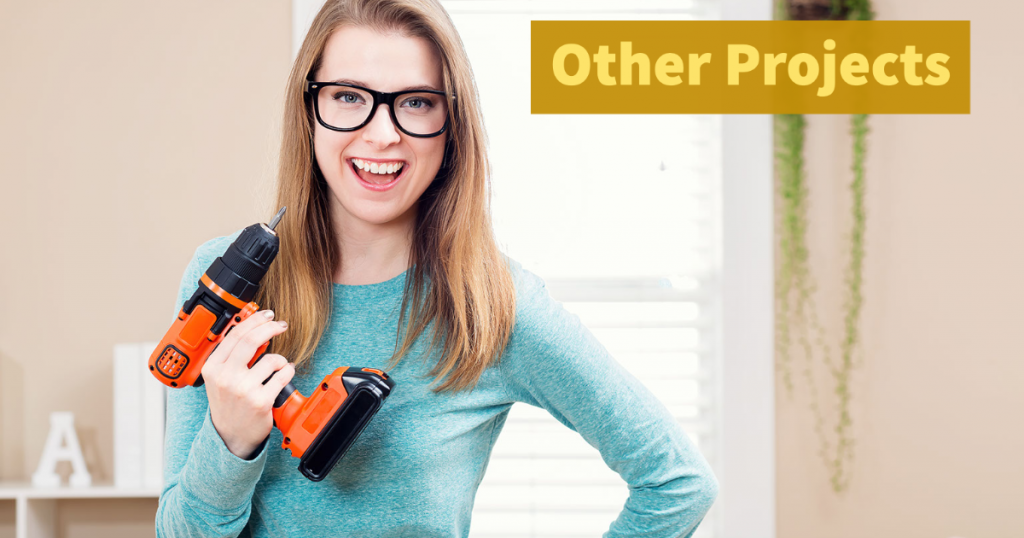 Some of the best home improvement ideas have to do with other structures on your property. For example, adding a shed that doubles as a home office, gym, or other space are a great home improvement option. If you are short on space in your home, adding an outdoor building can add a lot of value to your lifestyle.
Enclosing a porch is another great home improvement idea that can extend your living space. Making better use of your garage can start with calling a new garage door company to install new garage doors. New garage doors can open up the possibilities for how you use your garage.
Some of the best home improvement ideas are focused on how to get more living space out of your current space. We can use your garage as an example. Transforming your garage into a home gym, a home office, or even a playroom for the kids is a worthy investment. Of course, when it comes to these types of transformations if you plan on selling in the next five years or so you want to be sure that you can easily transform the garage back to a space for the car and outdoor equipment.
Many homeowners use their home improvement dollars to find more room in their current home instead of buying a bigger home. Adding a sunroom, or a pole building can be just the ticket to have the space that you want without taking on the expense of a higher mortgage.
The best home improvement ideas are the ideas that will improve the value of your home while improving how you live in your home.