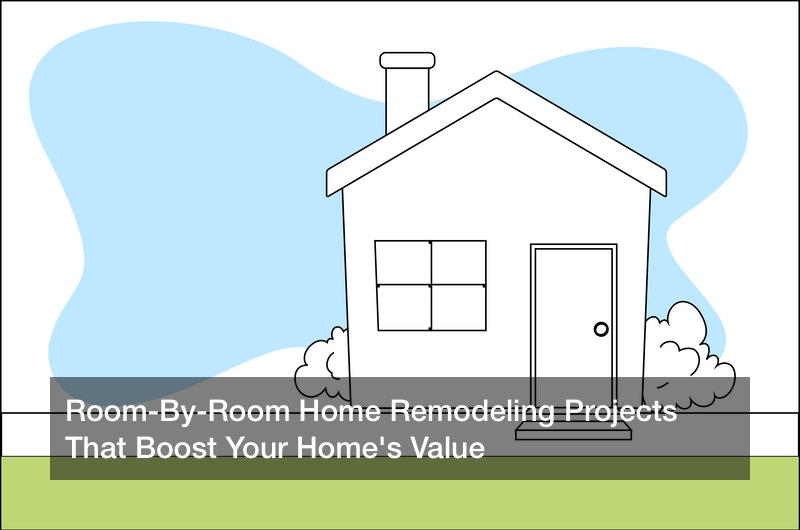 Homeowners decide to tackle renovation projects for a wide range of reasons, from following aesthetic preferences to boosting the property's value. One homeowner may choose to remodel their kitchen because they don't like its layout while their neighbor may be fine with their kitchen's design but still choose to remodel it because they believe a new kitchen will warrant a higher selling price. No matter your reasoning for doing home remodeling projects, they have the potential to bring you and future homeowners more satisfaction in living there.
For most homeowners, the ideal home improvement project is one that improves their experience of living in the house while adding to its value. Let's take a look at the home remodeling projects you can tackle in each room that will strike the perfect balance between these notable benefits.
The Kitchen
The kitchen is one of the most popular rooms in a home for remodeling. Those who regularly invest in real estate will often focus their attention on the kitchen, as you can recoup over 80% of the cost of a minor kitchen remodel. Those who see their house as more than just an investment also tend to give the kitchen some TLC, as it often becomes the heart of a home. Families of all shapes and sizes need a modern and functional kitchen for everyday tasks like cooking as well as special occasions like entertaining friends and family.
There is an endless list of home remodeling projects you can tackle in the kitchen. A great place to start is with the cabinets and countertops. You may be able to reface the cabinets on your own, swapping out old styles for modern ones. If you want to spend as little as possible in your kitchen flip, try simply repainting the cabinets or removing the doors altogether for a modern, open shelving look. You'll likely need to work with professionals to install new countertops, but spending the extra money on high-quality materials and work will benefit your practical needs in the kitchen as well as your long-term financial goals.
You'll also want to consider the appliances in your kitchen. Not only do outdated appliances detract from the aesthetics of your kitchen, but they often waste much more energy than they need to. This has ill effects on the environment as well as on your energy bills. Swap out old appliances for energy-efficient models and you can start seeing savings in your energy bill. If you sell the appliances with the home when the time comes, potential buyers will love the modern, energy-efficient appliances.
The Basement
If your house has a basement, you have the potential to transform a large space into almost anything you could imagine. Financially, finishing a basement can result in a 6.6% increase in the median home value, which is an estimated increase of $21,786 at resale. At a minimum, the work involved to create this increase is adding drywall, insulation, lighting, and an emergency escape window or door. It is important to keep in mind that basements are prone to issues like water damage, which can drive up the money and time you need to dedicate to the project. Before you finalize your budget and plans for any home remodeling projects in the basement, be sure to check for signs of water damage so that you can account for having to fix it in your budget and timeline.
Even if there is no water damage currently in your basement, taking action to prevent that possibility can increase the value of your home. The foundation of your house is the most vulnerable to this type of damage, especially if you live in an area with high risks of flooding. Taking these steps to prepare for the possibility of flooding can also benefit you in terms of home insurance. With protections against the potential damage from natural disasters like flooding, your insurer may lower your rates.
There are a lot of ways you could utilize a basement. Of course, a natural option is to create a secondary living room or playroom dedicated to holding all of your children's toys and games. If you often find that your family and all of your belongings exceed the space available in your main living room, creating this extra living space is a good use of the basement.
Alternatively, you could think outside of the box with your home remodeling projects in the basement. One project that can bring joy to you as the homeowner, as well as value to the house, is building a wet bar. You'll likely need to work with a contractor to construct the bar's structure and hook up any intricate plumbing, but a wet bar can instantly turn your basement into a wonderful spot for entertaining. In a similar vein, you could build a wine cellar in your basement. You will probably also need to work with a professional to create a wine cellar and you will need to ensure that you can maintain the proper temperature, humidity, and lighting conditions for storing wine. If your basement is suited for it, however, a wine cellar could be a major selling point for future buyers and a great feature for any wine aficionados in your family.
The Bathroom
Your home's bathrooms also have the potential for a high return on investment. A mid-range bathroom remodel can get you a 70.1% return and will only require simpler projects such as updating the fixtures and counters. You could certainly undertake more extensive home remodeling projects in your bathroom, such as installing a new tub or shower, to increase your enjoyment of the bathroom, but an upscale bathroom remodel will only fetch a 56.2% return.
By focusing your remodeling efforts on the smaller updates, you can spend less money and get much more back. Replace outdated tiling with modern materials and designs to create a bathroom that feels fresh and relaxing. Take a hard look at the fixtures, such as the faucets and knobs, and swap them out for new models if they're shabby or rusted. As the bathroom is where you get ready to face the outside world, the lighting is another important aspect in this room. Make sure that the lighting is strong enough to allow for thorough personal grooming but soft enough to create a relaxing environment. This is best achieved with task lighting above the bathroom's mirror and more ambient lighting from the room's main lighting fixture.
As you're remodeling your bathroom, think about how you can make it into a universally accessible one. These types of modifications include features like support bars next to the bathtub and toilet and non-slip flooring in the shower. These simple inclusions can help your home appeal to older people or people with disabilities who are looking for an accessible home.
The Living Room
Your home's living room is its epicenter. You spend valuable time there with your family members, use it for hosting parties and get-togethers, and relax there whenever you have some quiet moments to yourself. With such frequent use, you want your home's living room to be absolutely perfect. When you're thinking about home remodeling projects for the living room, think about what your ideal living room would look like. Does it have a cozy fireplace as its focal point? Are there sliding glass doors that lead into your backyard and let in beautiful natural light? Is it part of an open layout that flows from the kitchen or is it a more enclosed space to create a feeling of privacy and comfort?
However you imagine your perfect living room, start making the plans to create it. Of course, you'll want to be sure that the changes you're making will add value to the home and appeal to future homeowners as well. Creating an open floor plan, for instance, is a remodeling project that both you and future owners will appreciate. Many people are looking for homes where the living room and kitchen flow into one another so that everyone can feel together, whether you're cooking dinner or relaxing on the couch. If you're changing the structure of the house to create an open layout, you'll need to consult with contractors so that you have professionals making these major changes to your home.
You'll also want to work with professionals if you're adding features like a fireplace or sliding glass doors. For the fireplace, you'll be able to do things like pick out the design and materials, but you will need to work with an experienced company to make sure it is properly connected to gas — if it's a gas fireplace — and that you have an effective chimney. Installing sliding doors will be slightly less complicated, but you'll still want to work with professionals to make sure it is done right. In addition to ensuring the doors are sturdy and aesthetically-pleasing, professionals can help install secure locks on the doors that will keep your home safe from curious strangers.
There are home remodeling projects in the living room that lean more towards the DIY side. With these projects, you can save on the cost of hiring professionals to do the work while still making improvements to your home. One easy project for your living room is to add molding. Crown molding makes rooms seem taller and larger, creating an elegant touch in any living room. Wood moldings also come in a variety of styles and colors, making it easy to find molding that compliments your home well. With the molding installed, try hanging whimsical art and family photographs in your living room to finish off its elegant look. When you sell the house, you'll be able to take the art and photography you have up on the walls with you, but leave the crown molding as an attractive feature that future buyers will love. Other easy improvement projects for the living room include giving it a fresh coat of paint and installing ceiling fans, both of which will increase your enjoyment of the room as well as that of future owners.
The Bedrooms
The home remodeling projects you choose to do in the bedrooms will depend on the individual state of each bedroom and the preferences of whoever the bedroom belongs to. One bedroom may be covered in outdated wallpaper and carpet, but another may be perfectly sleek and clean. Try to make updates to each bedroom as necessary to give them all a modern look that makes sense with the rest of your home.
The projects you do in the bedrooms will be similar to the simpler ones in the living room. These can include painting the walls, adding molding, and hanging ceiling fans. You'll also want to be sure that each bedroom is well-ventilated and that your home's heating and cooling works well in each room. If you find that one room is unusually hot or cold, you may need to have a professional look at your home's HVAC systems. Having a comfortable temperature in each room is important for your enjoyment of the home and future buyers will appreciate an HVAC system that works well throughout the house.
Adding a bedroom can also be a worthwhile improvement project. By adding a second or third bedroom, you can see an estimated increase of about $19,813 in the value of your home. That's a significant boost in value and you get more room while you're living there. Keep in mind that to see this increase, the bedroom needs to be above-ground and increase the space of your home by at least 150 square feet. At the very least, the newly built bedroom would need a closet, window, and door. If you can manage these basic requirements, you stand to sell your home for much more than what you paid for it.
The Exterior
This isn't a room in your house, of course, but your home's exterior provides ample opportunity to make improvements that benefit you and boost your home's value. You've likely heard realtors talk about the curb appeal and its role in selling a home. This isn't just talk. A home that makes a good first impression on buyers through its curb appeal will likely sell much more easily than a home that looks worn and shabby on the outside.
One of the best home remodeling projects for the exterior of your house is replacing the siding. On average, you can recoup 75.6% of the cost of replacement. You'll likely need to work with professionals to have new siding properly installed, but your home will look much more modern and fresh. If you live in an area prone to storms, new siding can also help protect the structural integrity of your home. Similarly, roof repair is a worthy investment. Not only can worn roofing make your house look neglected and outdated, but it can also lead to leaks. By having your roof repaired or replaced, you'll be protecting your family from the harsh outdoor elements while also improving the aesthetics of your home.
As you're considering projects for your home's exterior, don't forget to look at the landscaping. It may not be attached to your physical home, but it is still part of the property you own and has a significant impact on your property's appearance. Think about adding landscaping features like a walkway, patio, or a deck. These features can make your home look complete and they give eventual buyers even more incentive to purchase your house.
Any home remodeling projects you tackle can transform your experience of the home while also increasing its value. Of course, you will need the sufficient funds to undertake these projects and see the returns. If you're considering buying a fixer-upper for your family, look into fix and flip loans. These loans help fund the home remodeling projects you need to undertake in order to get the house into an acceptable state and they usually have longer repayment periods. With sufficient funds, you'll be able to create the home of your dreams and set yourself up for profitable returns in the future.