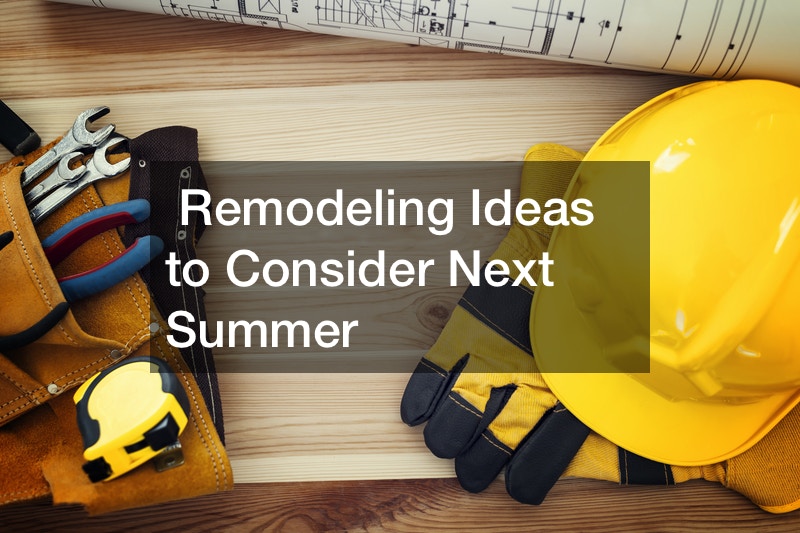 Taking care of your home is as essential and compulsory as being mindful of your family. This is the place where you and your people live. Therefore, you must embrace the idea of regular inspection, maintenance, and renovation to keep your property in good shape. As the summer season gets close, it is crucial to understand some of the best remodeling projects you can undertake in your home. In this article, you will get directions on the best summer renovations and the benefits of such undertakings.
Summer Remodeling Ideas
Summer is the best time to indulge in different home improvement projects. This is mainly because the weather is perfect for outdoor activities, and most contractors have resumed work. Some of the ideas explained below are DIY, meaning you can handle them by yourself. However, others need to be conducted by an experienced individual considering the risks involved and the expertise required. Here is a list of some of the best summer home remodeling ideas:
Work on the Swimming Pool
Summer means the hottest months of the year. This implies that you will require a well-done swimming pool to cool your body during the day. That is why this is the first item on this list. Cleaning the pool is a task you can handle on your own as long as you have the tools for the job. Nonetheless, swimming pool remodeling is not a simple task, and it requires professionalism. You will decide on whether to work with an over-the-ground or in ground pool company, depending on what you pick among the different types of pools. The essential part is that the swimming pool is the centerpiece – besides the air conditioner – under the hot sun.
Therefore, you have to ensure that it is well taken care of to serve you as required. There are different ways in which you can make sure that your pool is in the best condition. Some of them include balancing the water chemistry, removing the debris, and changing the backwash filters. Working with an experienced individual in pool maintenance is advisable to ensure that the job is done to your satisfaction. The main point to remember is that maintaining your backyard oasis throughout the year will help minimize long-term costs associated with the maintenance of a swimming pool.
Check Your Landscaping
The yard, lawn, and the compound in your home are necessities you should never take for granted. You need to ensure that the grass on your lawn is in good condition, considering that this is among the first parts that your neighbors, friends, and visitors see. This is especially crucial if you are thinking of putting the property on the real estate market before the summer season is over. Landscaping projects, such as mowing the lawn, adding a flower garden, and fertilizing the grass, can be simple for you to handle. However, you need the services of a professional who can deal with projects beyond that, including one who understands forestry mulching. Moreover, you need to consider procuring professional tree services if you need an old or rotten tree uprooted from the compound. Working with an expert in landscaping saves you time and ensures that you get the best results in your compound.
According to research, gorgeous landscaping can increase your property's value by about 28%. Nonetheless, the good news is that this is one of the cheapest summer home improvement projects you can indulge in. The main point to note here is that the cost of a landscaping project depends on how large it is. Additionally, you should also understand that there are two types of landscapers: an architect and a contractor. A landscaping architect will help you develop the best design that suits your property. Such an expert will create the best and most sought-after landscaping designs in the current real estate market. On the flip side, a contractor is a professional who executes the design and plan developed by the architect. It may cost you a substantial amount, but proper landscaping will positively impact your home's aesthetics and value.
Think About the Cooling of Your Home
There is a lot of heat during the summer, which can make your family uncomfortable if you do not do anything about it. As a homeowner, it is your responsibility to ensure that you have the right cooling tips for your home during the hot months of the year. The first thing to check is how functional the ceiling fans in your home are. If you do not have some installed, it is the right time to consider undertaking that project. If they are installed but not functioning, you should consider contracting an expert who is well-versed in repairing such gadgets. Ceiling fans will ensure that you, your family, and visitors do not have a hard time staying indoors.
The next bit you have to be concerned about is your compound's air ventilation, heating, and cooling unit. If that is not in order, you can be sure that the coming summer will be a tormenting season for you and your family. However, there is a way out. You should consider procuring HVAC services as early as possible so that your home can get the cooling it needs during the hot months, consequently keeping your people comfortable. In this sense, you should be vigilant of the best contractors in your location that can provide the best ac install services.
Consider Your Roof
Your home's roof is among the essential parts. Besides protecting you, your family, and essentials from the natural elements, it ensures that your house's structural integrity stands strong. As summer approaches, you need to ensure that your home's roof is well maintained to prevent extra heat from coming into the house. Fortunately, you do not have to be stressed about roof repair and maintenance, considering that the real estate market is clogged with professionals who can adequately handle such tasks. However, you can avoid incurring so many costs by doing simple roofing tasks, such as replacing a single missing shingle.
The main point to remember about your roof is that the more you delay the remodeling, the worse it becomes. Water damage and rot get worse with time. So, it is essential to solve them during the summer season when there is not much moisture or rain. The leaks and mildew build-up worsen during the wet months of the year, whether you have timber or metal roofing. A professional roofer will not only deal with such issues but also install the current colors and styles that match your home's architectural design.
Have a Look at Your Kitchen
The kitchen is the grandpa of summer home remodeling tips. Parties, family gatherings, and other social events are common during the hot months because the weather allows it. If you are a fan of such events, you should know that you will be preparing some meals for your guests. Additionally, some of them may want to see the room in which you do your cooking. Therefore, you need to stay on top of kitchen remodeling projects, including getting energy-efficient appliances, cleaning the utensils, and installing a new countertop. The time it takes for such monumental renovation projects depends on the type of the projects.
However, you can do a mini-kitchen project within half of the time and cost. This is mainly dependent on how regularly you have been conducting renovations and maintenance in your kitchen during the other months of the year. Therefore, if you want to avoid being a subject of ridicule from your friends, neighbors, and visitors, you need to consider kitchen improvement as your next summer project. The good news is that you can simply install rollouts to keep your kitchenware appropriately tucked away and experience an increase in the room and unfathomed transformation.
The Windows
When summer comes, you will see why it is essential to ensure that your windows do not let in the warm air and keep the hot air out of the house. In this case, if the windows do not open properly or have cracks, it is time to consider hiring an expert in window replacement and repair. Such experts are well-equipped on the job, and they have the right glass accessories to ensure that your windows are fully repaired and made ready for the hot months of the year.
Replacing your worn-out, damaged, and old windows means that you help your home achieve energy efficiency, and you can also realize a higher return on investment. Moreover, you get to enjoy long-term savings on the costs of heating and cooling your abode. Dual-pane windows are among the best choices you can make as a homeowner. Besides being soundproof, such windows make your home appear and feel much better. The main point to remember here is that you need to talk to a local contractor to get a clear glimpse of the required permits you need to work on your windows.
Add a Coat of Paint
Nothing can transform your home like adding a coat of paint. It spices up the rooms and enhances the property's pop. There is no better time to paint your house than during summer. That is because the heat allows the paint to dry faster, meaning you can move back to your home as soon as possible. Painting is among the projects you can handle as DIY. However, it is essential to consider working with a professional painter for different reasons. First, the work will be done professionally and safely. Secondly, you do not have to be worried about the outcome because these individuals have outstanding expertise in such jobs.
The Benefits of Summer Home Remodeling
There are several benefits associated with remodeling your home, and they include:
Boosting the Property's Value
This is especially essential if you are thinking of putting up your home for sale on the local or international real estate market. Conducting summer home improvements, such as including a home elevator, means the property will attract the best buyers in the market and give you a better bargaining position for its asking price.
Achieve Better Functionality and Comfort
Wouldn't you want to live comfortably in a place that achieves its maximum functionality? If you would, then summer home remodeling projects are not inevitable. The period presents you with the best time to work on DIY projects and hire professionals for more complex tasks, thanks to the warm and shiny weather. Nothing can be compared to living in a home that achieves its full potential, which can only be made possible through renovation and remodeling projects.
Energy Efficiency
Statistically, as a homeowner, energy expenses are the highest you can ever have to take care of in your home. However, with some remodeling, repairs, and renovations, your property can help you save substantial amounts in terms of energy costs. You can learn more about replacing and repairing windows to make them energy efficient from the points discussed above. That means that your HVAC unit will not overwork to keep your home cool during a hot month, consequently reducing the amount you pay in energy expenses.
Enhanced Curb Appeal
Undoubtedly, you can make your home appear more beautiful by conducting summer home remodeling projects. Landscaping and adding a coat of paint are some of the best projects to make your home more attractive and appealing to the eye. This means that you can even gain a higher sense of pride and self-satisfaction when interacting with your friends and neighbors. They will be willing to show you respect because you have taken good care of your property.
Summer is a bright period that allows you to conduct different remodeling projects in your home without too much hassle. However, it would be best to make prior plans and arrangements by understanding which home improvement projects are the best for the next summer season. This is the kind of knowledge and information you gather from the above-discussed points. Additionally, you get to learn how summer home improvement projects benefit you.