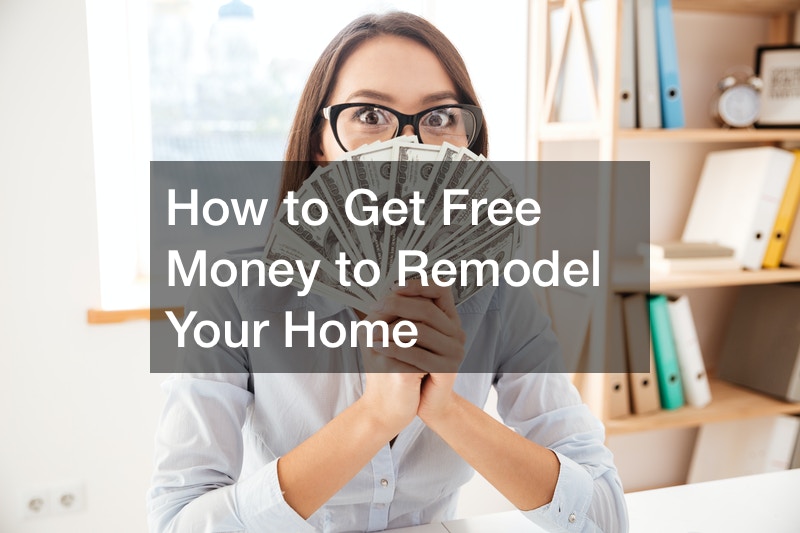 Every homeowner wants a wholly functional home, preferably with the latest technologies and equipment. Such a house will provide you with improved property value, energy efficiency, and curb appeal. Yet, you can only get all these if you renovate and remodel your home. Financing the project could be a daunting task. But how about if you get free money to remodel your home? Here are a few insights into how to do so.
Required Home Safety Aspects
Home safety is an integral element that helps determine home occupants' dangers. It requires a comprehensive home inspection, which helps highlight structural issues that could increase the risk of injury or death.
A home inspection covers various elements, depending on the condition, size, and equipment in the house. For instance, an inspector will check the heating, interior plumbing, central air conditioning, and electrical systems. The idea is to ensure that all the critical systems in the house are functional.
The inspection will cover fire alarms and carbon monoxide detectors when looking at safety aspects. These alarms and detectors will help alert you whenever there are fire incidences within the house. This way, it becomes easier to evacuate family members whenever they are in danger.
Your property's vents will also be inspected. These vents determine the air circulation, comfort, and safety you enjoy in the house. That means they must be clean and correctly placed. An increased number of vents will also ensure that your house feels much safer in the long run.
The appliances will also need to be checked for proper functioning. Proper functioning will ensure that your family is not susceptible to various threats.
The inspector will also confirm how secure the rails are. An excellent staircase must have robust railings, providing the right anchor and keeping it secure. Remember, even before you get free money to remodel your home, a complete inspection must suffice. It ensures that you know what to remodel or renovate in the long run.
Applying For Money
Well, it is only fair that you get free money to remodel your home. Various options are at your disposal when looking for a home remodeling loan. While the money might not be entirely free, the charged interest rate is significantly low. You could consider any options below, depending on the estimated costs, type of remodeling, and personal preferences.
Section 504 Home Repair Program: This loan is designed for low-income households. You can apply for this credit facility if you want to modernize, improve, remodel, or repair your home. It attracts a one-percent interest rate, and you can repay it within 20 years. However, it is capped at $20,000. Notably, you can get a grant of $7,500 if you are above 62 years old.
Weatherization Assistance Program: Suppose you want to reduce the energy costs in your home. In this case, you can get free money from the US department of energy through the WAP program. This credit facility is designed to help you undertake renovations and upgrades that'll help improve energy efficiency.
203 (K) Rehabilitation Mortgage Insurance Program: This program assures you of a more substantial amount to help you cover various repairs and renovations on your property. You can use it to repair everything, including modernizing your home. However, it requires that repair costs be at least $5,000. In addition, it is designed for residential properties only.
HUD Title 1 Property Improvement Loan: If you are looking for a relatively significant credit facility to help remodel your home, this will be an ideal choice. This program assures you of $25000 for a single-family property and up to $60,0000 for a multi-family home. You can get this loan from various banks and lenders, making it one of the most accessible options.
Community Development Block Grant Program: This program is overseen by the local states. That means each state has a specific formula to help disburse the loan to various low-income families. You can use this credit facility to renovate, remodel, improve, and modernize your home. You could also use it on projects that help improve energy efficiency.
Legal assistance helps you get free money to remodel your home. You'll rely on a solicitor or attorney to help facilitate this process. Usually, legal assistance will come in handy in ensuring that you get a loan you can afford and consequently work with you to repay it.
Sourcing Affordable Work
You want to get free money to remodel your home. That means you are already on a tight budget, and getting affordable contractors should be a priority. While your goal is to get an affordable contractor, do not overlook the quality of work they bring to the table. Premium-quality results will assure you of enhanced value for your money.
An excellent home improvement contractor will ensure that your project meets all the building codes and regulations. This move ensures that you do not cross paths with the law. This professional has all the required permits, licenses, and insurance covers to ensure the smooth implementation of the project. In addition, they hire different contractors, covering different parts of the project.
Take the time to estimate the cost of hiring this home improvement contractor accurately. The average national cost of indulging this professional is $50 per hour. However, you could part with between $30 and $85, depending on who you get. It will be wise to compare multiple estimates, allowing you to choose a relatively more affordable professional. While doing it, compare their cost with the quality of service they are likely to offer.
Opting for a reliable and reputable professional will protect you against wastage of money. Most experts suggest that you choose a local contractor. Such a contractor is willing to offer premium-quality services at affordable rates. Besides, it will be much easier to track them down in case of anything. At the same time, verify their testimonials, reviews, and referrals.
After you get free money to remodel your home, engage the remodeling contractor and understand which other professionals they might engage. For instance, this contractor might subcontract a roofing specialist, ensuring that your roof is at its best. They could also hire a plumber to ensure that the plumbing system is sound.
Suppose you have a swimming pool to remodel. It would be best to indulge a swimming pool company in this case. This firm boasts various experts, equipment, technology, and experience to provide you with a more appealing swimming pool in the long run. In short, always focus on specialized contractors.
What Are You Remodeling?
Homeowners focus on different parts of the house when remodeling or renovating. The focus varies with the ultimate goal, for instance, selling the property. However, suppose you are looking forward to recouping your money in the long run. In that case, you might need to remodel the bathroom, kitchen, basement, and even home windows.
The kitchen is one of the most charming rooms in any household. Its remodeling will cost you between $12000 and $35000, depending on its size, condition, and type of appliances you need. However, if your kitchen is significantly small, a $4000 budget will be lavish. You can add a touch of elegance in different ways: flexible lighting, walk-in pantries, sink workstations, smart appliances, and modern finishes.
You could also change the floor, preferably porcelain. Porcelain is durable, and you could choose between unglazed and glazed varieties. Use natural elements when installing the kitchen cabinet too.
Your bathroom should be your haven. That means you must give it a modern touch, enhancing its class. The average remodeling cost is approximately $10,000. However, most homeowners will spend $6500 to $16500 on this project. A small bathroom will require between $3500 and $7000. The cost varies with the appliances you need in the bathroom. The electrical work, flooring, layout, and plumbing in the bathroom could increase the cost. Whatever you do, include floating vanities, back-lit mirrors, and large-format wall tiles in the bathroom.
Remodeling your bedroom will also be worth considering. This remodel focuses on specific items: fabrics, window treatments, lighting, flooring, and wallpaper. Remodeling your bedroom assures you of incredible returns, thanks to how much it improves your property value. Lighting will enhance the mood in the room, while flooring determines the comfort you enjoy in the long run. Matched colors and paint schemes will also come in handy.
Insulation is also important during this remodel. Insulation helps enhance heat flow resistance, lowering your heating and cooling costs. The best insulation for your walls and floors is rigid foam insulation. Closed-cell foam is yet another option, thanks to its significant R-value.
At the same time, consider window treatment. Your home windows will often determine the noise levels, comfort, and indoor temperature in your house. Proper insulation and treatment will help keep all these elements in check, guaranteeing you your comfort. Depending on your budget, you could hire a professional or do it yourself. While professional services could be a little costlier, you are sure of unrivaled quality. Since you want to get free money to remodel your home, it would be better to consider DIY in some instances, cutting the final amount.
Make Sure to Include the Outside
Having an appealing curb will help significantly enhance the value of your property. Various remodeling projects suffice in this case. Once you get free money to remodel, compare the projects to see which option offers you value for money.
Ensure that you add a fresh touch of paint to the exterior. This fresh paint will make your house more appealing to visitors and potential buyers. Most experts advise considering contrasting colors, giving it a different glow.
You'll also need to light up this exterior. New lighting fixtures will ensure that your property remains well-lit at all times. It ensures that the entryway has adequate light. Perhaps you should also mount them along the driveway, adding your security. Installing lighting fixtures with motion sensors will be an excellent choice.
A wood deck addition could also suffice. Adding a deck or patio gives you a place to relax or spend time outdoors. Usually, it would help if you chose natural materials with bold colors. These two elements will provide our deck with a more modern or industrial aesthetic.
Once you get free money to remodel your home, garage door installation is also important in this pursuit. The chosen garage door must have a modern appeal. It can let enough light in. You might also need to consider steel, which offers better functionality, durability, and robustness.
The Nice-To-Have Additions
After you get free money to remodel your home, you will want the best value for it. Sometimes, going the extra mile will help improve the comfort of your home. It could also help give your home a luxurious appeal. This project must address your immediate aesthetic needs, whether comprehensive or cosmetic.
A custom closet design is worth considering. This custom closet comes with a perfect combination of cabinets, drawers, and shelves. You can personalize it to suit a specific space. In most cases, you'll choose from four available types of custom closets: walk-in, reach-in, utility area, and custom storage solutions. All you need to do is choose a modern one. This way, you can be sure of increased storage capacity in the long run.
A plant interior design company will also come in handy. Invest in the right indoor plants to ensure that your room gets enough air circulation. These plants will add a pop of color, ensuring that your room looks more appealing in the long run. However, when you get free money to remodel your home and feel like spending less, you can do this project by yourself.
In conclusion, remodeling your home will help add its splendor. Invest in the right home improvement contractor to ensure that you get premium-quality results in the long run. However, before you do, you'll need to get proper financing. The options mentioned above will assure you of much friendlier credit facilities to help your home improvement project.