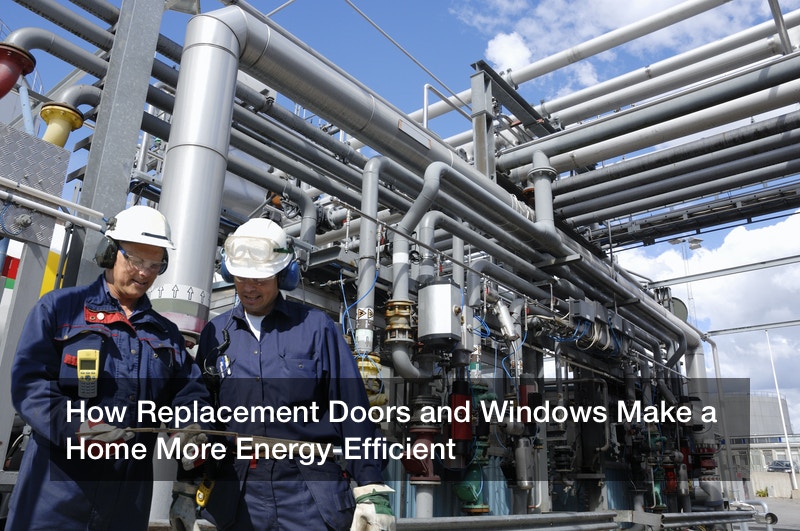 Making homes more energy efficient is one of the key principles of green design. Doors and windows are an important part of any strategy to reduce energy usage. That's because a significant percentage of heated and cooled air in the house escapes through doors and windows, driving up energy bills. The right door and window replacement, like a therma-tru door, can provide better insulation and make a home more comfortable as well. These fiberglass doors have many other benefits as well.
Insulation and energy efficiency
Heating and cooling costs make up an important chunk of the energy costs for any home. The fact that most homes are not well insulated tends to increase energy consumption and costs. Drafty and ill-fitting windows can add anywhere from 10% to 25% to the heating or coming costs. For home owners looking to make their homes more sustainable and eco-friendly, and also for those looking to reduce their energy bills, new windows and doors to replace old, drafty ones are a good choice.
In fact, better insulation for homes is one of the basic principles of green design. However, architects, designers, homeowners and contractors all recognize that while new homes can be designed to be sustainable, older homes can also be modified to make them greener and reduce their carbon footprint. Insulated doors like the new fiberglass therma-tru doors can keep homes both safe and better insulated.
What are therma-tru doors?
Energy efficiency doors like therma-tru doors are sturdy and especially designed to insulate the interior. They are made of fiberglass, but look like wood. While they recreate the warm, inviting look of wood doors, they are not susceptible to the same kinds of problems like rot and warping. They are filled with a special material that is heat- and cold-resistant which acts as insulation in both summer and winter.
Therma-tru doors help to keep homes warmer in winter and cooler in summer. That's because there are no cracks or leaks around the edges to let heated or cooled air escape the home. This makes the home more comfortable by keeping interior temperatures even, without any drafty corners.
Other benefits of therma-tru doors
Doors have multiple functions – they keep a home secure, insulated and they add to its appearance and character. Therma-tru exterior doors fulfill all of these functions with style. Entry doors must be especially secure, because this is the route taken by most burglars to gain entry to a house. Around a third of all home intruders actually enter through the front door.
Therma-tru doors are made of fiberglass, which is one of the strongest home construction materials. Home improvement companies use therma-true doors for entry doors because of their security as well as their appearance. These doors also add beauty and value to a house. It is estimated that replacing an old front door with a new one made of fiberglass has an 82.3% return on investment, on average.
Therma-tru doors make any home more energy efficient by providing better insulation. They also have many other advantages, which makes them a good choice for home improvement projects.