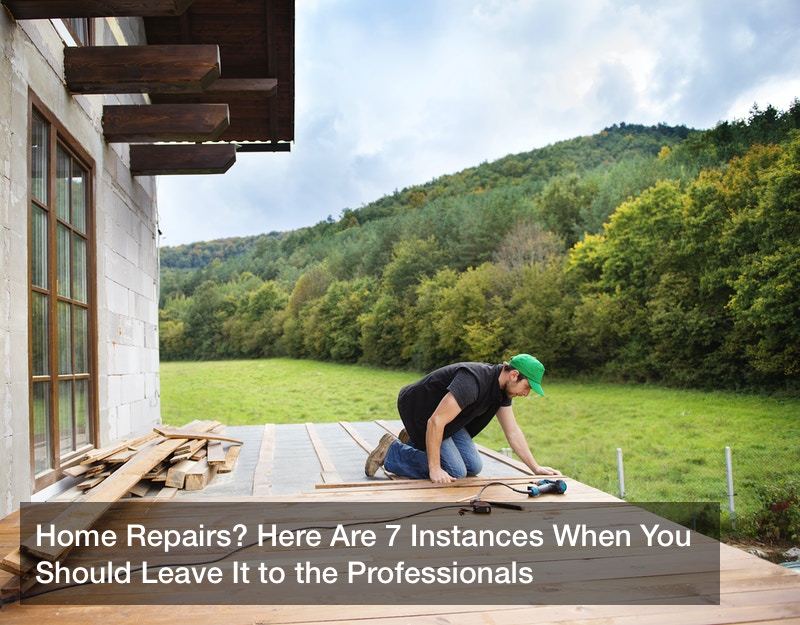 Arguably everyone is picking up on the DIY craze that is quickly spreading across the nation. The internet makes it easy to access instructional videos and articles to inspire you to undertake any home improvement project. Everything from fixing lighting fixtures to kitchen and bathroom remodels now seems simple, cheap, and doable by all.
While homeownership is an exciting journey, it also tags along with a myriad of ongoing responsibilities. You may have to spend a lot on routine maintenance as you protect your property value. Home experts estimate that you may have to budget 1-2% of the home's purchase price annually. This expense does not factor in major renovation projects. According to HomeAdvisor, home remodels cost a national average of $46,783, with most projects falling between $18,340 and $76,116.
Labor is the largest cost driver in home improvement jobs. The National Association of Realtors points out that labor is typically the most expensive in 90% of the ten most common house repairs and renovations. In some instances, it goes past the cost of buying the necessary materials.
Most homeowners prefer to bypass professionals to offset the cost of undertaking the projects. However, just because you can do it yourself, it does not mean that you should. The truth is that you may have a project that is neither easy nor cheap, and you should leave it to the professionals. Complicated projects such as electric repair will demand a licensed professional to meet homeownership standards. Sprucing up your home with a residential siding service require skilled experts, too. After all, you have to meet these home standards.
Deciding When to Leave It to the Professionals
There is arguably no limit to the number of projects that you can handle on your own. Some home repairs are reasonably easy, and the skills required are at a beginner level. For straight-forward processes such as painting, you can decide to venture on your own. The most significant part is to figure out which repair job you can do and which one requires you to leave it to the professionals. Here is a compiled list of factors to keep in mind when making the selection:
1. Safety
The first step is to look out for potential dangers when performing the repairs or renovations. You may need to evaluate the risks and possible consequences if you do it yourself and mess up. The most important question to ask would be: What is the worst that could happen if I bungled?
Some tasks, such as heating system installation, may have 'death' as an answer. It would be better to let a local plumber handle it than endangering yourself by flooding the home. Consumer Reports recommends that you leave it to the professionals if the job involves gas, electrical or plumbing works.
If you find yourself thinking that you might get hurt at any moment during the repairs, then stop. It is not a do-it-yourself project. You get to save thousands of dollars in medical bills you may incur if you get hurt. Saving money is a fantastic thing, but not at the expense of you sustaining serious injuries, or worse, losing your life. It is safer and cheaper to call air conditioning services than to gamble with your well being.
2. Structural Integrity of Your Home
It's always good to conduct a thorough evaluation of the implementation of your home improvement project. Take a look at the full scale of the job at hand. Do you envision it taking a toll on the structural integrity of your home?
The National Roofing Contractors Association recommends leaving all roof repair works to a professional and licensed roofer for this reason. If you have an older home, you can expect a higher degree of structural wear and tear, including the roof. A slight mistake can cause the entire roofing to cave in. It is safer to call in the local roofing contractor to ensure that your structure's integrity is maintained.
The simple basement upgrade can turn into a nightmare that haunts you for months. You can opt to invest a general contractor for your project. You can hire a concrete company and other sub-contractors to handle specialized tasks for your home repair.
3. Skills and Expertise
It is advisable to have an honest evaluation of your skills and abilities. Obviously, you cannot handle a repair job if you are clueless about how to do it. In some cases, a lack of certain skills may not be a deal-breaker. You may only need an instructional video from YouTube or a DIY guide from Pinterest, and you are good to go. You can quickly learn the ropes on how to fix a leaky faucet or caulk a drafty window.
However, some jobs are complex and require a specific set of skills to handle them. It may not be advisable to venture alone on such repair works. You can avoid costly mistakes by calling in a local remodeling contractor before settling for the job. It can be frustrating to start on a project then later realize it is far more challenging than you thought. You can end up doing more harm than good, paying a professional to fix your mistakes.
Being honest about your skillset level is vital in carrying out a large DIY project. It can be physically exhausting and frustrating to get stuck in a 'Pinterest fail.' If you end up too stressed, the potential savings may not be worth it. Don't let your project turn into an endless chore that you hate yourself for, and hire a professional.
4. Time
Another factor that homeowners should consider is the time necessary to complete a specific project. You make the most value out of your DIY job by completing it faster and cheaper than you would have. The snag is that the more complex the project is, the more time you will most likely need to complete it. And as such, it is better that you leave it to the professionals.
Most DIY videos, shows, and instructional materials provide estimates for how long a specific home repair job may take. It can be a lot harder to estimate correctly as other factors such as skill level and experience also play a role. Consider if you are willing to sacrifice your evenings and weekends to finish the work. Based on the job's size and technical level, you can assess how many days (if not weeks or months) it can take you to complete.
Skilled experts will require less time to carry out the home repairs. As you request quotes from different remodeling services, find out how much time they may take to complete the job. The information provided can then help you determine if it is worthwhile to do it yourself.
5. Cost
The whole premise of DIY home repairs is having to save cash that would have otherwise gone to outsourcing the work. You may need to think about the total expenditure that comes with handling the job alone.
You can start by figuring out how much the repair would cost if you leave it to the professionals. You can get quick estimates and quotations online. You can get a price range for work done. The next step would be to calculate your DIY expenses. No DIY project is entirely cost-free. Add up all the costs for materials, tools, and permits (if needed.) Subtract these totals from the average price of a professional job to determine your savings.
Additionally, you may need to figure out the value of your time. You can do it by calculating your hourly wage. Take the potential savings you would make and divide by the estimated time it would take to complete the work. The value you get is the amount you earn by working on the project yourself. Are you comfortable with the wage you get? Time is money, and you should also factor it in too.
You can also look into keeping your costs down, whether you DIY or leave it to the professionals. When working with interior contractors, you can choose to:
Prioritize high-return projects which would add the most value to your property. Let the skilled technicians handle repair jobs that will offer the greatest return on investment.
Choose the right contractors that will get the job done right the first time. It means taking time to review and interview different candidates before making a selection. You may need to strike a balance between quoted prices and quality of service. You also need to find an insured contractor. It saves you the hassle of dealing with an injury attorney if the technician sustains injuries while carrying out the repairs in your home.
Handle certain portions of the job yourself. You can opt to do the demolitions and clean-up to save some money. You will only need to pay for the specialized work done by the expert.
You can also make significant savings on projects that you handle independently. Some of the tricks you can use to save some bucks include:
Build Your Skills: At most times, you may be afraid to handle even simple tasks simply because you lack the necessary skillset. You can overcome this by learning how to carry out simple tasks. You can continue building your confidence and skill to work your way up to more complex projects.
Look for ways to save on Material: You can make huge savings by visiting resale stores. Most products are still brand-new, returned by contractors have over-ordered. Buying discounted materials can help keep your costs down.
You can also save on tools: Some DIY jobs are pretty simple, and you can carry them out using common tools available within the home. If you lack specific equipment, you can borrow from a friend or neighbor. You can also head out to the local community tool library and rent it. Most hardware and home improvement stores also have renting options.
6. Local Building Codes
All states and municipalities have different building codes that all contractors and homeowners need to abide by. In some states, only licensed professionals are legally allowed to carry out specific repair projects. Some demand work permits before starting on the renovations.
While the building codes may vary from city to city, the demand for a permit should be a huge red flag that you should not handle the job on your own. A permit assures that you or the contractor you hire observes all safety protocols while carrying out the repair works, meeting the required standards. If you cannot commit to meeting the criteria, you better leave it to the professionals.
Plumbing and electrical work jobs require advanced skillsets- and can potentially destroy a home if done wrong. Major plumbing works and wiring modifications are by law needed to be done by licensed contractors. Leaving it to the expert means you are not liable for any eventuality from work done.
7. Property Resale Value
Home improvement projects and repair works are excellent ways to increase the value of your home. The most popular renovations in the US are bathroom and kitchen related. This is due to the high return on investment rates on such projects.
Rushing into a quick DIY renovation can negatively impact your house value while in the market. It is advisable to consult a remodel planning expert before undertaking any expensive repairs or improvements. Consulting professionals can prevent you from investing in less lucrative projects.
You may have the option of just picking up their layout plan and actualize the project alone. However, it would be best to leave it to the professionals to complete the renovation. They may have a greater chance of success in implementing the design that you agreed on.
Even the most expensive bathroom tiles can be a huge turn off to buyers if poorly laid. If you doubt your skills, you should outsource the work. While it may set you back several thousand dollars, it is a small price to pay than failing a home inspector's test when you decide to sell the property.
It's Time to Leave It to the Professionals
In the end, the choice between handling the job yourself and leaving it to the professionals is something only you can decide. It demands a careful balance between your money savings and other factors such as skills, building codes, safety, and resale value. Ultimately, you can never put a price on your confidence and pride as you show off a project you completed alone. However, redoing a project can also be expensive and time-consuming. Thus, if unsure, leave it to the professionals.