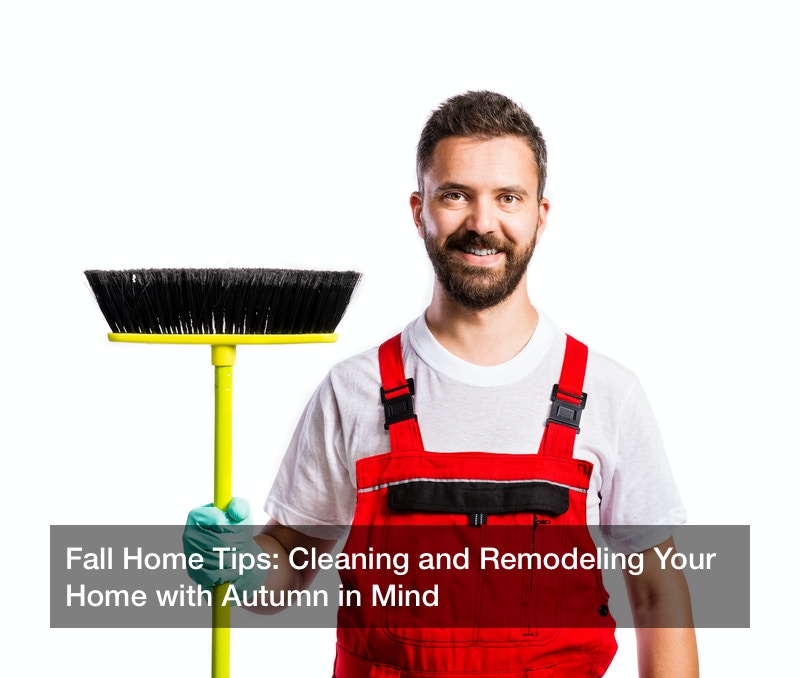 Cleaning and organizing your home in autumn is necessary as you prepare for the cold months. You cannot afford to overlook some tasks if you are trying to uphold your safety and comfort. You can use the following fall home tips to ensure your home is safe and ready for colder weather.
General Cleaning
The fall is usually a better time for deep cleaning than spring. During the cold season, windows stay shut, so any dust or toxins will continue circulating your home. The fall season ushers in a period of allergens. It is better to remove the irritants before the winter season begins.
Fall is also that time of the year when the pace changes to keep in step with the holidays. From Halloween, Thanksgiving, Christmas, to New Year, and other occasions in between, life can change dramatically. A lot of activities, particularly baking and cooking, are usually part of these lively events.
That means there will be lots of foodstuffs with some of the scraps falling over behind the shelves. Leaving leftovers around the house could cause microbial growth and increase the risk of health problems.
General Cleaning Fall Home Tips: You should prepare a checklist that covers all the busy areas of your home. Break your cleaning regimen into smaller tasks and finish one chore before starting the next. Following a routine will keep you focused and motivated.
Clean the Pantry: Take an inventory of your pantry and isolate foods that are past their expiry date. Thoroughly wipe the shelves and be sure to remove any remaining crumbs from the cracks and crannies of your cabinets.
Clean Textiles and Fabrics: Clean the fabrics and upholstery, not forgetting the beddings, curtains, the carpet. They can be a host for dust, mites, and pollen, especially if your household has children and pets. Vacuum your upholstery and have your carpet steam-cleaned. As you are sorting, take the time to pick out items that you no longer need. Consider selling or giving out some to get rid of clutter.
Test Smoke and Carbon Monoxide Detectors: During the winter, your household will need to use the fireplaces and furnaces more often. The process of combustion can produce Carbon Monoxide, which is an odorless and colorless gas. It is, therefore, critical that you test the carbon monoxide and smoke detectors. Remember to check the batteries and replace them if necessary.
Prevent a Fire Hazard: You can prevent residential fires by better organizing your home, especially during the fall. In autumn, there are often containers lying around with expired chemicals and flammable fluids. That's why you should organize your kitchen and sort out items that are close to chemicals or tins that can catch fire.
Disinfect: Use disinfectant to wipe the door handles, water fixtures, and switch plates. Be sure to thoroughly clean in and out of appliances to remove all the scraps of food you can find.
Outdoor Yard: Remove branches and containers lying around your yard. They can fly off and damage parts of your roof and siding. Rake the leaves, power-wash the sidewalk and driveway for more inviting house exterior in the cold season.
Fall Decorating: As you are doing the cleaning in autumn, consider taking up crafts and find ways to decorate your home. There are home fall tips online that mostly employ materials that you can find around you. There are countless ways you can repurpose gourds, food tins, and newspapers.
Fall is a busy time for everyone, so there may be no time for a thorough clean up. In such cases, consider calling residential cleaning services. A professional clean up can leave your home immaculate and prevent rodents from invading your home during the cold season.
Cleaning the Garage
The garage has become more than a place to keep our vehicles. For many people, it also serves a storage space, workbench, and gym. As the cold season approaches, you have to conclude some of your projects and keep your tools away.
It's easy to overlook the garage when you think about autumn preparation. But one of the fall home tips to remember is to keep the area clear before the winter months. You may want the garage to be ready when you need to park extra vehicles or some repairable cars for sale.
Sweep all corners of the garage and clean off any traces of dirt, grime, and debris. Take that opportunity to inspect the interior and exterior walls for signs of cracks. If the gaps are more than a ¼ inch wide, you should get a contractor to evaluate it.
Organize the room by setting aside distinct areas for tools and cleaning agents. You may consider adding storage space to enhance the organization of your garage. You can use racks and hooks to hold extra tools and containers.
Inspect the sides of your residential garage doors to see if there are any gaps. Carefully examine the springs and tracks and wipe of grime with a degreaser. After cleaning, apply lubrication to ensure your garage door is functioning as it should.
Roofing Fall Home Tips
Discovering that your roof is leaking can be an agonizing experience. The most frustrating part of it is locating the source of the leakages. It can be complicated and time-consuming, and you may not be sure if you've spotted all of them. You can use the following home fall tips to minimize the risk of residential roof issues during the cold season.
The first step is to check for signs of deteriorating flashing. A professional should inspect your flashing at least once a year, as it is the place where leaks are most likely to occur. Evaluate the areas that are most susceptible to damage, especially around the skylights, chimney, and siding.
Checking your insulation is another critical aspect of your annual roofing maintenance routine. When there is inadequate insulation, radiant heat from the sun overwhelms the attic. The subsequent fall in temperature will start a condensation process.
Condensation can raise moisture levels in various parts of your home. High levels of moisture can have an impact on the structural engineering of the building. It may start the growth of mold and microorganisms in hard-to-reach places.
An inefficient roof will also raise the energy consumption of your heating equipment and increase your utility bills. Consider consulting a roof repair service to ensure that your roof is ready for winter.
Here are some fall home tips for roof maintenance tasks you should complete before winter.
Clean the Gutters: Check the roof valleys and places vulnerable to flooding to see if there are piles of leaves and branches. Remove debris to prevent the accumulation of water. Once the trees have shed their leaves, you can clean thoroughly.
Assess Siding and Roof: Water pooling around your home's foundation can, in the long-term, destabilize the building and cause walls to crack. Keep your gutter clean throughout the season to prevent costly repair work later.
Before you climb on the roof, you should be aware of the risks. You can use binoculars to examine your siding, flashing, and shingles. Consider hiring a local roof repair service that has the necessary equipment and tools to accomplish the task of repairing your roofing.
A residential roofing contractor should inspect your chimney at least once a year. They can replace missing mortars and bricks. Your chimney may require a sweep to remove the toxic substance Creosote, which might have accumulated during summer.
A professional may also:
Evaluate the frame and underlying structure of the roof
Inspect and replace the sealant
Examine shingles for wear and tear
Inspect roof valleys for debris and water accumulation
Air Leak Tests
According to the Department of Energy, air leaks are responsible for 10% of heat losses in most houses. You can manage your utility bill by using these fall home tips to eliminate draft and reduce power consumption.
One place where gaps are widespread is where there are two different construction materials meeting. Remember to look for openings around outdoor water faucets, electrical outlets, and baseboards.
Also, assess if there are any cracks or holes around doors and windows. Take time to examine wires, piping, and electrical outlets to see if there is adequate weather-stripping. There should be no spaces left for the draft to escape. You can use a beam of light to find gaps by shining it through the side of windows.
Check if the storm windows fit and ensure that they are in their best condition. If the windows rattle, it could indicate there are spaces around it that could allow air into the interior. Consider replacing your windows and doors if they still allow drafts to escape from your home.
If there isn't enough time or resources to repair windows, you can use a plastic sheet as an insulator. You can also plan to have a professional energy audit of your home. Determine all areas of the interior that could be allowing energy losses and raising your energy bills.
There are two main tests endorsed by the Department of Energy that homeowners can use in place of a more accurate audit.
The building pressurization test involves placing a dollar bill against the door. If you can pull it without resistance, then your home is drafty.
The incense draft test involves passing burning incense around the side of doors and windows. If the smoke appears to be unstable, then there is a high possibility of an air leak.
Prepare Your HVAC for Winter
One aspect that we tend to overlook in many fall home tips is preparing your heating equipment. Even though your furnace may run, it will still need a tune-up to prevent unpleasant surprises later on.
Clean the Filter: The filter blocks debris and dust, which keeps your HVAC efficient. Layers of grime on parts of your furnace can diminish its function. You need to clean or replace it every month to ensure your equipment is running optimally.
Pay Attention to Signs of System Failure: Your heating equipment will sometimes show tell-tale signs of a breakdown. Unusual noises may indicate a risk of equipment failure. Also, watch out for signs of inefficient heating or your unit frequently switching on and off.
Arrange for HVAC tune-up: If you suspect your equipment is defective or inefficiently heating the interior, you should consult a HVAC professional immediately. A tune-up can catch faults before it gets to the point of total failure.
Water Equipment
Drain outdoor faucets to release the pressure gap between the shut-off valve and your fixtures. As water freezes, ice is said to expand by up to 10%. The expansion of ice will wreck your pipes or valves and possibly cause flooding in your home.
Do not leave hoses lying around your yard. A hose full of water will eventually break as the ice expands within it. The location of your shut-off valve can also impact its longevity and efficiency.
Fall Home Tips: You can drain water from your plumbing fixtures with these three easy steps:
Close the shut-off valve
Let the water run out from the outside faucets
Disconnect the hoses from the water fixtures
Store the hoses in a safe place
Also, remember to check on the condition of your water softeners and to refill the brine tanks.
Prepare Your Lawn
The most essential of the fall home tips for preparing your yard is to fertilize your lawn before winter. The roots are useful for erosion control, and during the fall, they are still healthy.
Applying fertilizer to your yard will ensure that the roots survive through the extreme temperatures. As spring approaches, the grass will grow faster, and it will turn all green sooner than you expect.
You can continue mowing your lawn since the grass will continue growing throughout the season. But you need to be careful about the cutting height. When it is too short, it can weaken the roots and makes them susceptible to winter damage. The recommended height is between 2 and a half to 3 inches.
You can also keep fungi and pests from your lawn by raking the leaves. A pile of colorful leaves only serves to choke the grass. It blocks the light needed for photosynthesis and traps moisture. To keep your lawn healthy, continue raking as often as the leaves pile up.
As you clear your lawn, remember to move your outdoor furniture inside. An outdoor furniture cover can guard against the elements throughout the year. But you can extend the lifespan of your valuables by bringing them in and putting them away into appropriate storage spaces.
As you wrap up your autumn preparation, pat yourself for the outstanding work. It may seem like a lot of work, but it is all necessary to keep your home safe and healthy. You can always use our fall home tips to create checklists and ideas to make your home cozy.
Continue visiting our website for more fall home tips.