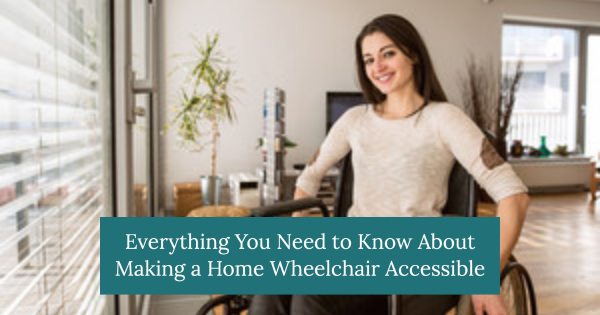 If the coronavirus pandemic has taught us one thing, it is to expect the unexpected. It may surprise you to learn that some good things have come out of the pandemic. For example, due to COVID-19, people all over the world are more understanding about disabilities, and businesses, workplaces, and houses are more accessible than ever before.
According to the British Broadcast Corporation (BBC), "Many of the solutions we've needed for this pandemic are the same solutions, like remote working, that disabled people have been requesting for years." In that same vein, the coronavirus may push more office buildings to install automatic, no-touch doors, an option that reduces the transmission of sickness and infection — and one that is markedly more desirable for people living with disabilities.
Plus, many grocery stores and big-box retailers are clearing wider spaces to help customers socially distance. By keeping those spaces available long-term, more stores will be readily accessible to those using wheelchairs.
While, for too long, workplaces and businesses have written off these changes as too impractical, the safety measures currently in place for COVID-19 are proving otherwise.
Making a home wheelchair accessible is just as important — if not even more important — than accessible public spaces. Learn why wheelchair accessible homes are more important than ever and learn more about the practicalities of making your home wheelchair accessible.
The Importance of Accessibility at Home – Especially During Quarantine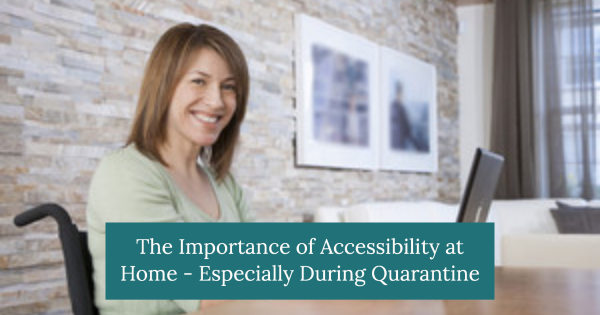 Prior to the outbreak of COVID-19, as many as 5 million employees nationwide worked from home up to 50% of the time. In recent months, that number is even higher. "This pandemic has shown people that you can be trapped at home, by no fault of your own, and you can still contribute," an advocate for inclusion and access for people with disabilities, Mik Scarlet, tells the BBC.
With greater opportunities for people living with disabilities, it is more important than ever for homes to be as accessible as possible. Why is that?
People from all backgrounds are spending more time at home. It only stands to reason that, if you are spending more time at home, you should be comfortable in your home. "Research has discovered that unrestricted spaces and open concepts are beneficial to mental health and allow the mind to create multiple perspectives about the surrounding environment. It may even strengthen cognitive abilities," Thrive Global writes. Open concepts may include anything from large, airy rooms to special, outdoor enclosures suitable for entertaining or even for working from home.
Making a home open and spacious and making a home wheelchair accessible can boost your comfort and your mental health.
Now is the time for people with disabilities to shine. "Just last year, a federal appeals court in the U.S. city of St Louis, Missouri granted the city's decision to deny a remote working request to a disabled employee," the BBC continues. What's more, that decision was not out of the ordinary. In fact, 70% of similar rulings in 2018 and 2019 granted employers the right to deny work from home accommodations to employees with disabilities.
The pandemic is bringing the potential and success of remote employees to light — as well as shining light on how unfair and unjust these rulings can be. With the opportunity to freely work from home and to prove just how valuable they can be, people living with disabilities need homes that serve them.
A fully accessible workspace will allow people living with disabilities to work in a comfortable position (whether from their manual wheelchairs, a comfortable chair, or from the couch) and to move freely to and from the bathroom. Working from home eliminates troubles associated with commuting and accessing doors to get in and out of the building or to enter the conference room for meetings. Plus, people living with disabilities can easily put their desks at home on risers or turn up hearing aides without interference if need be.
Some people with disabilities may be at greater risk. While disabilities themselves are not necessarily pre-existing conditions (unless they directly affect critical systems, like the heart or respiratory tract), they may otherwise put people at a greater risk. For example, people with disabilities may need to attend more medical appointments and see more caregivers than the general population.
While this cannot always be avoided, making a home wheelchair accessible and as accessible as possible in general can give people living with disabilities more options. For example, taking advantage of all relevant tech may enable people with disabilities to attend some appointments virtually, and, therefore, cut back on in-person interactions.
Making a home wheelchair accessible is especially important during the pandemic. Make homes accessible to maximize your comfort and meet your full potential while working from home.
Two Stories That Highlight the Realities of Wheelchair Accessibility at Home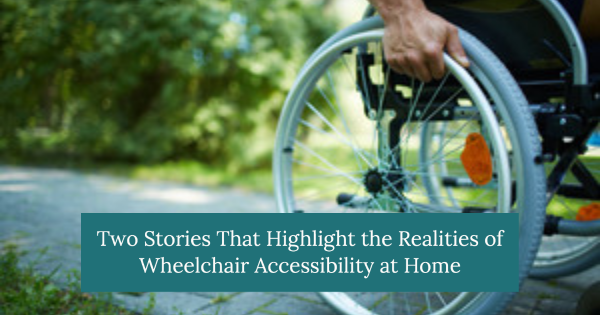 While you may be entirely onboard with the premise of making a home wheelchair accessible, when is it truly necessary? What are some real-life examples?
Car accidents are among the leading incidents that leave people with lasting or even lifelong disabilities. Here are two examples of people finding themselves with a sudden disability and the many ways making a home wheelchair accessible continues to improve their lives.
The story of Johnston County, N.C. teen Nate Clifton is a life-changing one. On Jan. 2, a car crash left teenager Nate Clifton in the intensive care unit (ICU) with life-changing injuries. Clifton would later find out that the accident paralyzed him, leaving him wheelchair-bound for the foreseeable future — and possibly for life.
The teen's friends and family went the extra mile to make his life as comfortable as possible when he returned home from the hospital. After raising funds on GoFundMe, family friends worked together to install a wheelchair-accessible ramp and make other accessible renovations. "He's gonna be able to get out and about and do things he would do in normal life. He just has to adapt and overcome. And this is one way to do it," Nate's father, Leon, told ABC News.
After an accident, renovations allow April Parr to continue to live in her beloved home. April Parr, 41, took an incredible amount of pride and comfort in her two-story house in South Hanover Township, Pennsylvania and imagined living there for many years to come — until she was in a horrible car accident.
As a result of the accident, Parr broke her neck and suffered a C5-C7 spinal cord injury. Her injuries paralyzed her legs, body, and part of her arms and "doctors said there was a good chance she would never walk again," PennLive Patriot News reports.
Fortunately, Parr and her husband, Joe, had the resources for the level of luxury home construction or renovation required to completely overhaul their existing home and make it accessible for Parr moving forward.
Working with an architect and remodelers, the Parrs moved the master bedroom to the first floor, added a lift in the bedroom, installed a wheelchair accessible bathroom, and built a portable ramp to help April get into and out of the house. These renovations and/or building homes with an open, barrier-free layout allows people with disabilities to go about their day-to-day lives with relative ease and without significant challenges.
Should you or your loved one suffer a serious injury, living with a disability requires a great deal more than frequent visits with your family physician. Making a home accessible can go an incredibly long way to encourage freedom and to instill independence.
What Does a Wheelchair Accessible Home Look Like?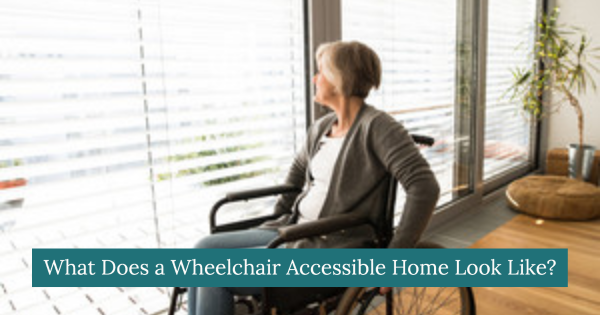 Now that we know accessible homes are even more important thanks to the COVID-19 pandemic, and that anyone may end up with a disability and the need for a more accessible home, what exactly does a wheelchair accessible home look like?
The exact specifications may vary from person to person, but — generally speaking — here are some key things to consider when making a home wheelchair accessible:
Install ramps or purchase portable ones to use as necessary. Many people living with disabilities cannot use the stairs. "General threshold ramps are portable and can be placed wherever it is necessary and convenient," Angie's List recommends. For a more permanent solution, aluminum ramps are hardy, durable, and cost-effective.
Walkways and doors need to be adjusted for access and maneuverability.
Renovate the bedroom. Whenever possible, keep the bedroom on the first floor. Choose a wide, open floor plan, and keep a nightstand with any essentials right next to the bed — literally within arm's reach. Don't stop there. Consider other practicalities, like flooring. While carpet is a popular option in the bedroom, it is wisest for people living with disabilities to choose another material. Hardwood flooring allows for ease of access, while carpet, on the other hand, may snag on wheelchairs and/or make them considerably more difficult to propel forward or push.
Keep bathrooms accessible and safe. Making a home wheelchair accessible means altering bathrooms to meet your needs or to meet your loved ones' needs. It is possible to install showers that are 100% flush with the floor. Wheelchair users can simply wheel their chairs into the shower and clean up that way. Grab bars are essential in any place in the bathroom where people may need to get up, sit, or stand.
Additional steps to take. While the bedroom and bathroom may need the most renovations, do not forget about the other areas of your home. For example, countertops should be low enough to access while sitting in a wheelchair. Counters should be freestanding — with open space underneath — or have a toe kick of at least nine inches to allow for wheelchairs to move freely about the room.
How to Go About Making a Home Wheelchair Accessible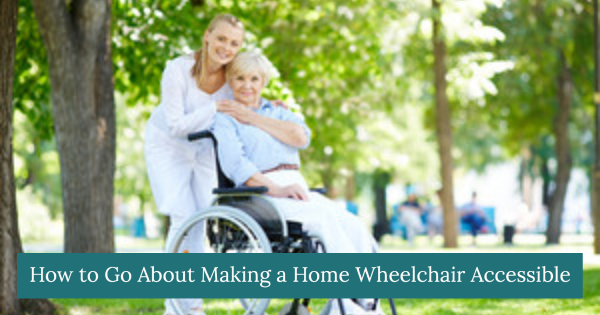 Making a home wheelchair accessible means making it easy to get around and taking extra precautions to make it safe for everyone living in the home, including people living with disabilities. Just like making a new home wheelchair accessible, making improvements or renovations to an existing home looks very much the same.
In other words, rip up carpets whenever and wherever possible. Forgo area rugs, as they can get caught in wheelchairs and/or present a trip hazard. If you notice any imperfections in wood floors, follow up on necessary wood floor repairs to make your home as safe and accessible as possible. If it presents a hazard while walking, chances are it presents a hazard while moving around in a wheelchair, too. Fix dents, bumps, and uneven floors to maximize accessibility.
Likewise, bathroom remodeling looks much like installing a new bathroom or making a home wheelchair accessible from the start. There are a few slight differences. You may need to take steps to widen your current bathroom door. If installing a roll-in shower is out of your budget, look into accessible bathtubs. Install grab bars near toilets, sinks, tubs, and showers, and purchase removable showerheads to make showering easier.
Additional Resources, Funding, and Grants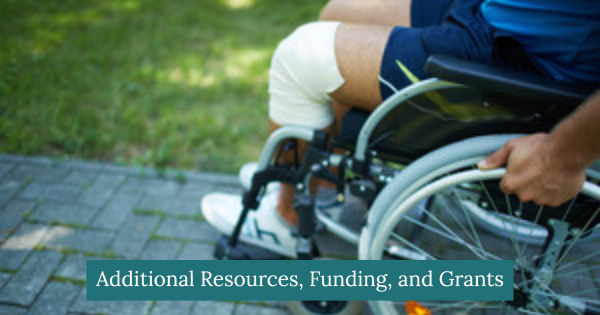 Making a home wheelchair accessible costs money. Not only will you likely end up working with custom home building services, but, over the months or years, you may also work with a disability attorney to help protect your rights or the rights of a loved one living with a disability.
Renovating your home can cost thousands — or even tens of thousands. Look into your financial options. If you are a veteran or live in a low-income, rural area, you may be eligible for grants to help fund the repairs and renovations on your home. Other grants help youth (those under 21) living with disabilities or those who are struggling to make ends meet but do not meet low-income requirements (the Self-Sufficiency Grant).
It is also wise to look into working with nonprofits to help renovate or build your new home. "Rebuilding Together works frequently with families and individuals living with disabilities improving over 10,000 homes in the space of year, spanning over 39 states," Clever reveals.
Making a home wheelchair accessible can make a tremendous difference in the lives of people living with disabilities. Renovations may allow them to stay in their current home, may afford them greater freedoms, and may even give them additional resources to make working from home a whole lot better. Follow the guidelines above to learn about accessibility and make the necessary changes around your home.