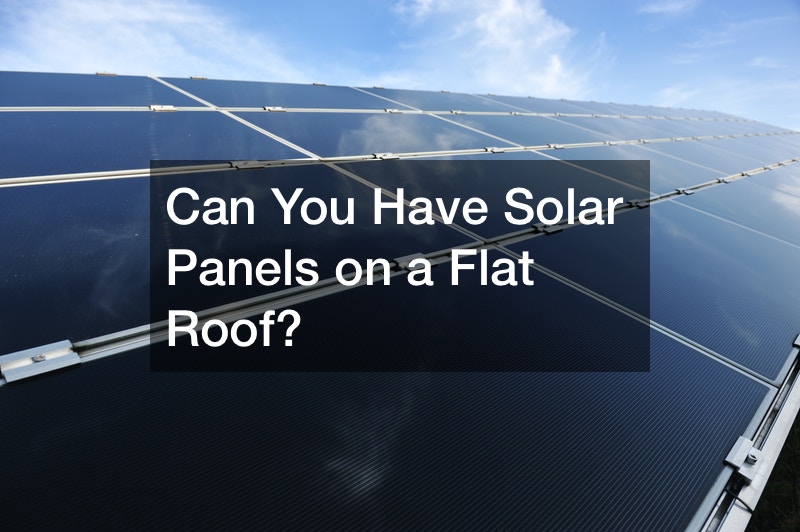 Solar panels provide a fantastic array of benefits that help cut back on your energy bills and help you go greener. A growing number of people with sloped roofs are installing them to get a significant level of control. However, can you have solar panels on a flat roof? Many people may be uncertain.
The answer to the question 'can you have solar panels on a flat roof?' will take some time to explore fully. So let's take a look at whether or not it is possible to give you an idea of what to expect. When you're done, you'll know just about everything you can about whether it is possible to have solar panels on a flat roof and whether it's a good idea or not.
The Short Version of This Article: Important Points to Note
YES, you can put solar panels on flat roofs
NO, the price won't be a lot higher than on sloped roofs
YES, you can get a comparable amount of power
NO, you won't have to pay much more for it
YES, the same solar installation expert will do both types
NO, you won't be denied any tax credit benefits
The Long Answer to 'Can You Have Solar Panels on a Flat Roof?'
Solar panels have been installed on sloped roofs for years because the unique angles make it simpler to get sun exposure than these panels need to convert UV rays into solid electricity. Laying panels flat on a roof wouldn't create the same sort of effect, even if you added roof restorations around the panels. However, solar technology has come a long way since its early days.
For instance, the best contractors roofing professionals have been getting many requests for solar panels that work on flat roofs. Unfortunately, the option just wasn't there for many years because of limitations on funding and advances. That said, many new panel designs integrate a unique holding device that can be easily adjusted to hold your solar panels at an angle to catch a maximum of sunlight.
When these were first created, these devices were too expensive for many ordinary people to afford. Thankfully, a lot of that has changed in recent years. A movement towards economic and lower-cost solar power (particularly in the light of increasing global warming fears) has forced the solar industry to change its approach and offer streamlined new options, such as:
More Powerful Panels – Many manufacturers use solar panels that convert UV energy into electricity much more efficiently. In this way, people may buy fewer solar panels to get the benefits that they want and deserve on their homes. That benefit has become particularly crucial for people who have a flat roof for reasons that we'll discuss in more depth a bit later.
Longer-Lasting Batteries – Solar power is typically saved in a battery when it is not in use, meaning that you switch over to it when you want to supplement your normal electrical flow. This battery can also be called on at night to provide for your electrical needs. In addition, as battery technology improves, it is easier than ever to store large amounts of electricity converted from small amounts of UV rays.
Better Support Systems – Residential roofing with solar panels is usually carefully tweaked and prepared to minimize the potential for roofing damage. For example, many large supporting beams have become available, many of which are very easy to adjust. This benefit is critical for flat roof environments and can make solar panels much easier to integrate onto a home.
These new improvements have helped make the solar industry more successful and transform its offerings for people who want or need better power sources. But, just as importantly, this option has also created a unique energy source that could help transform the industry. In time, it is possible that high-quality solar upgrades could become common throughout many areas.
So the answer to the question 'can you put solar panels on a flat roof?' is a resounding yes, though we haven't quite discussed just how it is possible and what you need to consider if you want to get some for your home. Thankfully, it shouldn't be too hard for you to understand these facets, as the solar panel industry has become more open and easier to understand in recent years.
Benefits of Putting Any Solar Panels on a Flat Roof
So, you now know the answer to the question, "can you have solar panels on a flat roof?" But you may be wondering if this process is worth it for you. Well, that all depends on what you think of the benefits of adding solar panels to your flat roof. There are many to consider before buying anything new.
We'll outline a few of these advantages here for you to make your purchasing decision that much easier. We took our time researching these elements and helping to make it easier for the average homeowner to understand. Thankfully, it shouldn't be too hard to understand that solar panels on a flat roof are:
Cost-Efficient Design Elements – While you will need specialized brackets onto which you must install solar panels on a flat roof, it is surprisingly not much more expensive than adding them to a flat roof. The reasons for this are diverse and include a few of the benefits that we've also outlined below.
Safer and Easier to Install – Most solar panel specialists find that adding panels to a flat roof is far safer because they don't have to walk up and down sloped roofs. And even though they're using specialized brackets for installation, the process often goes much faster and more efficiently than on sloped roofs.
More Diverse Sun-Catching Capabilities – While solar panels on a flat roof would catch less sun if they were put directly on the flat surface, the unique mounts create a diverse array of angles. So rather than relying on your roof's natural slope, you can adjust the angle on your mounts to catch more sun all day.
Protected From Weather Issues – The mounts holding your solar panels will also have a simple cover that you can activate from your home if the weather gets bad. These covers go over the top of your panels and protect them from wind, rain, snow, ice, hail, and other types of common weather concerns.
As you can see, the benefits of adding a solar panel to a flat roof far outweigh the negatives. But, just as importantly, you may find that this option works the best for your needs, rather than having to upgrade your roof with a roofing professional who would charge you a lot for a new slope.
Just because the answer to the question "can you have solar panels on a flat roof?" is a positive one, that doesn't mean you should rush out and get a new set of panels before you understand the process required. Thankfully, this process is easier to understand than you might have anticipated.
What to Expect When Installing a Solar Panel System on a Flat Roof
By now, you should have a pretty good idea that installing solar systems on a flat roof is a good idea in many situations. And you may have contacted electricians who fully understand this process and who will do what they can to help. However, there's also a good chance that you may still have questions that need to be answered, as this process can be a challenging one for many people.
For example, you may wonder if water damage will affect whether you can install it on a flat roof. And you may also wonder what kind of flat roofs are compatible with which solar systems and how you can integrate them easily into your home. However, answering the question "can you have solar panels on a flat roof?" was never going to be something that could be covered in just a few paragraphs.
However, the overall process is relatively easy and usually requires only a handful of basic steps to do right. You probably won't need to call a kitchen remodel expert or anyone else to handle these steps correctly. That said, it is critical to fully understand all of these steps and how they impact you. Doing so will minimize your confusion and make it easier to get the solar system you want and deserve:
Inspecting Your Roof – Most installation processes start with professionals inspecting your roof for great installation zones. Then, they usually go across your whole roofing and come up with a plan that makes sense for your needs. Often, they will try to spread panels out in a way that maximizes your UV exposure, which may require a myriad of panels adjusted in various ways to maximize sun exposure and conversion.
Creating a Panel Plan – As mentioned above, your solar team will try to find a way to balance your solar panels that makes sense for your needs. Usually, this will require finding a position across your roof that makes sense, such as putting them on the east and west sides of your home. The north and south are less common options because they get much less direct UV ray exposure.
Installing the Panels – Now that your panel layout has been decided, your solar team will install the mounting gear for your panels. This gear allows your panels to get the light exposure to convert UV light to electricity. Just as significantly, these panels can be carefully adjusted throughout the day to maximize your UV exposure, giving you the best chance of converting the most power.
Putting in the Rest of the System – After your panels have been put up, your team needs to install everything else about your system. This process includes putting in your battery, connecting the wiring elements correctly, and syncing the panels to your home's electrical system. In this way,
So, can you have solar panels on a flat roof that may have other items on it as well? Absolutely! For example, your air conditioning service team should find it easy to get around your solar panels when fixing a roof-based cooling system. Most people have no significant challenges with this process and can work with your solar team if they're confused to minimize this agitation and frustration.
Just as importantly, they can also use various other types of services to handle this process. For example, you may find that you have bats or other flying critters living on your roof. These creatures may chew on the solar panel cables or even drop guano (fecal matter) directly on them. This problem requires bat control techniques, which often relocate these creatures to minimize their impact.
However, your roof may also need termite control to manage various pests and keep it from getting too damaged. Taking these steps is innovative because it helps provide you with the long-term help you need at a more reasonable cost. Just make sure that you spend the time fully understanding your options and providing the kind of help that your experts need to keep your roof strong and secure.
Know You Know The Answer to the Question 'Can You Have Solar Panels on a Flat Roof?' Do You Want Any?
As you can see, you can quite easily integrate solar panels onto a flat roof and receive many incredible benefits. A growing number of people finding the answer to the question 'can you have solar panels on a flat roof?' to easily fit their needs and their budget in a way that makes the most sense.
So if you're interested, make sure to reach out to a roofing or solar panel team that can handle these upgrades for you. Adding solar panels to home yourself is rarely a good idea because it is such a delicate process that requires a careful balancing of various elements to execute appropriately.