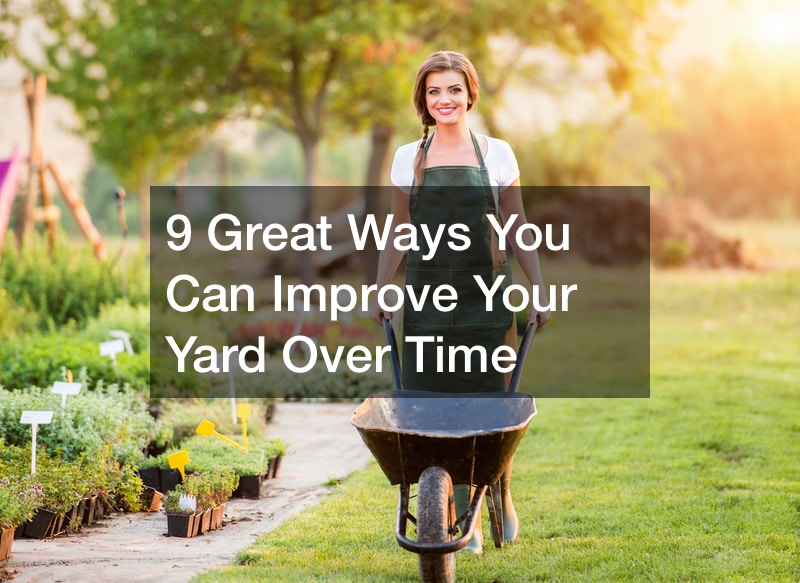 Your yard can be a place to relax and enjoy the outdoors. Whether you have several acres or just your front yard, your yard can provide enjoyment for years. However, if you need to upgrade the appearance of your yard, there are 9 steps you should take over time to keep your lawn looking its best year-round.
1. Build a Fence
Did you know that executing fence installation around your yard is one of the easy backyard improvements that you should think of undertaking? Not only does it protect against unwanted animals, but it also keeps children or pets from leaving the yard unattended. If you are interested in more control over what enters your yard, consider building a fence to maintain privacy and safety. Before you start building a fence, it is important to determine your goals for the project. This will ensure that you can meet your desired outcome. If you wish to restrict access, consider using a fence that is high and sturdy. For example, if you are looking for something easy to maintain, choosing a chain link or ornamental fencing may be wise instead of a wooden picket.
Another consideration is the function of your yard; if you have pets or children, then it will become necessary to think about the size of your fence. If you are looking for more uniformity between your fencing and other structures on your property, then sturdy materials like brick or stone may be the best choice. Before you begin trying to build a fence, it is important to think about the placement. Measure the area you are fencing off and make sure it is even on all sides of your property. This will help to ensure that the fence is straight. If you are building a wood fence, it is important to install the posts every 8 feet apart to avoid large gaps between the boards.
2. Install Some Garden Lighting
Many people may not think about it as they go about their busy day, but one of the easy backyard improvements to change your yard and make it look better is to install some lighting. People spend so much time figuring out what will look best in different areas and how much landscaping they need. They spend months planting, fertilizing, watering, and grooming the perfect yard only to realize that it doesn't look quite how they would like in the evening when there isn't any light. This is where some special garden lighting fixtures can come in very handy. These small changes will instantly make your yard look much nicer, even at night time or when it's dark out. The easiest way to do this is by hiring an electrical wiring expert to install some lights around all of your flower beds. You can install them next to the flowers and trees, but make sure to space them out, so they don't block each other's light.
Each type of lighting fixture works best in different locations, just like with regular outdoor lighting fixtures. For example, you can place lights near your trees and bushes and place them close to the ground using low-voltage lights. This will highlight the colors and textures of your plants perfectly without having to hire an expensive landscaping company. Plus, this is a great way to enhance your home security and draw attention to specific areas in your yard for different occasions. You can work with lighting companies that will help you find the ideal fixtures for your yard.
3. Keep Away from Pesticides
Many people are looking for easy backyard improvements that do not involve a lot of money. With the economy still in rough shape, many people are looking for options that will allow them to do something great with their yards without spending thousands of dollars. Any time you are trying to decide what you should change about your yard, you need to take the time and look at your options. One thing that you will discover is that there are many reasons people decide to use pesticides in their yards. It can be hard to avoid these chemicals especially when you having trouble dealing with squirrel removal. You will notice; however, there are some great alternatives to pesticides that you can use in your yard.
The first thing you should look at is that there are so many products available on the market today that will allow you to create a pesticide-free zone in your yard. The good news about these products is that they will not cost you a lot of money and give you great results. Some products can be found online that will ensure that you have access to pesticides free lawn care. These products are all created by different companies, and they should allow you to do whatever you need to do with your yard without worrying about spending too much time or money on the project.
4. Add Wood Chip Mulch
The use of wood chips in the yard is becoming very popular as one of the practical easy backyard improvements. For a good reason, too, they are beneficial to your soil and lawn. This will improve your grass, but it will also be easier on the environment because wood chips do not contain any harmful chemicals. This also helps prevent weeds because the wood chips improve the soil and make it more difficult for seeds or plants to grow. This is also great for soil quality because wood chips help improve the balance of water content in your yard. Wood chips will absorb excess water, which will prevent soil erosion and make things stay put.
Wood chips for sale are an inexpensive solution to this very common problem you encounter while maintaining your yard. Before mulching, mow your grass like normal. It is important to take care of your lawn before adding any mulch; otherwise, it will make it very difficult for your grass to grow back. It would be best if you used a weed eater to get rid of any pesky weeds already in the area, and then you could start adding the wood chips to different areas of your yard. This is recommended to be done after you have finished seeding your lawn so that the seeds can get good contact with the soil. If you add wood chips to part of your yard, place them to cover an area about 3 inches thick.
5. Work on Your Lawn
You can keep your lawn looking good by simply having it worked on every couple of weeks. This is a great way for easy backyard improvements without needing to spend too much money or time on it yourself. You may also want to consider hiring people for this type of work so that you can be sure they do a great job and only charge fair prices for it. Working on your lawn will help keep it looking great throughout the year. It is especially important to focus on making sure the grass stays healthy and beneficial during the winter months. This is because you want to ensure that the grass can survive winter without too many issues.
Additionally, you want to make sure that the grass is well protected from snow and ice. Working on your lawn during this period is a great way to achieve both of these goals. You can have a lawn fertilization company come out and do this for you so that you don't have to expend the time or energy it takes to do these things yourself. This is a much better route to take than letting your grass become too overgrown and having it die during the winter. At the same time, having your grass die like this will mean that you'll need to replace it entirely before spring comes. This is expensive and can result in an unsightly lawn for much of the year.
6. Re-Side Your House
Whether you are in the process of completely redoing your home exterior or simply looking for a few things to add to make it look refreshed, re-siding your house is one of the easy backyard improvements to give your home's exterior a dramatic makeover. Over the decades, the siding on your house can become faded, torn, warped, or just no longer compliment the exterior of your home. However, instead of completely replacing all the siding on the outside of your home, you can save some money by simply undertaking a siding replacement with modern materials that may be a better color match while not being too far off from the original. If your budget is tight, re-siding your house can be a great do-it-yourself project. The most important step in the process is to make sure you have all the necessary supplies before beginning work. This can save time and money when ordering materials or traveling in search of them in the middle of the job.
Re-siding a home can be done in 3 different ways: matching existing materials by purchasing the same brand and color, changing the color to create the desired look, or simply replacing wood with vinyl which is more energy-efficient and weather-resistant. Furthermore, take the necessary time to measure and mark the pieces of siding you will be removing. This ensures that when your new, re-sided house is ready for new paint, it will go on smoothly and evenly.
7. Add a Water Fountain That Runs on Solar Power
Do you want to be able to finally do something that will make your yard look even more beautiful than it already does right now? You may know that there are many easy backyard improvements, but one of the best ideas that you will find is getting a water fountain that runs on solar power. When you get one of these fountains, you will find that it makes your yard look even better in various ways. For example, this fountain can make water run beautifully. You will also find that it adds a natural charm to your yard, which will make it look more beautiful than ever before.
If you want to improve your yard in this way, you will find that it is easy enough to get one of these fountains. A quick search on the Internet will provide you with many great solar panel installation companies that sell them. You may already be familiar with some of the top names when it comes to buying solar power products for your home. They will help you get the fountain you need to begin improving your yard in this way. You will also find that it is simple enough to collect different solar power products for your home if you are already familiar with them. If you do not want to miss out on the benefits of getting a fountain like this, you must take some time to look into what is available.
8. Keep up Pool Maintenance
As you've likely already noted, maintaining a pool is no small task. This is especially true if the upkeep of your pool has fallen behind. However, with some work and some elbow grease, you can get your pool back into a tip-top shape in no time at all. This is all great news for you because ensuring that your pool works properly is step one to attaining easy backyard improvements that are designed to make your pool look better. Of course, this doesn't mean that you need to engage in the difficult task of doing everything on your own. The upkeep of a pool can be quite complicated, and if your knowledge of pools is lacking, you can make a lot of mistakes in the process. Instead, it would help if you turned to professional pool contractors to help with this job.
One thing to note about pool maintenance is that it's not one task, but many. While some pools will require more work than others, virtually all swimming pools need at least some degree of upkeep to continue looking great. The best advice for this is to get in the habit of making sure that your pool's filters are working properly regularly. This means checking things like water levels and chemical balances, as well as filters themselves.
9. Use Low Maintenance Plants
Plants are a great way to bring beauty and structure into your yard. However, many people do not have the time needed to care for their lawns or gardens. Fortunately, there are other easy backyard improvements to make sure you have a beautiful yard without having to invest as much time doing it yourself. One of those methods is using low-maintenance plants to beautify your yard. There are many advantages to using plants as a way to improve your yard. Before you start planting, you need to make a list of low-maintenance plants that you want to place in your yard.
You can find many lists online or at home and garden stores with specific plants on them. Just pick out some that you like and select the ones that grow best within your climate. Once you have picked out some plants, go to a local garden center and ask which ones will work for your yard. They should be able to help pick out the right plants for your area with the proper shade or sun exposure. Many of these companies also sell plant food and soil additives to help get your garden started. These items will save you money in the long run because they will make your plants healthier and more resistant to pests and insects.
One of the great things about owning a home is that you can do pretty much whatever you want with it. Of course, there will always be certain restrictions and limitations, but these can sometimes be overcome by finding easy backyard improvements and other creative workarounds. With the right amount of time, dedication, and elbow grease, you can turn your backyard into a well-manicured wonderland.