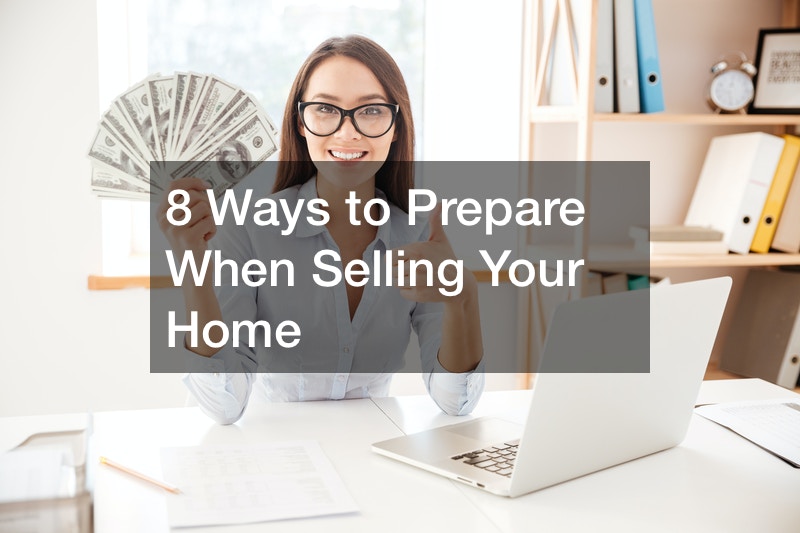 You're getting ready to sell your home, and you want the most money possible for your sale. Who could blame you? The whole process of selling a home should be financially rewarding and give you access to a decent amount of money that you can use to invest in other projects or a new home for your family.
Whatever the situation, there are eight steps that you have to do before you prepare a home for the market. These include things as simple as cleaning up to calling a plumbing repair service to fix common problems. Take these steps, and your home will be ready for sale as soon as possible for your needs.
1. Always Clean Your Home Up
When you're getting ready to sell your home, and you aren't sure where to start, we have three words to emphasize that will make this process easier: clean, clean, clean! Okay, we admit that's just one word, but it is one that you need to seriously consider if you want to get the high-quality look that your home deserves when selling it. Many people should be able to handle this process without a cleaning company.
For instance, you must dust everything in the home, including the appliances and furniture, pay attention to areas like the fireplace, dust off the top of your ceiling fan blades, wash down your fixtures like your sink, and vacuum and sweep all of your floors. Floor maintenance services may benefit some people in this situation but aren't strictly necessary for most cleaning scenarios.
Make sure that you pay attention to any smells throughout your home, as well, opening up windows and using fans to air it out. You also must make sure that you don't cook anything in your home the day before the showing. Usually, it is best to do these steps the day before you show off your house. Doing so will ensure that it is as clean as possible and gives you time to check for common problems you may miss otherwise.
2. Scrub Down the Home Exterior
The exterior of your home is just as important as your interior and needs to be adequately prepared and cleaned to keep it as secure and appealing as possible. A growing number of people find that curb appeal draws in just as many people as the lavish interior look of a house, making it essential to scrub the outside of the home in various ways. Doing so will ensure that you get the best look possible for your home and its overall design.
For example, you can rent a power washer to break down the various mold and dirt buildups on the side of your home and use this approach to make your home more appealing. Try to focus your power washing tool on as much of the stain as possible, tweaking the power of your system to break apart various stains and give your house a better look. Remember – curb appeal is just as important as your home's inner beauty.
That's the strange thing about selling homes. While you need to create a look that is as appealing as possible for buyers on the inside, the outside will draw in just as many buyers. In a certain way, it's a bit like dating – the exterior or visual beauty on the outside draws you in, but the interior beauty keeps you around. So make sure that your home is a 10-out-of-10 beauty that will draw the eye and bring more people to your showings.
3. Upgrade Your Driveway and Other Paving Areas
Your driveway is a critical part of your home's presentation and must be kept in great shape. And if you have any other paved areas (such as sidewalks, walkways, or paths through your garden), these must be upgraded as well. Ensure that you also pay attention to your garage and your garage door to boost them and your paving simultaneously. Doing so is crucial as it will ensure that your home is more presentable.
And while DIY care is an option, you need to consider driveway paving service help to ensure that your driveway is as strong as possible. These professionals will help upgrade or repair any damage to your pavement or install all new options that keep your home looking great. Many potential buyers will avoid houses with damaged pavement because they know how problematic this type of issue can be and how much money it may cost to fix it.
When you fix up your driveway and pavement using inexpensive and straightforward steps, you increase the value of your home and its appeal. Doing so makes it more likely that you'll find someone who wants to buy your house. Just as importantly, it should give you the inside scoop necessary to avoid short- and long-term concerns. So make sure that you call a professional or handle a few DIY steps for your pavement and paving stones.
4. Fix Up the Roof
The roof of a home is a lot like the skin on your body: it protects against various severe issues and must be kept in great shape. However, many homeowners may feel like their roof is essentially eternal and not likely to experience severe damage. This perception is a huge mistake and may cost you a lot of money when selling a home. Some people may not even purchase a home if they believe that it has severe roof damage.
Try to contact professionals like re-roofing services to get help. These experts will take a look at your home and your roof and find a way to upgrade them in a way that makes sense for your needs. They'll then take the time to check elements like your shingles, the siding of your home, the gutters and perform various types of cleaning processes. Doing so can make your roof stronger and eliminate debris, like mold, mildew, and more.
However, you may also need to seriously consider roof installation if there are any other damage problems with your roof. A completely new roof may be a necessary option for some people because it helps to protect against damage caused by various types of weather and age-related issues. This investment is a hefty one but is usually pretty easy to recoup with a higher sale price, giving you a better chance of selling your home.
5. Repaint the Walls, If Necessary
After you've repaired your roof and done a few vital exterior upgrades, it is a good idea to go back inside and repaint your walls. You'll want to take this step after outdoor upgrades because you may change your shingle colors or your siding that may reflect on your interior if you aren't careful. Thankfully, there should be a few different ways that you can handle this process to get the most benefits out of it possible for your needs.
For example, you may find that painting your walls more neutral colors (such as white or light blue) is a great way to attract more buyers. That's because a movement towards color neutrality has made it more appealing to have homes with a general and generic color style. Buyers can then change the paint so that they want to create a gorgeous look that appeals to them and their families with ease.
The same attention must be paid to your exterior paint and any interior decorations within your home. They should not be specialized to your tastes when presenting a home, or you might end up struggling to sell a house. Consider going to an appliance sale or other types of unique buying opportunities to find neutral and attractive items that fit comfortably in your home. Try to scatter them around in a way that makes it feel normal and lived-in.
6. Add a Few Decorative Touches
Your home doesn't need to look incredibly intricate to appeal to many people during a sale. It is often better to think of the old cliché "less is more" to ensure that you get the best results. Many people want a home that feels appealing and personable and likes to have an idea of what touches they can add to a house and may be distracted by too many home decorations.
For example, you can add a small seating area in the living room, a simple bed and dresser set up in each bedroom and an attractive set of tables and chairs for your dining room. Then, you can add small decorations, like tasteful paintings, and arrange them so that they are appealing to your potential buyers without distracting them from the home.
If you aren't sure what you should add, talk to furniture stores near you to find great deals on inexpensive options. Or, if you already have a good number of furniture pieces in the house, focus on creating a simple and uncluttered look for the home. Doing so is an excellent idea because it helps minimize various problems, such as the potential for a home feeling cluttered and uncomfortable.
7. Don't Ignore Your Foundation
The foundation of your home is one of the most critical elements of its overall structural health. Unfortunately, it has a way of getting damaged over time in a way that you might not expect, causing potential concerns that may be hard to diagnose correctly. When a foundation experiences excessive damage, it may shift the house in a way that causes damage throughout the walls and may seriously impact the quality and value of your home.
What causes damage to a foundation? Many things can trigger severe foundation damage. These include problems like leaks in your pipes, issues with water management outside your home, landscaping issues that push water close to your home, termites, and ants invading your foundation's wood, and many other issues that can be hard to manage without expert help properly.
Ensure that you call a foundation repair team to give you the help you need to manage this issue. Talk to them about managing problems like leaks and reach out to plumbers and pest-control experts to address these adverse concerns. Doing so will help cut back on the problems they cause in your home and ensure that your house is as presentable as possible whenever you try to sell it to others.
8. Pay Attention to the Little Things
Lastly, it would help if you made many little things to make your home more presentable for people to check it out. These little steps are relatively simple and don't require a lot of work. However, they can make a big difference in the success of selling your home and make it more appealing:
Open up all of your windows and keep the area as well-lit as possible for your needs
Add a few plants and flowers throughout the interior of your home to make it appealing
Improve your floor space by removing heavy furniture that may be unappealing
Get rid of debris and needless items in your closets and other storage areas
Present each room to make its purpose clear, giving a home a stronger identity
Arrange furniture to cause conversation when visitors sit down inside
Put out cookies and treats for guests to create a homier feel for the house
When you pay attention to little things like these, you impress potential buyers and make them more likely to work with you. Just as importantly, you give yourself the best chance of appealing to the most significant number of people possible, creating a more appealing and attractive design option for your house.
You Can Take These Steps!
As you can see, powerfully presenting your home can make it easier to sell and give you the help necessary to make a great deal. Don't hesitate to take these steps if you want your house to be as appealing as possible and to make a sale that makes the most sense for your needs as a person.
As importantly, you can also talk to a realtor about these options to ensure that you handle everything appropriately. They can help you with legal steps, such as preparing your lease and give the buyer time to prepare their loan package, creating the high-quality look needed to make your home great.