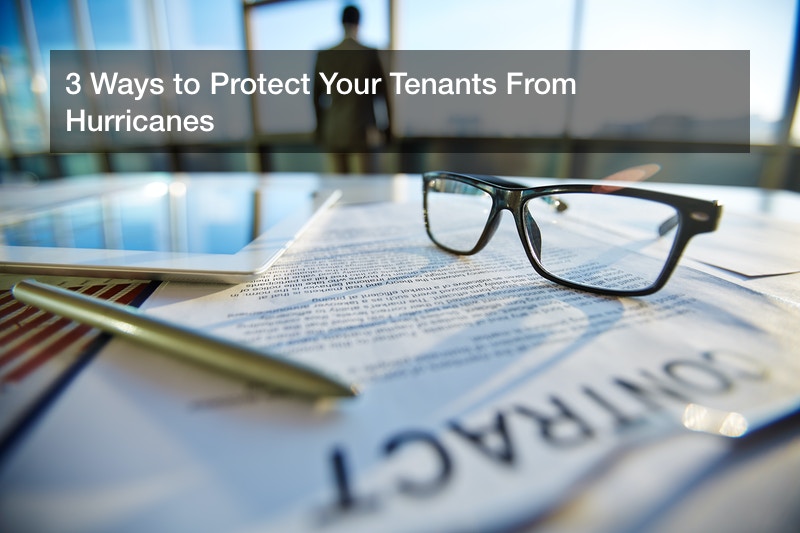 There's no denying that hurricanes are dangerous storms. Hurricane Irma, the most powerful Atlantic hurricane ever, was a Category 5 storm producing winds over 185 mph for about 37 hours. Unfortunately, these storms are quite prevalent throughout the United States. Research shows that, during the 20th century, 158 hurricanes took place in this country. If you own properties, you'll want to ensure your tenants remain safe at all times. Therefore, it's important to learn how to keep these properties safe before hurricanes strike. Here are three ways for property owners to protect their buildings from the threat of hurricanes.
Stay in Communication With Your Tenants

Many landlords utilize a system to stay in touch with their tenants. This also allows property managers to send mass communications to these individuals. With that in mind, it's imperative to stay in touch with your tenants while hurricanes are in your vicinity. This helps to ensure that your tenants are staying safe. It also allows tenants to check on neighbors who might need assistance.
Have Someone Inspect Your Properties

As a property manager, it's important to delegate certain tasks. Considering that, it's important to make sure that professionals inspect your properties regularly. In turn, you'll be able to learn about property damages that need to be taken care of. Before hurricanes are about to strike your properties, consider having these buildings inspected. It's also wise to schedule property inspections after hurricanes strike. This allows you to learn about damages that might be difficult to detect.
Purchase High Impact Glass Doors and Windows

There's nothing quite like being able to enjoy a great view from inside your home. However, glass windows and doors can become dangerous places to be during hurricanes. Therefore, another important way to protect your properties is by purchasing hurricane impact glass doors and windows. Certain cities require properties to have high impact glass doors and windows. The Florida Building Code requires windows within one mile of this state's coast, where winds travel over 110 miles per hour, to be impact resistant.
In conclusion, you'll find several ways to keep your properties protected from hurricanes. It's understandable to wonder how to choose hurricane proof windows and doors. For help with these important decisions, contact a reputable impact glass manufacturing company. Purchasing this type of glass won't limit your design options. You can find hurricane impact sliding glass doors as well as many other types of products. In turn, this allows you to keep your tenants safe and your properties looking pristine.