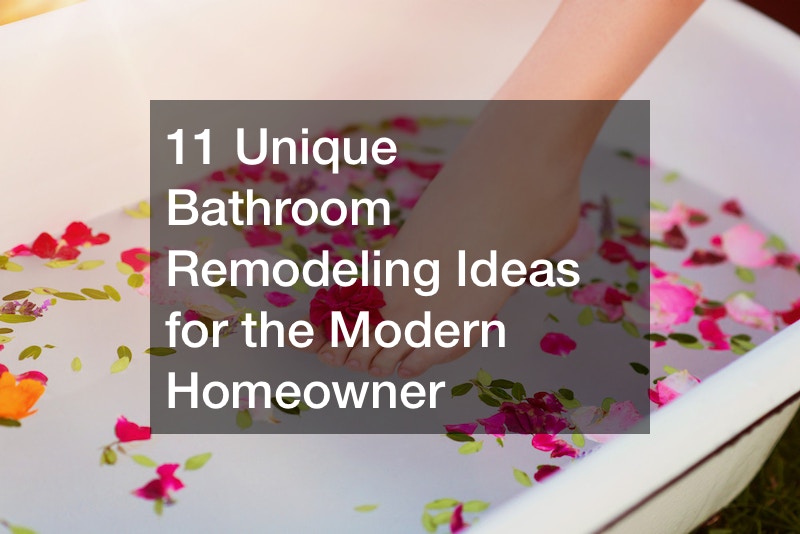 The first vision that comes to mind when thinking of any type of remodeling task is usually a picture of changing an old, outdated, and jaded area into a room that shows impressive new color schemes and contains meticulously designed furniture and household objects. However, when considering unique bathroom remodel ideas, homeowners should remember that just as important as constructing a bathroom with an alluring and trendy appearance, they should also want a bathroom that provides complete functionality and safety.
Thus, before covering modern and unique bathroom remodel ideas, let's discuss appropriate performance and safety as the first steps in the renovation project. The following are suggestions for keeping the primary concerns in mind before putting the final effects in place.
First Steps
Since bathrooms absorb a lot of moisture, you'll want surfaces, like the walls, sinks, and floors, that will control the extreme buildup of moisture. Using materials made of acrylic and porcelain is a good suggestion as these materials resist water absorption, stains, and scratches, and they're easier to clean and maintain.
Proper ventilation and sufficient lighting are a must when it comes to safety in a bathroom. Uncontrolled moisture will produce mold and mildew, and inadequate or poor lighting could result in serious accidents.
In addition to the common essentials that should remain in a bathroom (towel/washcloth racks, cabinets, etc.), there are numerous other items that each family member will find convenient to store in the bathroom, so always plan for adequate storage space. Avoid slips and falls by adding features that provide support (grab bars, rails) and non-slip surfaces (slip-resistant tiles).
Local building codes must be followed, and inspections will be done, so hiring a contractor who's familiar with these building codes and can acquire the necessary permits is advised before starting unique bathroom remodel ideas.
The Basics
Now we come to the most intriguing part about unique bathroom remodel ideas that will bring each homeowner the desired finish that they are seeking. While everyone loves the look of elegance and luxury in a bathroom, it also should exude cleanliness and simplicity. This is the place where we come for revitalization and entering and leaving an old, faded bathroom with myriad imperfections is certainly not going to help us feel we've accomplished this purpose.
When discussing modern and unique bathroom remodel ideas, it usually refers to the trends of the current times in which we live. The troublesome point with this description is that what's fashionable and stylish today has the tendency to change over time and sometimes the change happens faster than we expect. Therefore, it's important that homeowners deliberate about what's important to them as individuals, so they end up with bathrooms that represent their preferences and best serve their needs.
One of the most important considerations will be the color palette chosen since colors will define the overall ambiance and mood of the bathroom. It's accepted that lighter colors represent a bright, cheerful, and energetic atmosphere, while darker colors express mood, intimacy, and warmth. However, using a combination of selected compatible colors can also bring about an atmosphere that's distinctive to different homeowners.
Tiles
When talking about tile enclosure, we're referring to the tile that surrounds the walls of the shower and bathtub. Some of these tiles, also called wall panels, are made of acrylic, porcelain, ceramic, and stone materials, are available in curved and square shapes, and in various colors and design patterns. Tile enclosures can dominate an extensive part of the bathroom and may weigh heavily in determining the overall color scheme of the bathroom. A suggestion for those who may be interested in achieving a calm and peaceful effect is the thoughtful and selective use of lighter-shaded colors in green, blue, or pink varieties could bring about this effect.
The Bathtub
Perhaps you have a standalone bathtub that you'd like to have converted into a bathtub with a shower. Or maybe you'd like to have a walk-in bathtub that eliminates the need for stepping over or into a soaker tub. Regarding shape and size, will it be oblong, square, rectangular, or triangular? Whatever you have your sights set on, it'll still require a bathtub renovation and you'll want to learn about cost and the best materials to use.
Reglazing
When bathtubs become chipped, stained, or have any other imperfections on the surface, presenting a hideous sight when entering the bathroom, homeowners may think about having a new bathtub installed as part of their unique bathroom remodel ideas. However, since the average cost of replacing a bathtub varies within a range between $1,400 to $13,000 and higher, a better recommendation might be to have a bathtub refinishing or bathtub reglazing job done instead. Both are less costly solutions that are part of the same process, except refinishing covers more details like sanding or buffering down cracks and gaps to restore a smoother, more even surface to the bathtub, and reglazing is the final step of the process which involves stripping the old layer of coating and applying a new protective epoxy coating. For those whose bathtubs are in good shape but have just lost their sheen, a reglazing job may be all that's needed.
Windows
Here's an area of unique bathroom remodel ideas where homeowners may be able to splurge a little because they'll be able to find what they want without having to pay an arm and a leg for it! The choices come in drapery styles, which are lengthier curtains for bathrooms that have room for them, blinds, and shades. Other popular suggestions are frosted and tinted windows that can be installed as new windows, or applied as a film to current windows, and some of these films are available in decorative designs. There are ample window coverings service companies to explore, which is an assurance that homeowners will find exactly what they want.
Stained Glass
Restoring stained glass windows is a detailed process in which the glass and images on the glass are matched or replaced, and the painted colors are duplicated. There was a time when stained glass windows were associated exclusively with church windows but over time, these windows have become favorites for many to have in their homes too. If the homeowner is one of the fortunate owners of an original stained-glass window that's in need of repair, they'll be able to find a stained glass restoration service company by searching online.
They could also be a lovely addition as a bathroom window so if interested, stained glass window hangings are also available for purchase, as well as possibly creating your own stained-glass window by purchasing the stained-glass paint kits that include the paint, brushes, and the glass. All information can be found online and there's no doubt that the multi-colored quality of stained glass can not only add vibrant color to the bathroom, but it can also suggest color patterns to use in the rest of the bathroom.
Fixtures
As mentioned earlier in this article, before embarking on bathroom remodeling projects, there are issues that must first be considered. The key to minimizing plumbing fees and keeping it within an affordable range is making sure that the homeowners' unique bathroom remodel ideas are conducted around the current plumbing installations so that it doesn't interfere with or disturb the plumbing configuration of the bathroom. There's a significant difference in fees for plumbers from just a couple of hundred dollars for fixture installations in the same places, to thousands of dollars if the fixture installation must be installed over newly created layouts and locations.
Paint
If homeowners already have a good painter in mind who offers an affordable house painter service, they're halfway there to finishing the bathroom paint job. On the other hand, if they don't know of one, homeowners could either rely on word-of-mouth, or look for companies with a network of painters and companies that provide customers with several job quotes at the same time. Once the price has been agreed upon and the painter has been chosen, homeowners are ready for the next part of this process.
Has the color palette been chosen? Choose whichever color scheme that suits you, but keep in mind that sometimes sticking with simple colors like white and grey, and enhancing these colors with decorative fixtures, cabinets, and floor tiles, can help to create a personalized look that brings immense satisfaction to many homeowners.
Soap
There was a time when there wasn't much thought about the soap supply in the bathroom beyond keeping your favorite bars of soap in soap dishes. However, with the arrival of soap dispensers, homeowners now have the option of choosing the soap equipment they'd like to have included in their unique bathroom remodel ideas. Dispensers come in hand-pumps and touchless styles. For those who prefer tradition, augmented "soap dishes" called recessed caddies, can be installed within walls surrounding baths, showers, and sinks. These caddies can hold bars of soap, shampoos/conditioners, and anything else the homeowner may find useful to put there.
Size
Always consider the size of the bathroom as this could enrich or limit the creative ideas homeowners may have regarding the outcome of their project. For instance, if the bathroom is small to medium-sized, an open-concept plan might not be the best choice since this concept includes exposed areas, like no doors around showers, toilets, and sinks. This could be especially disturbing if family members think the bathroom is more for privacy instead of revelation! Perhaps it would also be better to have smaller windows or only one window, as larger windows and the open concept work best in large bathrooms.
Walls
When thinking about walls, there are other options besides painting them. Choices could be made from wallpaper, tiles, or even wood paneling. Wood paneling is a nice thought as, depending on the color and type of wood, it can bring a touch of the outdoors and nature into the bathroom. If a luxurious look is wanted, try one of the many varieties and colors of marble combined with chic fixtures and accessories. Needless to say, gold walls will certainly add extravagance and opulence to the picture and when these walls are surrounded by darker details and ample lighting, the bathroom will have a magnificent, ornate glow that'll be pleasing to all who come into the room.
Creative Storage
One thing you don't want or need in the bathroom is clutter. The following are suggestions to help avoid this problem.
The first convenient item that comes to mind is wall-mounted shelves on empty wall space. These shelves make space for everything from toothpaste/toothbrushes, combs, and hair products, to towels, washcloths, and medical supplies.
Also, who likes to run out of toilet paper after they've used the bathroom? A handy toilet paper organizer that holds numerous rolls of toilet paper that conveniently dispenses each roll when needed is the answer — just remember to refill the organizer when the time comes!
Bathrooms must have a trash can and the touchless trash can that opens using a sensor method is probably the most useful kind to have.
Install shower caddies as the shower is another place you don't want to find out you've forgotten something after you've begun showering. Caddies are rust-resistant with one or more shelves so they keep all bath essentials at your fingertips.
Miniature cabinets with drawers, clear storage bins, and over-the-door basket organizers provide compartments to store a multitude of items necessary for convenience in the bathroom.
In-depth planning is involved when considering unique bathroom remodel ideas and deliberating about whether it'll be a job done by professionals or a DIY project is something that must be seriously weighed. People who have been homeowners for a significant amount of time have likely learned a lot about household projects and they may possess the added experience of having done and completed many of these projects satisfactorily. However, it's better to be safe than sorry: while there may be some parts of a homeowner's unique bathroom remodel ideas that they may be capable of completing, it would be a good idea if they'd do research online, consult with and be prepared to include certain professionals for specific stages of their bathroom remodeling project.